Gorsuch: Gay Marriage 'Absolutely Settled Law.' Should Conservatives Be Concerned?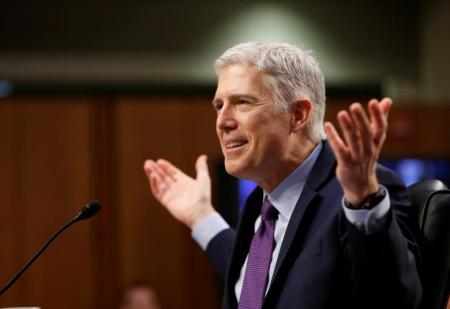 President Donald Trump's Supreme Court nominee Neil Gorsuch agreed Tuesday during his Senate confirmation hearing that the court's ruling in 2015 that legalized same-sex marriage is "absolutely settled law."
Gorsuch, a Tenth Circuit Court Judge, was pressed by Democrat Sen. Al Franken of Minnesota during his hearing before the Senate Judiciary Committee to explain how his views on same-sex marriage have changed since the 2004 election.
Gorsuch vaguely said that his personal views on marriage would "send a misleading signal to the American people." Franken, not too pleased that Gorsuch had dodged the question, then asked if the legalization of same-sex marriage was settled law.
"It is absolutely settled law," the 49-year-old nominee responded. "There is ongoing litigation about its impact and its application right now."
Franken, still displeased, responded, "you have given a version of this answer before" and changed the subject.
Some social conservatives and traditional marriage advocates might cringe when hearing Trump's Supreme Court nominee, who's been praised by dozens of prominent conservatives, say he's in agreement that same-sex marriage is "settled law."
But, should conservatives be concerned by Gorsuch's exchange with Franken?
Ed Whelan, a former law clerk for the late Justice Antonin Scalia and the president of the conservative Washington, D.C.-based think tank Ethics & Public Policy Center, told The Christian Post in an email Wednesday that Gorsuch's remarks aren't alarming.
Whelan noted that Gorsuch later said in response to Democratic Sen. Mazie Hirono of Hawaii that "it is a precedent of the United States Supreme Court entitled to all the deference due a precedent of the United States Supreme Court."
"It's clear, in the broader context, that Judge Gorsuch was saying of Obergefell the same thing he said of lots of other Supreme Court precedents: A justice starts off by presuming that a precedent is entitled to respect and then applies all the considerations that bear on whether that precedent should be overturned," Whelan said. "On this case as on others, Judge Gorsuch's response says nothing about those considerations."
Liberals also don't seem to be giving Gorsuch's "settled law" answer too much weight.
Michelangelo Signorile, the queer voices editor-at-large at The Huffington Post, argued that the most "telling" portion of Gorsuch's answer to Franken was the last part when he said that there is "ongoing litigation about the impact and application."
"The litigation to which he refers has to do with the 'religious liberty' issue I discussed regarding Gorsuch earlier in the week. Anti-LGBT conservatives, realizing how difficult it may be to overturn Obergefell, have moved to a strategy of making same-sex marriage a kind of second-class marriage ― allowing for religious exemptions for businesses, government employees, state-funded adoption agencies and others who don't support marriage for gays and lesbians. Some are pushing ahead in the courts, in state legislatures, in Congress and via Trump, awaiting a promised religious liberty executive order.
"And, as I described in that piece on Monday, Gorsuch, as reflected in his decision in Hobby Lobby, seems primed to allow for those religious exemptions. Thus, don't be fooled by Gorsuch's claim that Obergefell is 'settled law.'"
In addition to Gorsuch's comments on same-sex marriage, he also answered questions about abortion. Sen. Lindsey Graham, R-S.C., pressed Gorsuch if Trump had asked him in his meeting before he was nominated whether or not he would overturn Roe v. Wade, the Supreme Court's 1973 decisions that created a national right to abortion on-demand.
Although Gorsuch has been praised by pro-life leaders as a man who would fit the mold of Scalia and could one day help overturn the 1973 decision, Gorsuch told Graham that he was not specifically asked by Trump to overturn the decision, adding he would have "walked out the door" if Trump had asked him to do such a thing.
"It's not what judges do. They don't do it at that end of Pennsylvania Ave," Gorsuch said. "And they shouldn't do it at this end either."
Whelen told CP that Scalia probably would have done something similar.
"During his selection process, Justice Scalia would never have made a commitment on Roe or any other case, so I don't understand why anyone would fault Judge Gorsuch for not doing so," Whelan said.
Family Research Council's Government Affairs General Counsel, Mandi Ancalle, said in a statement shared with CP on Wednesday that Gorsuch's belief in something being "settled law" doesn't guarantee "a same outcome on a similar case."
"Most of Tuesday morning, Judge Gorsuch spoke about the value of precedent. Certainly, precedent has significant value in the context of judicial interpretation. That said, precedent on a topic does not guarantee a same outcome on a similar case.
"Later in the day, senators referred to Brown v. Board of Education in highlighting this point: Brown, having overturned Plessy v. Ferguson, created new precedent in the process. Of course, Plessy was 'settled law' until Brown made it up to the Supreme Court and challenged the decision, and the entire country can be thankful for Brown's pursuits.
"Thus, while Roe is precedent, and Obergefell is 'settled law' today, tomorrow is a new day, with new possibilities, including the possibility of acknowledging the right to life begins at conception, and that states have the authority to sanction only marriage between a man and a woman, which provides significant benefits to society that other relationships do not provide."
Following Gorsuch's nomination earlier this year, Whelan told reporters on a conference call that by looking at Gorsuch's belief in Constitutional originalism and his interpretive methodology, he is "comfortable on where [Gorsuch] will end up on [Roe v. Wade]."