Gosnell Takes Plea Deal; Spared Death Penalty, Will Serve Life in Prison
Editor's Note: Warning, graphic material in following article.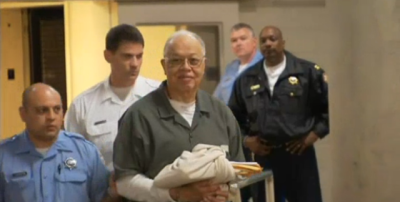 Kermit Gosnell made a deal with prosecutors on Tuesday to give up all of his appeals and take life in prison, so that he will not face the death penalty. According to Gosnell's defense attorney Jack McMahon, the abortion doctor wanted to spare his family from having to enter the courtroom for the penalty phase, specifically his children, one of which is in high school.
"They've been conspicuously absent, and that has been intentional, because of the media focus. He has some younger children still in high school – and not to bring any more attention to them, by bringing them all forth for a penalty phase, was something that troubled him," McMahon said to NBC-10.
Gosnell has six children, including one in college and another child who's in high school.
Judge Jeffrey Minehart on Wednesday added a third life term to Gosnell's sentence. In exchange for giving up his appeals, the Philadelphia District Attorney's Office agreed Tuesday to Gosnell serving two life sentences without the possibility of parole. He will now serve three life sentences, and will die in prison.
The federal drug charges against Gosnell will be handled by McMahon and that trial is expected to begin in September, unless a deal is reached outside of court.
District Attorney R. Seth Williams will also lift the gag order Wednesday and will be speaking at a press conference later today.
Gosnell, 72, was found guilty on Monday of the involuntary manslaughter in the death of patient Karnamaya Mongar who died at his late-term abortion clinic, and three counts of first-degree murder in the deaths of four babies allegedly born alive inside the Women's Medical Society abortion clinic in West Philadelphia, Pa., that he operated for 40 years.
Mongar, 41, a Nepalese refugee who lived in Virginia with her family, died in 2009 after Gosnell's untrained and unlicensed staff administered a lethal dose of Demerol, an opioid pain reliever, and then failed to provide emergency care when she stopped breathing during her abortion.
The jury, comprised of seven women and five men, reached a verdict on all 268 charges on the tenth day of deliberations. The jurors had deliberated the charges against Gosnell and his co-defended Eileen O'Neill since April 30. O'Neill, Gosnell's co-defendant, was found guilty of one count of conspiracy, one count of racketeering, and two counts of theft by deception for fraudulently posing as a licensed physician. She's scheduled to be sentenced in July.
Outside of the three third-degree murder charges and the single involuntary manslaughter charge, Gosnell was also charged with performing 21 illegal late-term abortions past 24 weeks, a felony in Pennsylvania; one felony count of infanticide for the death of Baby A; one felony county for racketeering; 211 misdemeanor counts for violating the state's informed consent laws and failing to observe the 24-hour waiting period; one felony count for running a corrupt business; and numberous felony counts for conspiracy.
The three viable babies Gosnell is convicted of killing by "snipping" their spinal cords with scissors after they were delivered alive and intact, are known as Baby A, Baby C, Baby D. He was acquitted of charges in the death of Baby E.
Baby A was the largest baby delivered, estimated to be 29 weeks old, and moving until Gosnell severed his spinal cord. Witnesses testified that Gosnell joked, "this baby is big enough to walk me to the bus stop."
Baby C was approximately 25 weeks gestation, or older, and clinic staff testified to seeing the baby breathing for 20 minutes until Lynda Williams, who pleaded guilty to third-degree murder charges, snipped the babies neck, as she was instructed to do by Gosnell.
Baby D was born into a toilet where it was seen swimming and struggling to get out before clinic worker Adrienne Moton snipped the baby's neck in front of the mother. Moton also faces one murder charge, two counts of conspiracy to murder, racketeering and conspiracy related to corruption.
Gosnell was acquitted in the death of Baby E, who also allegedly seen alive at 23 weeks gestation. Clinic staff testified to hearing the newborn cry, and then later seeing it in Gosnell's hands, dead from being snipped, and thrown into the waste bin.
Gosnell's abortion clinic was allowed to operate in unsafe and unsanitary conditions because the Pennsylvania Department of State and the Pennsylvania Department of Health failed to inspect the abortion clinic for more than 17 years.
District Attorney R. Seth Williams laid out the case against Gosnell, his wife, Pearl, and eight other employees, in a grand jury report last year, which reveals that Gosnell profited $10,000 to $15,000 a day at his late-term abortion clinic — not including the $200,000 he made from writing 2,300 illegal prescriptions for OxyContin and other addictive drugs.
Williams called the clinic a "House of Horrors" in the grand jury report that details the conditions that were discovered in the clinic on Feb. 18, 2010, when investigators form the FBI and federal Drug Enforcement Administration raided the clinic. The DEA, Philadelphia Police Department and the DA's Dangerous Drug-Offender Unit were investigating the clinic based on reports that Gosnell was operating an illegal prescription drug operation.
To hear the jurors' comments about serving on the Gosnell trial, click here.
To hear Jack McMahon talk about the verdict in the Gosnell trial, click here.