Grand Jury Indicts Six Baltimore Police Officers on Charges in Death of Freddie Gray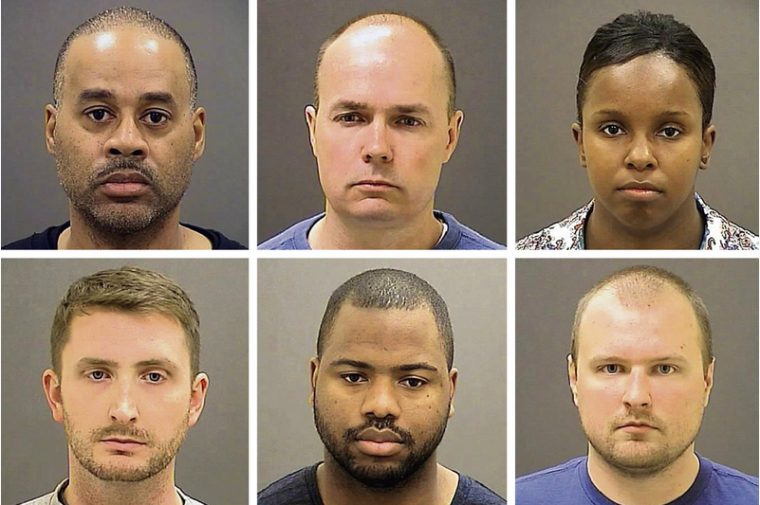 Clockwise from top left: The six Baltimore Police officers who were charged Thursday, May 21,2015, in the death of Freddie Gray: Officer Caesar Goodson; Lt. Brian Rice; Sgt. Alicia White; Officer Garrett Miller; Officer William Porter; and Officer Edward Nero.
|
(Photo: The Baltimore Police Department)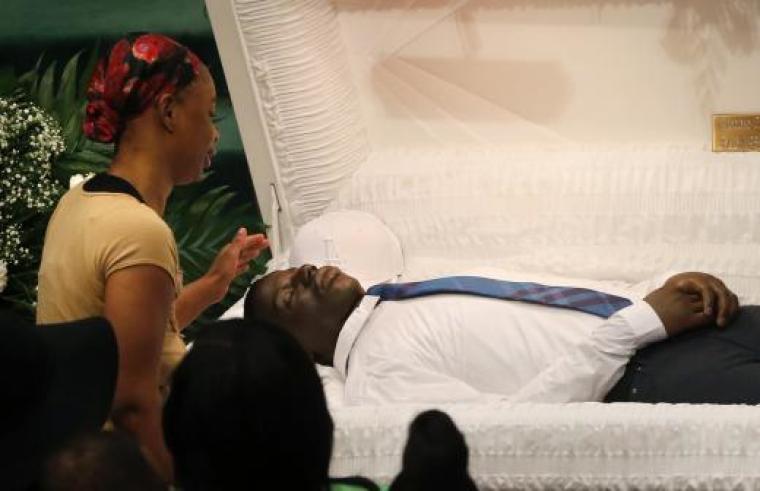 Mourners pay their respects at the open casket of 25-year old Freddie Gray prior to his funeral services at New Shiloh Baptist Church in Baltimore, Maryland, April 27, 2015. Gray died after being taken into police custody and sustaining a mysterious spinal injury, a death that has angered many residents of this predominantly African-American city.
|
(Photo: Reuters/Shannon Stapleton)
View Photos
Six Baltimore police officers were indicted Thursday on charges in the death of Freddie Gray, who died last month after being gravely injured while in police custody, and will each be arraigned on July 2.
Baltimore's State's Attorney Marilyn J. Mosby announced the grand jury's decision to bring charges against all six police officers, three white men and three African-Americans, including a woman, during a press conference late Thursday. The indictments were similar to charges announced by Mosby earlier this month although some had changed due to new information in the case, which has not been made public.
"These past two weeks, my team has been presenting evidence to a grand jury that just today returned indictments against all six officers," Mosby told reporters. "As our investigation has continued, additional information has been discovered, and as is often the case during an ongoing investigation, charges can and should be revised based upon the evidence."
The officers identified include: Caesar R. Goodson Jr., William G. Porter, Lt. Brian W. Rice, Edward M. Nero, Garrett E. Miller, and Sgt. Alicia D. White. Charges range from second-degree murder to assault and carry sentences that include jail time should the officers be convicted.
TO SEE A FULL LIST OF THE CHARGES CLICK HERE
They will each be arraigned on July 2 during which they are expected to formally hear charges and enter pleas.
The death of Gray, 25, on April 19, sparked nationwide protests and calls for the police offcers to be arrested and charged with murder after it was revealed that he was fatally injured while being taken into custody by police in West Baltimore on April 12 on weapons charges.
According to his family, his larynx was crushed and his spinal cord was "80 percent severed at his neck," as he rode in a police paddy wagon and he slipped into a coma before dying one week later.
The Washington Post reports that Gray had more than 12 previous arrests on his record, "and had a handful of convictions, mostly on charges of selling or possessing heroin or marijuana. His longest stint behind bars was about two years."
Gray's death is just the latest among high profile cases involving white police officers who have killed unarmed African-American males, triggering ongoing civil unrest across the nation.
In April, for example, a rally was held in North Charleston, South Carolina, for Walter Scott, a 50-year-old unarmed black father of four, who was shot in the back at least six times by a white police officer.