Gymnast McKayla Maroney, Obama 'Not Impressed;' Photo Going Viral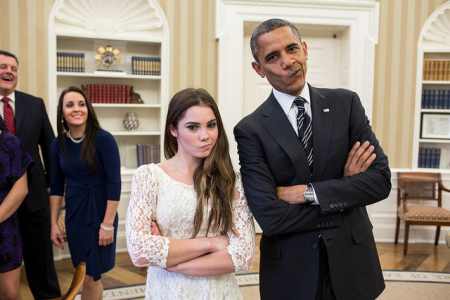 There's a photo released by the White House that's going viral – Olympic gymnast McKayla Maroney doing her "not impressed" face with President Barack Obama in the Oval Office.
Maroney, who visited the White House Thursday with other members of the gold-medal winning 2012 U.S. Olympic gymnastics team, is seen with the president, both with their arms crossed and mouths twisted to the side.
"Did I just do the Not Impressed face with the President..?" Maroney tweeted Thursday.
The White House tweeted back on Saturday, "RT @McKaylaMaroney Did I just do the Not Impressed face with the President..? // Yes. pic.twitter.com/4BkKAfaV."
The photo has already garnered more than 37,000 likes and more than 8,000 shares in the four hours that it was posted on the White House Facebook page.
The "not impressed" expression stuck with the public when Maroney made the look during the medal ceremony in the 2012 Olympics. She was on course to win gold in the individual vault competition after her first attempt but after landing on her rear end in the second attempt, she took silver. The disappointed look on her face became an internet meme.
Maroney told the Today show that she was disappointed not because of the silver medal but because of how she performed. "I really wanted to be able to hit both of my vaults, but I ended up falling on my second one. I was just disappointed in myself, not the silver medal. It's amazing to even be here and be on this team and compete for USA so that definitely wasn't something I was disappointed about."