Harvard Sorority Shuts Down Over Sanctions on Girls-Only, Boys-Only Student Groups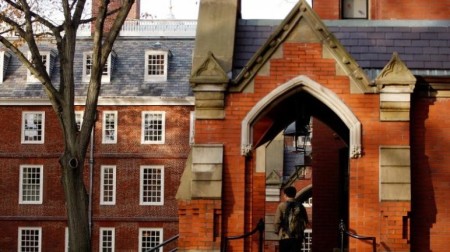 A sorority at Harvard University has decided to close rather than admit men who claim to be women into their group amid the university's sanctions against single-gender social organizations.
In May, Zeta Phi-Cambridge — the Delta Gamma chapter at Harvard — voted to relinquish their charter and thereby shut down, Campus Reform reported Monday.
Sanctions from the university came about in December 2017 when new rules were adopted which established that members of single-sex organizations like Zeta Phi were not allowed to hold leadership posts in officially recognized student organizations or be captains of sports teams. The new rules also said that students who are members of those groups will not be eligible for letters of recommendation and endorsements for academic opportunities such as the Rhodes and Marshall scholarships. Single sex spaces are now regarded as "discriminatory."
"[T]he discriminatory membership policies of these organizations have led to the perpetuation of spaces that are rife with power imbalances," Rakesh Khurana, the college dean, wrote in support of the policy in 2016.
"The most entrenched of these spaces send an unambiguous message that they are the exclusive preserves of men," he further argued. "In their recruitment practices and through their extensive resources and access to networks of power, these organizations propagate exclusionary values that undermine those of the larger Harvard College community."
Yet despite the purported aims to curtail the exclusionary beliefs and practices of men's fraternities and spaces, the newly instituted policy also applies to female-only groups. One Harvard sorority has already complied with the new rules to avoid the sanctions, agreeing to become "gender-neutral."
Campus Reform reported in January that Kappa Kappa Gamma, one of the oldest sororities at Harvard, disaffiliated from their national chapter in light of the new rules.
Tiana Menon, Kappa president said at the time that the sorority was excited to contribute to a "healthy campus social life" at Harvard and believed that gender neutral organizations committed to empowering "female-identifying persons" have a place on campus.
Harvard spokesperson Rachael Dane told The Harvard Crimson in response to Delta Gamma's closure that the school "seeks to build a community in which every student can thrive, and it does so on the foundation of a set of shared values including belonging, inclusion, and non-discrimination."
Thus, the school reasoned, fraternities and sororities that intend to remain single-sex do not align with the educational philosophy of the school. Dane added that the school is "offering [those groups] supportive pathways as they transform into organizations" that do align with Harvard's mission and values.
Wilma Johnson Wilbanks, president of the national fraternity, said the decision to close would not deter them from fighting for their right to exist on other campuses around the country as a single-sex organization.
"We will continue to champion our right to exist on campuses everywhere. We believe the value of sorority is too great," she said in an official statement.