Harvest Church Pastor Greg Laurie Reveals Secret to Billy Graham's Evangelistic Success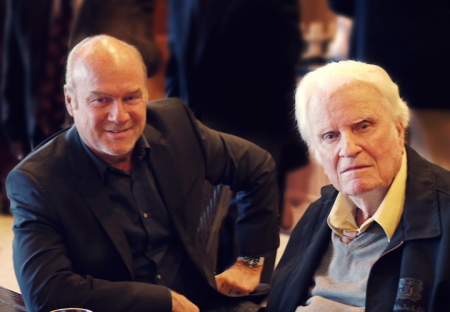 NASHVILLE — Megachurch pastor Greg Laurie has credited the late Billy Graham's evangelistic success to his "personal life of obedience and purity" and dedication to being a "lifelong learner."
Laurie, the pastor of Harvest Christian Fellowship who has preached to 4 million people and led more than 400,000 to the Lord, told The Christian Post that Graham, who passed away on Feb. 21 at the age of 99, inspired him to be a "voice to the current generation."
"I have such a deep affection for him," Laurie said. "He was more than a great evangelist to me; he was a father figure, and one I had the deepest admiration for. My life and ministry has been deeply impacted by Graham. He was a very approachable, accessible person, and when you were with him he gave you his attention. He always had a genuine interest in people and was the same person both in public and in private."
Over his decades-long ministry, Graham authored 34 books and shared the Gospel with over 215 million people who attended his evangelistic crusades. Unlike evangelistic leaders before him, Graham used electronic media to influence thought and convey his message around the world.
Laurie told CP that Graham's willingness to use various forms of media as a means of communication was key in his ability to bring millions to Christ.
"Billy was a real trailblazer in using all platforms for the Gospel, things that we take for granted were pioneered by Billy Graham," Laurie, who leads evangelistic Harvest crusades, said. "Between radio, producing high-quality films and even social media, Graham was quick to adapt to changing technologies and always wanted to be very connected to culture. He even started using Christian music before it was popular; he used music and to build bridges and connect to a whole generation. He was very effective at reaching young people, and that's something that has significantly influenced my ministry as well." 
Laurie, whose friendship with the late evangelist began over 25 years ago, added that spending time with Graham gave him a glimpse of what it must have been like to sit at Jesus' feet.
"Billy was a lifelong learner," he said. "He was a great leader and thinker and had an interest in what was going on around him. He was the godliest, most humble man I ever met. He was a real joy to know personally, and I will miss him not only as a great public figure, but also privately as a person."
On March 2, Laurie was awarded the National Religious Broadcasters' Billy Graham Award for Excellence in Christian Communications, an honor presented to those who effectively and creatively use multiple electronic media technologies in fulfillment of their mission, while maintaining fidelity to the message of love, redemption, and hope found in the Holy Scriptures.
While thanking NRB for "honoring" him with such an award, Laurie, who himself has been called "the next generation's Billy Graham," was quick to deflect any praise away from himself.
"It's a beautiful thing, but I would be very quick to say I don't think there will ever be another Billy Graham, simply because he was not just an evangelist to the nations, but he was a personal chaplain to presidents," Laurie said. "Right now, he's receiving all of these accolades — and that's wonderful, but I can tell you right now he would say something like, 'Stop talking so much about me.' He was not a man who liked to bask in the glow of adulation. He would've pointed people to Christ."
Laurie encouraged those who "loved and respected" Graham to model his example by using every means to declare God's salvation through Jesus Christ to an increasingly secular world.
"The greatest tribute would be to proclaim the Gospel like Billy Graham did," he said. "God anointed Billy in a simple and humble way. God ministered to Billy, God called Billy, and Billy maintained a personal life of obedience and purity and honesty that was only reinforced in his public ministry. Billy Graham started and finished his race well."
Other Christian leaders, such as Saddleback Church Pastor Rick Warren, have also shared how Graham's dedication to sharing the Gospel with all backgrounds and beliefs influenced their own ministries.
"As I traveled around the world and I watched Billy Graham's life, one of the things he did is he insisted there be unity," Warren said during a sermon delivered at NRB. "And not only did Billy Graham insist, for instance, that all of his crusades be integrated with every kind of ethnic background, but he also said, 'I want everyone at the table.' He took Catholics and Orthodox, and fundamentals and evangelicals, and Calvinists and charismatics and put them all on the stage."
Graham was laid to rest on the grounds of the Billy Graham Library next to his wife, Ruth Bell Graham, who died in 2007. More than 2,000 people attended the private funeral service for Graham, including President Donald Trump, First Lady Melania, and Vice President Mike Pence and his wife, Karen.
According to the Billy Graham Evangelistic Association, Graham's tombstone says "Billy Graham, Preacher of the Gospel of the Lord Jesus Christ," accompanied by a single Bible verse. That verse, John 14:6, says, "Jesus answered, 'I am the way and the truth and the life. No one comes to the Father except through me.'"