Has Trump Given Rise to Anti-Semitic Violence? Religious Leaders, Political Analysts Debate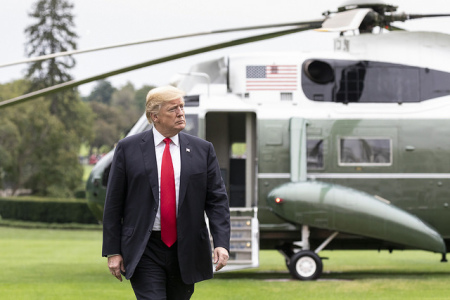 In the wake of the synagogue massacre in Pittsburgh, U.S. religious and political analysts have been debating if and what kind of effect President Donald Trump has had on anti-Semitism.
Christian leaders strongly condemned the actions of the shooter, 46-year-old Robert Bowers, who killed 11 at the Jewish place of worship on Saturday, stating that he "wanted to kill Jews."
They have been divided on whether Trump's rhetoric, when it comes to political opponents and minority issues, has given rise to anti-Semitic attacks, as have Jewish community members, CNN reported.
Rabbi Jeffrey Myers of Tree of Life Synagogue, where the shooting occurred, insisted that the president is welcome to attend services in support of the victims.
"The President of the United States is always welcome," Myers told CNN. "I'm a citizen. He's my president. He is certainly welcome," he added.
Lynnette Lederman, a former president of the synagogue, said that Trump will not be welcome, however.
"I do not welcome this president to my city," Lederman stated, arguing that Trump is "the purveyor of hate speech."
"The hypocritical words that come from him tell me nothing. We have very, very strong leadership in this city," she added. "We have people who stand by us, who believed in values — not just Jewish values, but believe in values — and those are not the values of this president and I do not welcome him to Pittsburgh."
Trump condemned Saturday's shooting as "pure evil," and said that America's prayers are with the victims and their loves ones.
The president also suggested that the shooting could been prevented or contained if an armed guard had been present at the synagogue, harking back to the highly controversial gun debate in the country.
Trump has Jewish members in his own family, with daughter Ivanka Trump converting to Orthodox Judaism to marry Jarred Kushner in 2009. Three of Trump's grandchildren are Jewish, with the billionaire businessman describing his daughter's first child as a "beautiful Jewish baby."
Charles Sykes, contributing editor for The Weekly Standard, argued on Monday that Trumpism, if not Trump himself, has "given oxygen to some of the ugliest impulses among us." 
"Anti-Jewish narratives grow and thrive in environments rife with conspiracy theories and no one has done more than the current president to bring them into the mainstream of our political discourse," Sykes positioned.
He pointed to some of Trump's remarks during the 2016 presidential election, criticizing Democratic candidate Hillary Clinton and accusing her of meeting "in secret with international banks to plot the destruction of U.S. sovereignty in order to enrich these global financial powers, her special interest friends and her donors."
Time magazine and others pointed out at the time that Trump's theory drew upon "conspiracy theories that have been nurtured for years by far-right-wing outlets like InfoWars, which has been a home for 9/11 'truthers,' and unfounded claims about the Bilderberg Group and the World Economic Forum."
The Anti-Defamation League has further claimed that a "total of 2.6 million tweets containing language frequently found in anti-Semitic speech were posted across Twitter between August 2015 and July 2016."
The group did not say that the Trump campaign itself was responsible for the posts, but "only that certain self-styled supporters sent these ugly messages."

David Bernstein, professor at the George Mason University School of Law, wrote on Reason.com that there are issues with trying to blame Trump for anti-Semitic acts. 
"First, Pittsburgh was hardly the first time an anti-Semitic gunman murdered people in a Jewish institution in the U.S. Between the [former presidents Bill] Clinton and [George W.] Bush years, there was a shooting at a Jewish Community Center in L.A., a shooting at an El Al counter at LAX, a shooting at the Jewish Federation in Seattle, a shooting at a Jewish Community Center in Kansas City, and a shooting at the Holocaust Museum," he pointed out.
"Lower levels of vandalism and violence have been even more common. It's true that the death toll in Pittsburgh was especially high, but that's just happenstance; any of the other shooters would have been happy to kill as many or more."
Bernstein added that several officials in the Trump administration are very strong opponents of anti-Semitism, and challenged ADL data on how it collects alleged "anti-Semitic" incidents.
When asked Sunday if he saw a connection between Trump's rhetoric and the shooter, Senator James Lankford, R-Okla., told CBS' Face the Nation, "I don't," Lankford responded, "because this particular shooter also condemned President Trump, saying he was a globalist and that he was allowing some of this to happen. So I don't see any connection where you would connect the president to this particular shooting, just like I wouldn't see that connecting Democrats when a person walked up to a baseball game last year in Washington D.C. and said, 'Is this where the Republicans are practicing?' And then opened fire on them simply because they were Republicans."