Heisman Trophy Winner Derrick Henry Prays His Generation Will Seek God's Wisdom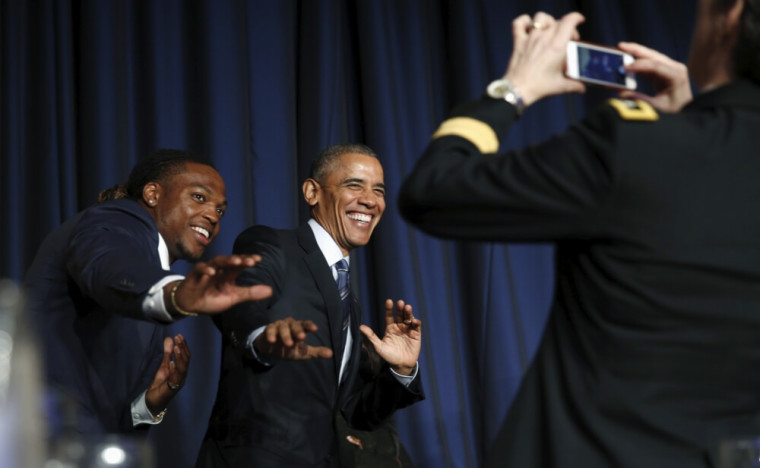 Derrick Henry, the 2015 Heisman Trophy winner, took the stage at Thursday morning's National Prayer Breakfast in Washington, D.C. to deliver a moving closing prayer.
Henry, who plays for the Alabama Crimson Tide, focused his prayer on the importance of unity, saying he is thankful for the opportunity to be in the presence of "great leaders and great people to hear God's word about unity and us being united as one."
"I want to pray for my generation that every day we wake up we seek you for guidance and wisdom and one day that we can stand up here and be great leaders, be great people, men and women, to speak on unity ... and how important it is to this country and this world," Henry continued.
"And Father God I pray that us as great people in here we continue to use our platform to help others and inspire others," Henry added.
The 21-year-old running back, who has also won the Doak Walker Award and the Maxwell Award, announced in January that he would be forgoing his opportunity to qualify for his senior year of college football so he may partake in the 2016 NFL draft next spring.
Rep. Robert Aderholt, R-Ala., who co-chaired the meeting this year, confirmed in a statement on Monday that Henry would be delivering the closing prayer at Thursday's event. 
"As co-chairman of this year's event, I'm pleased we were able to have this talented young man of faith give our closing prayer," Aderholt said earlier this week.
The 21-year-old star running back also managed to get a photo with President Obama, striking the "Heisman pose" with the Commander-in-Chief following his speech. 
Obama also spoke at Thursday's event, focusing his speech on the importance of faith to overcome fear.
Making a subtle reference to the 2016 presidential election, Obama told the audience that fear can lead to hatred.
"Fear can lead us to lash out against those who are different or lead us to try to get some sinister 'other' under control," the president said, adding that "Alternatively, fear can lead us to succumb to despair or paralysis or cynicism."
"Fear can feed our most selfish impulses and erode the bonds of community," the president continued, adding that "Faith is the great cure for fear."
Republican House Speaker Paul Ryan also spoke at the annual breakfast, focusing on the importance of prayer above all else, especially when humans grow impatient and seek more immediate answers.
"I have noticed a growing impatience with prayer in our culture," Ryan told the audience, referencing those who criticized social media users for offering prayer in response to mass shootings last year.
Ryan suggested that while some may argue "Don't just pray; do something about it," it is important to remember the power behind invocation.
"But the thing is, when you are praying, you are doing something about it," Ryan, who took the House Speaker position last October, told the audience.
"You are revealing the presence of God. Whenever people are in grief or even when they're about to start a great undertaking, they feel the worst pain of all: They feel alone," Ryan continued.
"That is why there is nothing more comforting — or more humbling, really — than to hear someone say, 'I'm praying for you.' Because when hear you that, you realize, you're not alone. God is there," the Speaker added.