Hillary Clinton, Bernie Sanders Both Want Abortion Legal Until Baby Is Born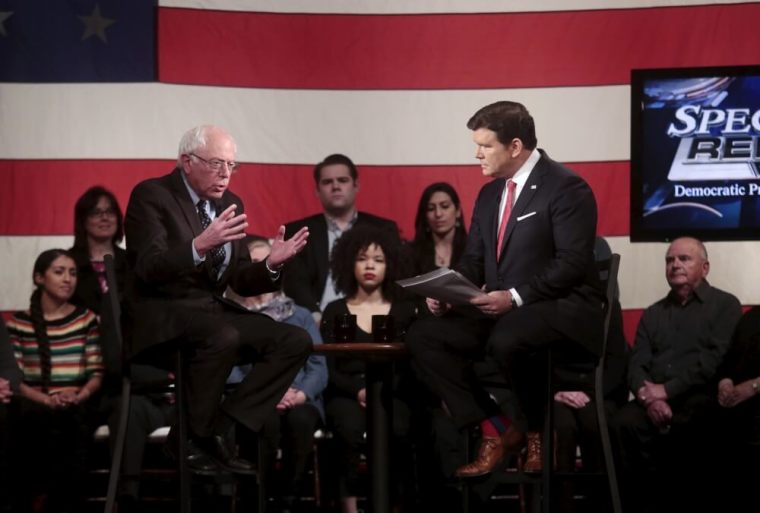 Both Democratic presidential candidates Hillary Clinton and Bernie Sanders explained their support for keeping abortion legal until a baby is born, though their positions were expressed in different ways.
In separate appearances on the same stage Monday night in Detroit, Michigan, Clinton and Sanders were asked about abortion at the Fox News televised town hall.
"Can you name a single circumstance at any point in a pregnancy in which you would be OK with abortion being illegal?" moderator Brett Baier asked.
Sanders did not name a single circumstance, saying, "It is wrong for the government to be telling a woman what to do with her own body."
"I know not everybody here will agree with me. I happen to believe that it is wrong for the government to be telling a woman what to do with her own body. I think, I believe, and I understand there are honest people. I mean, I have a lot of friends, some supporters, some disagree. They hold a different point of view, and I respect that. But that is my view," said Sanders, a U.S. Senator from Vermont.
He accused pro-life Republicans of hypocrisy, saying they speak out against government intervention in people's personal lives, "but somehow on this issue they want to tell every woman in America what she should do with her body."
When asked more specifically whether there should be restrictions to late-term pregnancies, he said: "I am very strongly pro-choice. That is a choice to be made between a woman, her physician and her family."
In another part of the debate, however, Sanders supported human rights. When asked why he believes healthcare is the right of all people, he answered, "being a human, being a human," adding that the right is for everyone regardless of their circumstances in life.
Clinton's answer to the abortion question was more nuanced, but in practice the same as Sanders' position.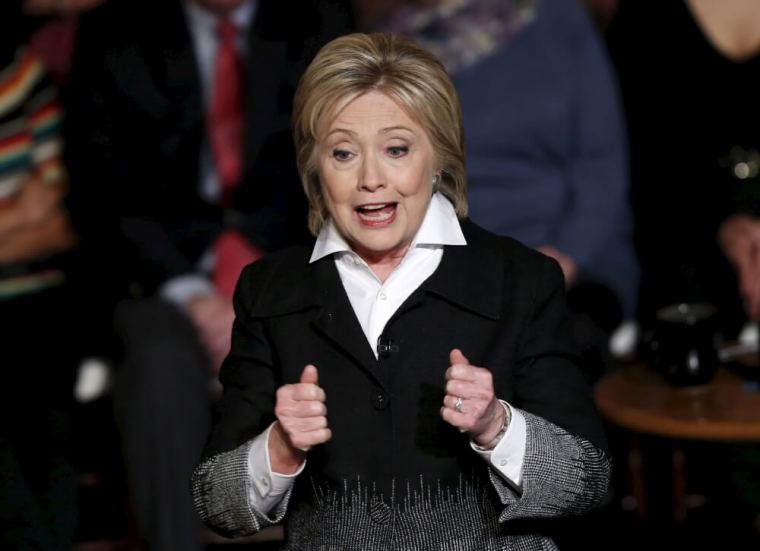 "Do you think a child should have any legal rights or protections before its born? Or do you think there should not be any restrictions on any abortions at any stage in a pregnancy?" Baier asked.
"Under Roe v. Wade, which is rooted in the Constitution, women have this right to make this highly personal decision with their family in accordance with their faith, with their doctor," she answered. "It's not much of a right if it is totally limited and constrained."
After Baier pressed again, "without any exceptions?" Clinton said she would support restrictions to late term-abortions as long as it had an "exceptions for the life and health of the mother."
In the Supreme Court case of Doe v. Bolton, the health exception was defined so liberally that it effectively made abortion legal throughout the term of a pregnancy. The health of the mother can be "exercised in the light of all factors — physical, emotional, psychological, familial, and the woman's age — relevant to the wellbeing of the patient," the Court said.
Clinton and Sanders are out of step with a vast majority of Americans on this issue.
According to Gallup, 80 percent of Americans in 2012 believe abortion should be illegal in that last three months of pregnancy. A January 2015 Marist poll similarly showed 84 percent of Americans believe that abortion should be restricted to either the first trimester or only cases of rape, incest and to save the life of the mother.
While this is the first time the candidates have been asked about their abortion views during the presidential debates, Sanders has made his views clear on a number of occasions, including a speech at Liberty University back in September 2015.
Sanders, who has said that he believes God in his own way but is not part of a particular religion, told the Christian students at the college that he understands that there are those that strongly disagree with him, but he does not compromise on "women's rights," by which he meant the rights of mothers, not unborn women.
"It is easy to go out and talk to people who agree with you. It is harder, but not less important, for us to try to communicate with those who do not agree with us on every issue and it is important to see where, if possible, and I do believe its possible, we can find common grounds," he said at the time.
The Democratic candidates' stances on abortion differ significantly from their Republican rivals, who have all expressed pro-life views. Florida Senator Marco Rubio backs a total ban on abortion except in cases where the life of the mother is in danger.
"I do support protection for the life of the mother because I'm pro-life," Rubio said in February.
"I just believe deeply that all human life is worthy of protection of our laws. If I'm president and there's a bill that's passed that saves lives but it has exceptions, I'll sign it. But I do believe deeply that all human life is worthy of the protection of laws. I've already said, for me, the issue of life is not a political issue and I want to be frank. I would rather lose an election than be wrong on the issue of life."
Clinton and Sanders' position on abortion has been widely criticized by pro-life groups, including by Kristan Hawkins, President of Students for Life of America.
In an article on LifeNews in February, Hawkins argued that the Democratic candidates are not pressed on abortion issues during debates "because it would be a disgrace to their party if Bernie Sanders and Hillary Clinton got up on stage and started arguing who would uphold Roe v. Wade in all its glory of making abortion legal in this nation throughout all nine months of pregnancy for any reason whatsoever."