Hillary Clinton PAC Hopes Christians Will 'Stay Home, Not Vote' After Seeing This Ad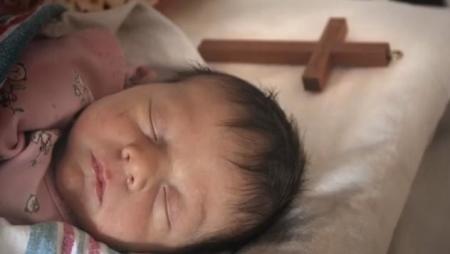 A pro-Hillary Clinton super PAC is trying to sway Christian conservative and pro-life voters by airing a new anti-Trump television commercial in a number of states.
NPR reports that Priorities USA Action, a single-candidate super PAC supporting Clinton, is running a new television ad in several key battleground states that attacks presumptive Republican presidential nominee Donald Trump for mocking a reporter with a disability last November.
The commercial looks to be aimed at conservatives and others who believe in the dignity and sanctity of life by highlighting a Columbus, Ohio, couple who chose to give life to their daughter after learning she had a disability.
"I remember being in the ultrasound room and finding out that our daughter was going to be born with a disability — Spina Bifida," the father, Chris Glaros, explained, as the commercial showed pictures of his infant daughter.
As a the commercial showed a picture of the baby lying next to a cross, the mother, Lauren Glaros, talked about how much of a "blessing" her daughter has been in their lives.
"Grace is the happiest child you have ever seen," Chris Glaros said, as the commercial showed pictures of their happy daughter as she got older. "Despite all of her medical challenges, she brings out the goodness in each person and that is what we see everyday with Grace."
The commercial's tone turned from positive to negative when the parents began discussing how they felt when they saw Trump mocking a disabled reporter last year.
"When I saw Donald Trump mock a disabled person, I was just shocked," Lauren Glaros said. "The children at Grace's school all know never to mock her. For an adult to mock someone with a disability is shocking."
Chris Glaros added that seeing Trump mock a disabled person shows what kind of person he really is.
"When I saw Donald Trump mock somebody with a disability, it showed me his soul. It showed me his heart," he said. "I didn't like what I saw."
As many Christian conservative and pro-life activist groups encourage parents to give life to their disabled children rather than abort them, NPR reporter Sarah McCammon found it ironic that a liberal political group looking to help Clinton was "touting the virtues of giving life to a disabled child."
As the 1-minute commercial began running this week in Florida, Ohio, Virginia Nevada, Colorado, Iowa and New Hampshire, many of which have strong conservative Christian populations, a spokesman for Priorities USA Action told NPR that the commercial is not meant to target one specific demographic.
"We're speaking to lots of different people — to anyone who thinks mocking someone with a disability is offensive," the super PAC's spokesman Justin Barasky said. "Mocking someone with disability is offensive to evangelicals; it's offensive to agnostics, it's offensive to just about everybody."
The commercial did a good job of appealing to one prominent evangelical conservative who has been critical of Trump, at least until he figured out who the commercial is sponsored by.
Russell Moore, the president of the Southern Baptist Convention's Ethics & Religious Liberty Commission, told NPR that he found the commercial to be "powerful until the very end, when one discovers that it is for Hillary Clinton."
"This year, the duopoly on parties have given us two horrible choices when it comes to questions of human dignity," Moore said.
Barasky said that ad isn't so much about getting Republican voters to vote for Clinton as it is trying to get conservative voters to stay home rather than vote for Trump. He added that the super PAC is fully aware that there are a number of Republican voters and Independents who are "troubled by the things that Donald Trump has said and done throughout the course of his campaign and his career."