Hispanic Republicans: Romney's Immigration Stance Lacks Christian Compassion
Mitt Romney's attempts to woo conservatives with tough immigration rhetoric is drawing the party away from its compassionate conservative values, said a Hispanic Republican group.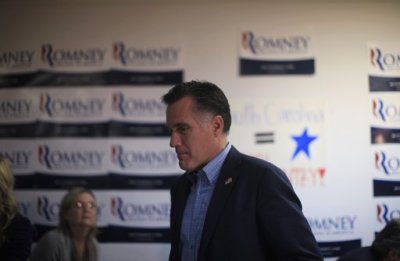 Dee Dee Garcia, founder and past president of Somos Republicans, said Romney is not a true conservative Republican.
His past as a pro-choice governor, the creator of a statewide health care mandate that was the blueprint for Obamacare and now a firm opponent of a pathway to citizenship for America's 12 million plus illegal immigrants puts him out of touch with conservative values, Garcia said.
During the Monday night GOP debate in South Carolina, Romney proclaimed his support for "legal immigration," but denounced the DREAM Act. He called the DREAM Act – which would allow young illegal immigrants to earn permanent resident status by pursuing a college education or the military – "a mistake" and promised to veto the legislation if it ever reached his desk as president.
Somos Republicans supports the DREAM Act as a compassionate response to America's immigration problems.
Garcia asserted, "Romney is moving the Republican Party away from Christian compassionate conservatism based on his immigration view."
Many evangelical faith leaders have gone on record opposing strict immigration laws as unchristian and out of line with the biblical view of how to treat the stranger.
Galen Carey, vice president of government relations for the National Association of Evangelicals, told The Christian Post in a 2011 interview, "Strangers, along with widows and orphans are the iconic biblical symbols for those who are poor, weak and in need of help and the biblical mandate to care for those in need is very strong."
The Southern Baptist Convention also passed a resolution last year urging for a "just and compassionate path to legal status with appropriate restitutionary measures."
Hispanic Republicans Sour on Romney
Last week, Romney accepted an endorsement from Republican Kansas Secretary of State Kris Kobach, a contributing designer of Arizona's tough immigration law. He has also turned to Kobach for immigration advice.
"I'm so proud to earn Kris's support. Kris has been a true leader on securing our borders and stopping the flow of illegal immigration into this country," Romney announced in a recent statement. "We need more conservative leaders like Kris willing to stand up for the rule of law. With Kris on the team, I look forward to working with him to take forceful steps to curtail illegal immigration and to support states like South Carolina and Arizona that are stepping forward to address this problem."
Garcia stressed, "We're for immigration reform as well. But she said attempting to deport over 12 million illegal immigrants is costly, unreasonable and inhumane.
Somos Republicans, the nation's largest Hispanic GOP group, recently endorsed former House Speaker Newt Gingrich in order to restore the compassionate conservative it believes is necessary in addressing the nation's immigration issue.
Steve Rodriguez, vice president of Somos Republicans, said Gingrich has strong connections to the Hispanic community that pre-dates the 2012 GOP presidential race. The former speaker created two websites, one in 2004 and the other in 2009, to engage the Hispanic community. Rodriguez also said Gingrich has a number of Latino campaign workers, including himself.
"He has a history of reaching to the Hispanic community and speaking out to their needs," he commented.