How a Super Christian Company Is Infiltrating Hollywood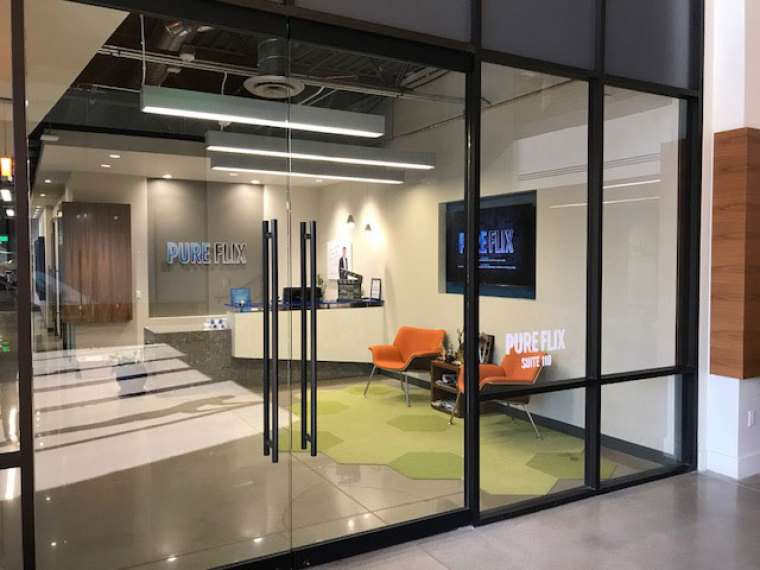 You might not catch it if you didn't listen carefully, but an executive at a major Christian film studio just spoke fondly of ... Hollywood fashion and Google energy.
"What's going on in L.A. and Hollywood is also happening in Scottsdale and that's how we dress – like the industry," Steve Fedyski, Pure Flix chief operating officer, told this reporter from the company headquarters in Scottsdale, Ariz.
One minute later he also exalted Google.
"When you walk into the office it's kind of like a Google vibe – very innovative, very creative."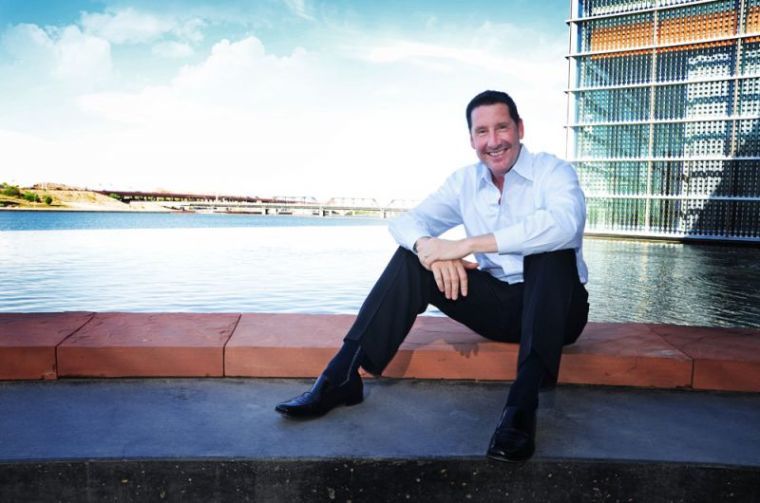 The man who oversees Pure Flix Global operations – including its distribution network in over 100 countries – unexpectedly and immediately compared Pure Flix employee fashion and office atmosphere to Hollywood and Google, respectively. This admiration and even adoption of "vibe" may be surprising at first – considering the "pure" factor in the company's films – but it made total sense as I talked more to Fedyski about Pure Flix's vision: to influence the global culture through media
Hollywood Heavyweights
If you've never heard of Pure Flix before, you've likely heard of some of the mainstream actors the studio has included in some of its films: Kevin Sorbo ("Hercules: The Legendary Journeys"); Dean Cain ("Lois & Clark: The New Adventures of Superman"); Antonio Sabato Jr. ("The Big Hit"); Sinbad ("The Sinbad Show"), Melissa Joan Hart ("Sabrina the Teenage Witch"), among others.
And if you haven't heard of these stars, then how about Academy Award winner Renee Zellweger, Academy Award winner Jon Voight, Academy Award nominee Greg Kinnear, and Academy Award nominee Djimon Hounsou? These four acclaimed Hollywood actors will appear in Paramount's Production "Same Kind of Different as Me" with Pure Flix doing the marketing and distribution (in theaters October 20).
Impressed? It's not every day that an unashamedly Christian movie studio is able to attract such high-profile actors.
"We always seek to reach the highest level of talent in the industry," Fedyski stated matter-of-factly. "And we look forward to having more A-list talent in our films."
Super Christian Despite It All
Despite having a growingly impressive number of A-list talent, Pure Flix Entertainment is anything but water-downed Christian. As David A.R. White, co-founder of Pure Flix, once told Beliefnet in an interview about what prompted the studio to reach out to the stars of "Duck Dynasty" for a movie:
"None of us had watched 'Duck Dynasty' really. We weren't even aware of it very much. So, we started diving into that and found out that they were on-fire believers and loved the Lord... So, we started reaching out to them and, in the process, they really took to this project and their support has been wonderful."
Pure Flix, in other words, felt at home with the Robertson family's "on-fire" faith and their love for the Lord. Willie Robertson, CEO of Duck Commander and cast of A&E's "Duck Dynasty," and his wife, Korie, make an appearance in Pure Flix's most successful film to date, the $60-million grossing "God's Not Dead" (highest grossing independent film of 2014).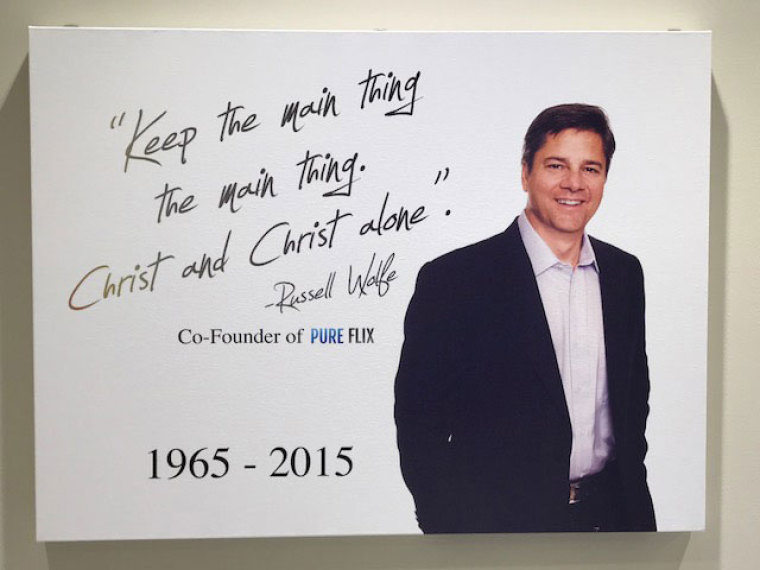 "God's Not Dead" is not only significant because it really put Pure Flix on the map as a movie studio, but because it was one of the last films that co-founder Russell Wolfe worked on before his death (he also worked on "God's Not Dead 2"). It's hard to miss the photo of Wolfe smiling down on you when you enter the Scottsdale headquarters. The image of Wolfe, who died of ALS (amyotrophic lateral sclerosis) in 2015, serves as a constant reminder to Pure Flix staff of where the company came from and where it's going with his poignant quote, "Keep the main thing the main thing...Christ and Christ alone."
"The first thing I'm staring at is a picture of the co-founder, Russell Wolfe," said Fedyski when asked what he is looking at in his office while doing this interview (he has his own copy of the photo in his room). "Russell was my dear friend."
Back in 2005 when David A.R. White, Michael Scott and Wolfe were just starting Pure Flix, Fedyski was one of the first people Wolfe had shared the company's vision with when he asked the Highlands Church elder (they attended the same church in Scottsdale) to pray for the company. And then 10 years later when he was facing death, Wolfe had again reached out to Fedyski, asking him to meet with the Pure Flix board and become his replacement. The long-time businessman agreed and in February 2015 he assumed the role of Pure Flix COO.
So while he wasn't officially part of Pure Flix from the beginning, Fedyski had prayed and helped attract investors for the company unofficially since the beginning.
"Absolutely they have struggled along the way... When you've grown rapidly, you have bigger issues," replied Fedyski when asked if there were hard times in the early days. "One of the things about David A.R. White and Michael Scott and Russell Wolfe is that they are men of courageous faith."
Besides Wolfe's photo, the company also has another symbolic spiritual memento – the wall painting "Check the Gate" outside the theater viewing room. "Check the gate" is an old movie industry phrase that the director would say before shooting to remind the staff to check for "hair" (a sliver of film shaved off from the edge). If a hair gets lodged in the gate it will be visible in the shot.
"That [check the gate painting] reminds us that we want to check our gate each and every day. So how we treat people we are engaged with every day – inside and outside the business – with excellence, and our work is excellent and we are pursuing excellence unto the Lord with the best we can every day," Fedyski explained.
Speeding Forward
The Christian movie studio is not resting on its laurels as the world leader in producing and distributing faith and family media, but pushing aggressively to produce more films every year. Previously, Pure Flix was averaging around four films for theatrical release annually, but from now to March 2018 it will release six movies in six months, putting the studio on pace for 10 to 12 releases annually. By comparison, Paramount studios had 12 theatrical releases in 2016.
But Pure Flix is not sacrificing quality for quantity. Fedyski was especially proud that its movies "The Case for Christ" (2017) and "Woodlawn" (2015) received A+ CinemaScore ratings – the only two faith-based films in history that got an A+.
"That means that the production values are really high and consumers perceive our films as excellent," he said. "That's significant."
While the days of failing to scrape together financing to produce a film and being ignored by Hollywood studios may have changed, some things are better left unchanged.
"We are deeply committed to influencing culture by bringing more family-friendly and faith content via our theatricals, TV productions and our streaming platform, Pureflix.com which launched in 2015," Fedyski concluded.
"We want to be an influencer in Hollywood for the good and let people know that Pure Flix is working diligently on providing inspirational and faith entertainment. But also to influence the studios to consider doing family-friendly content and content that will change culture for the better."