Humanoid Robot Carries Olympic Torch in South Korea; 85 Robots to Be Used at Winter Games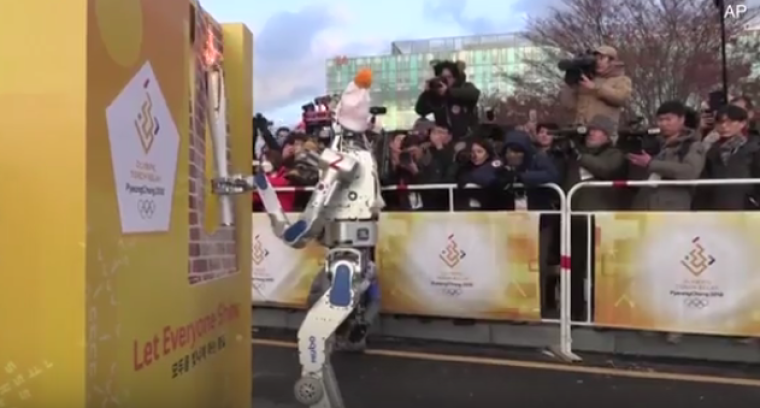 A humanoid robot carrying the Olympic Torch in Pyeongchang, South Korea, is the latest example of artificial intelligence being programmed to assist with daily tasks.
The robot, named Hubo, was showcased during the 41st day of the Pyeongchang Olympic Torch Relay ahead of the Winter Olympics. In October, the Olympic Torch was lit in Olympia, Greece, before making its way to South Korea where it will reside when the country hosts the athletic event in February 2018.
Hubo, South Korea's first humanoid robot, created by professor Oh Jun-ho, was able to both walk with the Olympic torch about 500 feet and perform a disaster relief exercise. While holding the torch with one arm, HUBO was able to cut a hole in a wooden wall and pass the torch through.
"Eighty-five Hubo robots will be used at the games to assist with security, as well as cleaning and information services," the Daily Mail reports. 
The relay celebrated information and communications technology and was symbolic of the connection between the Olympic Winter Games and technological advancements, according to Pyeongchang 2018 Organizing Committee President Lee Hee-beom.
"Today's special Olympic Torch Relay celebrating ICT was a fantastic display of innovation and creativity. ICT is a very important part of the Pyeongchang 2018 Winter Games as we aim to be the most connected and technologically advanced Olympic Games ever," Hee-beom said in a statement obtained by The Christian Post. "Today was a chance for us to show the world some exciting technologies that will be showcased during the Games."
Hubo is not the only humanoid robot that has been making headlines recently. Sophia the Robot has been granted citizenship in Saudi Arabia and serves as a glimpse of the future in artificial intelligence.
Sophia's creator, Hanson Robotics CEO David Hanson, told CNBC that people can expect to see a world filled with robots in the next two decades.
"Twenty years from now I believe human like robots like this will walk among us. They will help us," he told CNBC. "They will play with us, they will teach us, they will help us put the groceries away. I think the artificial intelligence will evolve to a point where they will truly be our friends."