'I Can Only Imagine' team launches faith-based movie studio, announces four new films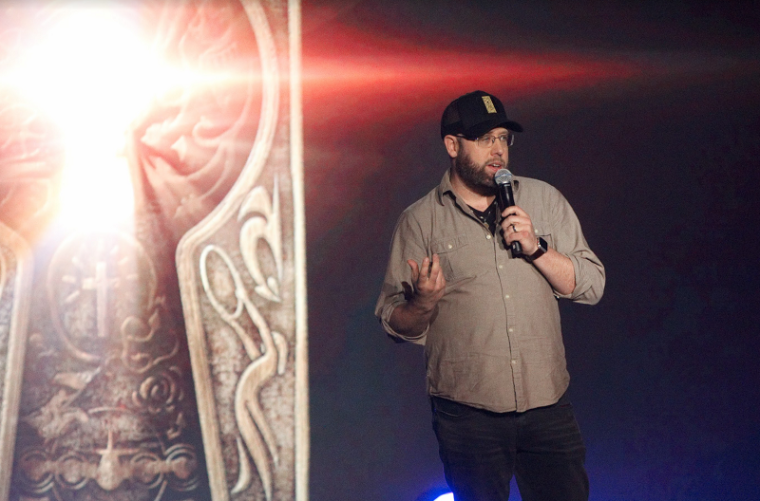 ANAHEIM, Calif. —The filmmaking team behind "I Can Only Imagine" has launched a new faith-based movie studio and unveiled four new theatrical films to be distributed by Lionsgate, including "I Still Believe," "Jesus Revolution," "Apostles: Resurrection of Christ," and "The Drummer Boy."
"We started asking, 'What can we do together that none of us can do alone? Is there a way, instead of being soloists, that we can become a symphony?" Christian filmmaker Jon Erwin told an audience at the National Religious Broadcasters' convention Wednesday. 
"The more we asked it, the more the question became a dream, and the more we asked it, the more we went out and recruited some talent and some people we were dying to work with, the more that dream became a reality — we could see it and taste it. That's why today, we're here to launch that dream. We're not here to launch a movie. We're here to launch a movie studio," he continued.
Jon Erwin revealed that the unprecedented venture, titled Kingdom Studios, will release two theatrical films each year — all with the stated aim of being entertaining, safe, and uplifting for viewers.
"We don't want to build our own name, we want to build the Kingdom," Erwin explained. "We want to tell stories that strategically brought people to the Gospel."
"If this logo is on it, you can trust it," he added.
"I Still Believe" follows the story of award-winning singer Jeremy Camp, whose wife, Melissa died of ovarian cancer less than a year after they married.
"It captured our heart," Andy Erwin said of the Camps' story. "It's a story of love, of hope, of courage, and so we're in pre-production of that story."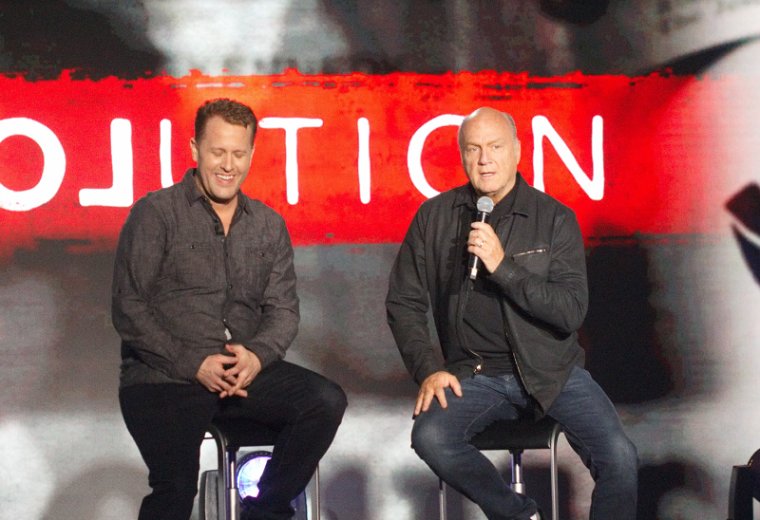 Produced by Harvest Christian Fellowship Pastor Greg Laurie, and written by Jon Erwin and "Case for Christ" director Jon Gunn, "Jesus Revolution" tells the true story of the "Jesus Movement" of the 1970s and its origins in Southern California. During the conference, Erwin brought Laurie on the stage to share his own experience with the movement.
"It was like liquid love, it was an immersive thing you walked into," Laurie reflected. "What was happening was a revival, and it was awesome, and people were coming to Christ in all of the services, we saw contemporary Christian worship born before our very eyes. It was a work of the Holy Spirit."
"I think the only way we can help people experience it is through a talented filmmaker like [the Erwins]," he added. "I hope we can take people there, and they can feel it. ... I believe the theme of revival spreads the flame of revival."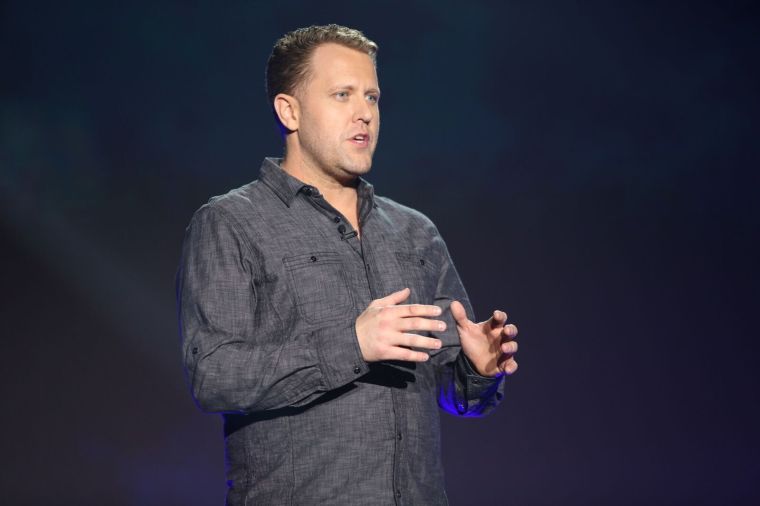 "Apostles: Resurrection of Christ" will be a trilogy of films inspired from the New Testament, written by Jon Erwin and Jon Gunn and directed by the Erwin Brothers with Downes producing.
"Here's our promise to you guys: We're going to make these films with the foundation being the absolute truth of Scripture and with the budgets that you would want to see in Hollywood films that the Bible so absolutely deserves," said Downes.
The final feature Kingdom Studios announced is a period musical, "The Drummer Boy," which is being produced in association with the faith-based musical duo for King & Country. The project is in the early stages of development and will be written and directed by Joel and Luke Smallbone and produced by Downes and the Erwin brothers.
"We're gonna unleash some talent, and the films that are going to be made are extraordinary," said Jon Erwin.
The Erwin brothers' 2018 film "I Can Only Imagine" grossed $85 million worldwide against a production budget of $7 million, becoming the fourth highest-grossing music biopic of all-time in the United States.
Jon Erwin told The Christian Post that following the film's success, he and his brother felt they had been "stewarded with an incredible moment that gave us incredible leverage, influence and opportunity."
"We really felt like what God had given us after 'Imagine' — we either steward it, or it might not happen again," he shared. "It was just a perfect storm of circumstances that led to what we thought would be a quantum leap forward for faith-based films."
Andy Erwin added that another goal of Kingdom Studios is to identify and nurture up-and-coming directors, writers, and producers, including  23-year-old actress Madeline Carroll of "I Can Only Imagine."
"We're really excited because we feel like the talent level there can take it even farther than what we've done," he said. "They're more talented than we are. S, we're excited about the possibilities."
Still, the brothers admitted that they will inevitably experience "growing pains" associated with managing the tasks ahead.
"['War Room' director] Alex Kendrick summed it up well. He came up to us and said, 'I love you, I'm here for you guys, I believe in you guys, but you guys are crazy,'" Andy Erwin said with a laugh. "I mean, we're launching a studio and we've got two movies that are in active production. So it's definitely a lot."
"It's definitely a vision has to have the Lord to be successful," he added. "But we know the Lord's got a plan, and that gives us all peace about it."