Identity politics and the immigration crisis
Editor's Note:  The word "Anglo-Protestant" has been removed from the Samuel Huntington quote in an earlier version of this opinion article at the author's request.

Oh, how we need the wisdom and voice of Samuel Huntington in the midst of today's immigration chaos.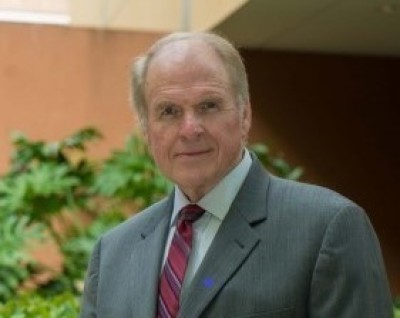 Huntington died in 2008 after 50 years at Harvard University, much of that as director of its Center for International Affairs. Huntington also served as Coordinator of Security Planning for the National Security Council during the Carter Administration.
Samuel Huntington had almost unequaled insight into national and international affairs, as seen in two of his major books: The Clash of Civilizations, and Who Are We? The Challenges to America's National identity.
That latter book especially is why we need Huntington's voice midst the present immigration morass. His wise counsel is available for anyone who will bother to read and reflect on his views.
I think of Huntington and recall an experience I had one night in the 1980s.
During a flight from Singapore to the United States I had to change planes in Tokyo. The walk from my arrival to my departure gate was a labyrinthine journey through the Narita airport terminal, past many other gates,
The sight at one of them brought me to a stop. A long line of Cambodian refugees from a displaced persons camp in Thailand were in the boarding process for a Seattle-bound flight.
I scanned their faces and was deeply moved by the excitement and anticipation I saw.
A teen-age boy stood right at the end of the line, holding a small bag given him by the Red Cross, and wearing a tee-shirt bearing the name of the Thai camp. Our eyes locked, and I smiled. He smiled back and suddenly gave me a thumbs up.
That action brought tears to my eyes: tears of happiness for him and the other refugees on their way to America, but also tears of sadness that so many Americans had lost their love and appreciation for their own country, and grief over the fact that there were forces at work in the United States to turn America into the type of nation those refugees were fleeing.
The years have passed, and the national identity crisis has intensified in the United States. The "new" nation is falling victim to subtle tyrannies, stripping away freedoms under the guise of progress.
At this moment we urgently need Huntington's wisdom for ourselves... and immigrants who fix their hopes on America. In Who Are We? he wrote:
"Americans should recommit themselves to the ... culture, traditions, and values that for three and a half centuries have been embraced by Americans of all races, ethnicities, and religions and that have been the source of their liberty, unity, power, prosperity, and moral leadership as a force for good in the world..."
Huntington was prescient, seeing the danger of the collapse into identity politics. "I believe one of the greatest achievements, perhaps the greatest achievement, of America is the extent to which it has eliminated the racial and ethnic components that historically were central in its identity and has become a multiethnic, multiracial society in which individuals are judged on their own merit."
But this is what identity politics is now destroying, and why the America many immigrants believe they are entering is being changed into something else... something more akin to what they are fleeing.
Huntington is deceased, but thankfully Joshua Mitchell, Georgetown University Professor of Political Theory, is alive and giving us the same kind of wise counsel as did Huntington. Mitchell's book is American Awakening: Identity Politics and Other Afflictions of Our Times. There he writes that, "identity politics is a very loud public affair that is making constructive public life increasingly difficult if not impossible."
Like Huntington, Mitchell laments the loss of America's spiritual roots. "We are living in the midst of an American Awakening, without God and without forgiveness" because the nation "lost sight of Christianity," and so "the awakening through which we are now living ... has no place for the God who judges or the God who forgives, and has brought America to a dead end, beyond which no one can see."
One of the most concerning outcomes of the abandonment of the Judeo-Christian worldview is that America's worldview is now up for grabs.
I think of all those people on the southern borders trying to flood into this nation. Some no doubt are foreign plants, wanting into the United States to bring its downfall. Others are desperate people who have no reason for hope back home. Some seek reunification with family. Many look northward with hope, willing to sacrifice almost anything to cross the Rio Grande and other barriers while many Americans take this nation for granted, and disdain the very worldview that produced their liberties, opportunities, and prosperity. Some Americans view the immigrants as a fresh labor force, or a new voting bloc that will support the very progressivism that is altering the nation where they seek refuge.
We should weep for those who look longingly across the border with anticipation, because we know there are hordes of Americans waiting on the other side—some in strategic leadership—who can't wait for the opportunity to tell them how corrupt, racist, and evil we are.
The irony and irrationality of it all is that while the unceasing critics broadcast our alleged shortcomings, they want to make it easier for the immigrants to get here.
Oh, how we need the sobering voice of Samuel Huntington... and the contemporary wisdom of Joshua Mitchell.
Considering their writings, they might say that there is One far greater than either of them, and it is to that One that we should look.
And they would be right.
Wallace B. Henley's fifty-year career has spanned newspaper journalism, government in both White House and Congress, the church, and academia. He is author or co-author of more than 20 books. He is a teaching pastor at Grace Church, the Woodlands, Texas.