If Ashli Babbitt were a liberal activist protesting abortion, we'd know who shot her: police assoc. spokeswoman
The American public 'deserves to know' more about Babbitt's death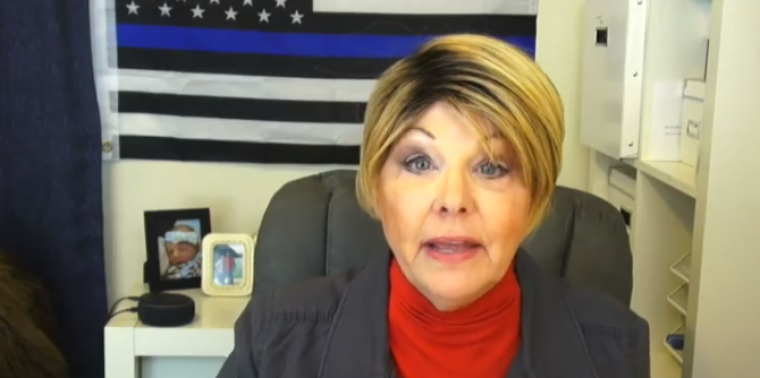 If Ashli Babbitt had been a liberal activist protesting abortion, the American public might know the name of the officer who shot her, and he might be facing criminal charges for killing an unarmed woman, according to Sgt. Betsy Smith, spokeswoman for the National Police Association.  
Smith expressed concern about the lack of public information about the killing of 35-year-old Babbit, a U.S. Air Force veteran, who, while she was unarmed and surrounded by armed Capitol police standing nearby, attempted to climb through a smashed door pane into the House chamber during the Jan. 6 riot at the U.S. Capitol. She was shot in the neck by a plainclothes officer from inside the chamber. Babbitt was the lone person killed that day by lethal force. 
The American public, Smith said, "deserves to know the details" about the circumstances of her death.
Appearing on NTD Television's "The Nation Speaks" last Saturday, Smith primarily discussed the officer-involved shooting of Daunte Wright in Brooklyn Center, Minnesota, on April 11 and the unrest and violent riots that have broken out in response to Wright's death and that of George Floyd last May.
Toward the end of the conversation, Smith was asked to address the shooting of Ashli Babbitt, who was among a few hundred Trump supporters who stormed the Capitol as Congress was certifying the results of the 2020 presidential election. 
Three others who died at the Capitol that day include a woman who sustained injuries after being trampled on by the crowd, an individual who suffered a heart attack, and another individual who had a stroke. 
While the corporate media had claimed for months that Capitol police officer Brian Sicknick had died as a result of injuries he suffered when responding to the riot, specifically alleging that he was hit in the head by a fire extinguisher — which was also cited by Democrats at former President Trump's second impeachment — reports now say medical examiners "did not find signs that the officer sustained any blunt force trauma." Since Sicknick responded to the riot where he was sprayed by an irritant, possibly bear spray, it's speculated that that might've contributed to his death, along with any preexisting condition.
More than three months after the Capitol riot, the Capitol police officer who shot Babbitt has yet to be identified. "It's been announced that they will not be laying any charges against that officer. What's your take on that?" NTD host Cindy Drukier asked Smith.
"I think what we have to look at is the continued politicization of law enforcement in this country," Smith responded. Describing Babbitt as an "unabashed conservative" who "did a wrong thing by being part of that group that broke into the Capitol," Smith said her death was unjustified and condemned the secrecy surrounding the identity of the Capitol police officer who killed her.
"She was not armed … and to my knowledge, no one there was armed. You also see another video, taken by a citizen journalist, where you see police officers, some of them in riot gear, that are ... behind Ashli Babbitt and some of them are walking down the stairs, they're kind of getting out of the way … and that is very confusing to me as a police officer as to what was happening there," she said.
"So now we've got this double standard and I find that very dangerous," Smith asserted. "I think that if the Justice Department has said that that officer should not be charged, then that's fine. But I think that the American public deserves to know the details of why deadly force was deployed, because there are very strict rules when we use deadly force. And I think we also deserve to know that officer's name."
"There was really no reason to know the name of the officer that shot Daunte Wright, but yet, it was released," Smith added, noting that Kim Potter, the officer who shot Wright, has had to flee her home for her own safety. Smith mentioned that Potter's home is now surrounded by barricades and police officers "just to try and keep the activists from burning down her home and burning down her neighborhood."
"That's one of the most remarkable things about this, how they have not released the officer's name and it seems like, in every single one of these cases, it's instantly released," Drukier noted. Smith acknowledged that it makes sense for the officer to have "reservations about people finding out his name," stressing that other officers in similar situations who've had their names released, like Potter, probably felt the same way.
Smith lamented the "complete lack of curiosity by the legacy media" that does not "seem to really care why Ashli Babbitt was killed, they don't seem to care. … They're so concerned about police tactics and why we do what we do until it comes to Ashli Babbitt, an unarmed woman shot and killed by law enforcement. I think the American public deserves to know and we need to have that discussion."
NTD Television is an affiliate of The Epoch Times, which reported that Smith implied that had Babbitt "been a liberal activist protesting abortion or perhaps protesting Brett Kavanaugh's confirmation at the Supreme Court, we might be dealing with a very different issue, and that is not how the American justice system operates."
Expanding on her allegations of a double standard, Smith contended that the DOJ's failure to prosecute the officer who shot Babbitt says that "if you are protecting our wealthy politicians at the United States Capitol, you have different rules of engagement than you do if you're trying to protect a small town or an urban area." She characterized that idea as "very dangerous."