Illegal immigrant sex offenders released due to Biden's detainer policy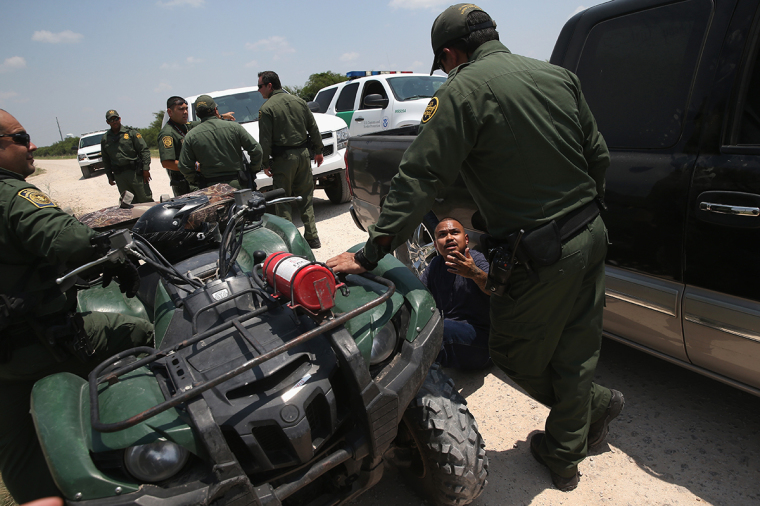 Dozens of criminal illegal immigrants were released in Texas, including at least two sex offenders, due to the Biden administration's guidance to U.S. Immigration and Customs Enforcement regarding deportations.
In March, more than 36 inmates at the Bexar County jail with ICE detainers "were not picked up [by ICE] and had to be released to the streets of San Antonio," Fox News' San Antonio affiliate reported. 
Instead of being deported, the convicted felons were released in Bexar County, which has a population of 2 million people. The felons' charges range from assaulting a police officer,  family violence and drug-related charges. Other felons released in the state are sex offenders. 
Sources within law enforcement and ICE told Fox San Antonio that the "U.S. Marshals' Office is having to release detainees, allegedly because ICE will not pick them up." 
"That includes two sex offenders with ICE detainers, who were both released from the custody of the U.S. Marshals after they served their state time or settled their state proceedings, one in Del Rio, the other in Austin," Fox San Antonio reporter Yami Virgin said. 
"Sources at the U.S. Marshals tell us that in some districts, deputies now release the detainees to probation officers and then onto the streets since ICE won't honor all of their own detainers and pick them up," Virgin added. 
Federal agents are not picking up the offenders "despite the fact that there are ICE detainers saying that they must do so," she added. "Instead, these criminals are going free and walking the streets right here at home." 
Aristides Jimenez, the former agent in charge of South Texas Homeland Security Investigations, told the outlet that "detainers are intended to keep criminals out of local communities."
"How it's done is by allowing ICE officers to take custody of a criminal alien within the confines of a jail," Jimenez said.
Virgin described detainers as "the way the federal government asks state and local law enforcement to notify ICE when an undocumented detainee or inmate is to be released." Under normal circumstances, "ICE picks them up and sends them back to their country of origin," she added. 
However, the Biden administration has taken a different approach to immigration enforcement. 
"They're basically telling the state and locals to just release them into the community," Jimenez added.
"When ICE is not responding, underscore the importance of information sharing and good public safety and policing between state, local and federal entities," he added. 
According to Fox San Antonio, "Homeland Security Secretary Alejandro Mayorkas stopped deportations for 90 days, starting back on Feb. 18." 
The Feb. 18 guidance identifies three priorities for "civil immigration enforcement and removal." 
The guidance urges ICE officials to prioritize the removal of those believed to have engaged in terrorism or espionage, crossed the border since Nov. 1, 2020, and were convicted of an aggravated felony or participation in a street gang or a "transnational criminal organization." 
Deportations of individuals that do not fall into one of these three categories require "preapproval."
In a statement to Fox San Antonio, ICE stated that the guidance provided to them by the federal government "focuses on the agency's stated interim priorities, and does not prohibit the arrest, detention, or removal of any noncitizen." 
The report comes as Texas and Louisiana are suing the federal government over this issue.  
The lawsuit alleged that the Feb. 18 memorandum and a previous memorandum issued on the first day of the Biden administration established a "two-tier system" that led "federal immigration authorities to rescind detainer requests relating to incarcerated criminal aliens, to not issue detainer requests even for individuals subject to mandatory removal, and to release individuals from federal detention facilities." 
"As a consequence, dangerous criminal aliens are being released into communities," the lawsuit continued. 
The lawsuit accuses federal immigration officials of breaking federal law by "refusing to take custody of aliens convicted of serious crimes," specifically referring to "drug offenses or crimes of moral turpitude." 
Examples of "crimes of moral turpitude" listed include "evading arrest with a vehicle, failing to stop and render aid after being involved in an automobile accident, theft, and crimes in which fraud is an ingredient."
The lawsuit asks a federal judge to invalidate portions of the Feb. 18 and Jan. 20 memorandums and require the federal government to take custody of criminal illegal aliens as mandated by federal law. 
Paxton is not the only Texas official sounding the alarm about immigration enforcement policies. 
When asked about the allegations that convicted felons are being released by ICE and not deported, Texas Gov. Greg Abbott said that "[t]hese allegations are outrageous and irresponsible and reckless and dangerous."
"Lives of people in this country are at risk if the allegations are true that felons are being released," he said. 
Rep. Pat Fallon, R-Texas, told Fox San Antonio that two coyotes transporting 15 people in their truck were released even though they had ICE detainers. 
The interim guidance will remain in effect until the Biden administration issues new enforcement guidelines. The new guidelines are expected in the coming weeks. 
Email: ryan.foley@christianpost.com