In-N-Out Christian Food Chain That References Bible Verses on Its Cups Is America's Favorite Place to Get a Burger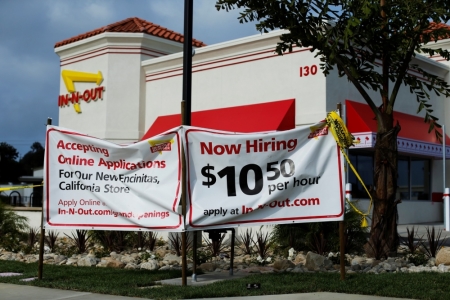 The In-N-Out Burger chain is America's favorite "limited-service" restaurant, according to the annual Consumer Picks survey in Nation's Restaurant News.
A "limited service" restaurant includes eateries that allow customers to pay at the counter and receive quick and efficient service. Other examples of this type of business include buffets, cafeterias and chain steak houses.
In-N-Out Burger, known for its animal style fries, includes references to Bible verses on the bottom of their cups. Some of the verses include Revelation 3:20, John 3:16, Matthew 6:19 and 1 Corinthians 13:13.
The practice of including Bible verses on the bottom of their cups started in the 1980s under the presidency of Rich Snyder who wanted to find a better way to reflect the company's Christian beliefs.
The burger chain has also developed a cult following with big names in the food world, including CNN's "Parts Unknown" host Anthony Bourdain.
This Consumer Picks survey ranks 172 restaurants and rates them on food quality, cleanliness and atmosphere. The results are compiled from 42,196 responses to an online survey issued by the publication.
In-N-Out scored 71.9 percent in the limited service category, achieving high ratings in areas such as food quality (86.5 percent), "likely to recommend" (81.3 percent), service (79.5 percent), "likely to return" (77.8 percent), and "craveability" (74.5 percent). The chain scored a bit low with 31.3 percent for its menu variety and 55.7 percent for atmosphere.
This marks the burger chain topping the survey for a third year in a row.
Chick-fil-A, another Christian-owned company, also ranked high on the survey at No. 5.
Big names such as McDonalds failed to crack the top 100, coming in at 110 out of 111, beating out Chuck E. Cheese which was ranked last.
The Christian Post reached out to In-N-Out for comment but the company did not respond by press time.