International Justice Mission's Gary Haugen challenges college students: 'What darkness needs is your light'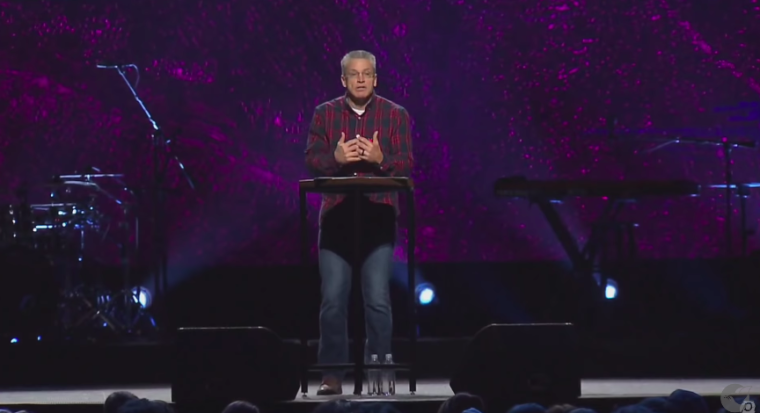 As part of the Passion 2019 Conference, Gary Haugen, founder and CEO of the human rights organization International Justice Mission, empowered college students to fight the darkness and suffering prevalent around the world by assuring them that God can turn even the smallest light into a bonfire.
Today, more than 20,000 children are going to die because their parents are too poor to keep them alive. Today, an average of 40,000 people will be forced to flee out of their homes due to violence and persecution. There are 100,000 children in America who are in the midst of a dangerous and scary foster care system — but no family will adopt them.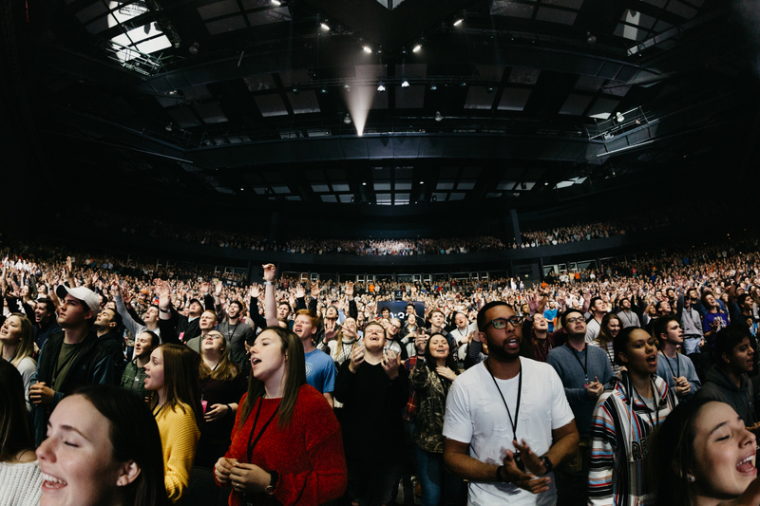 After presenting these statistics to thousands of college students gathered at the conference in Dallas, Texas, Haugen asked: "In a world of such darkness, of such suffering and hurt, what is God's plan for making it believable that He is a good God?"
"You are that plan, and God doesn't have another plan," Haugen continued, citing Matthew 5:16: "Let your light so shine before men, that they may see your good works, and glorify your Father which is in Heaven."
Haugen admitted it's overwhelming when we realize that God — the maker of the universe — has decided to "put His reputation on the line in the world today on whether or not His children manifest His love and goodness in the world."
But Satan wants us to feel anxious and inadequate, Haugen said, adding: "He likes us to feel totally overwhelmed by the darkness in the world and overwhelmed by how unqualified we are for this job."
God doesn't call us to "drive out all the darkness in the world," Haugen explained — He simply asks us to "take our little light into the darkness so that He can gather it up and build a bonfire."
Haugen revealed that 22 years ago, he and a few others were compelled to start IJM after God called them to bring their "little flickering light of love and hope to victims of violent abuse in our world who were very, very poor."
"We started taking just individual cases of very poor people suffering from horrific violent abuse," he recalled. "A little girl sold into a brothel by sex traffickers; a widow who was run out of her home in Africa by some men with machetes; a family who's been sold into slavery; an abandoned girl who had been raped in a slum."
"We started to take on these cases just one by one, and honestly at the beginning, for every case where we saw light prevail, there were 10 or 20 where the darkness beat us. But we just didn't go away," he continued.
What started out as a tiny ministry out of a closet is today a worldwide operation with over 1,000 staff members, including lawyers and criminal investigators and social workers.
"Turns out, you just bring your little light, and God builds a bonfire," he said. "That might seem obvious and even believable to you, now 20 some odd years later, but I just wish you could feel how scary and impossible this felt when we started, especially because of the particular kind of darkness we were heading into."
Darkness and violence, he said, "will fight you back."
"When the poor were suffering from violence, abuse, when they were being imprisoned, enslaved, beaten, raped, and robbed, the body of Christ was bringing no light," he said.
Haugen shared the story of David, an orphan in Nairobi, Kenya, who lived on the streets, surviving on rotten fruit. Alone in the predominantly Muslim region, he would medicate himself with glue to help overcome the pain of the beatings he sustained at night.
Miraculously, David came to know the love of Jesus thanks to the witness of some Catholic nuns who took him in. He graduated from high school and went on to build a little street business, and he was helping serve AIDS victims in his community.
However, the darkness of violence struck: One afternoon, a drunken police gang pulled David off the street, robbed him, shot him, and left him for dead in the street.
"In this one single moment, all of that hard work of survival and all the faith and struggle and love of his church community around him was thrown to the ground in a bloody mess," Haugen said.
Doctors and nurses were able to save David's life but had to amputate his hand. Terrified David would turn them in, the corrupt police officers threw the young man in prison where he suffered from disease and infection.
"For years, the people of God had walked with David to overcome abandonment, hunger, homelessness, disease, and addiction," Haugen said. "They actually provided a pathway so that he could come to know Christ. They provided a pathway to education, to community, to livelihood, and these were the needs the body of Christ knew how to deal with, and they were good at it."
"David was able to overcome poverty and thrive, but then violence ripped it all away, and this was the one thing the body of Christ was not equipped to address," he continued. "So where could he turn for help?"
Two young IJM lawyers discovered David, gaunt and chained to his bed, and took on his case.
"I just want to say for all of you who hear Jesus saying, 'You are the light of the world,' but feel overwhelmed by the darkness in the world and the frailty of your own little light, I want you just to see the way God begins to build a bonfire. I want you to behold the way He works, because He works with the one."
Haugen then introduced David to the audience, who came onstage to share his testimony.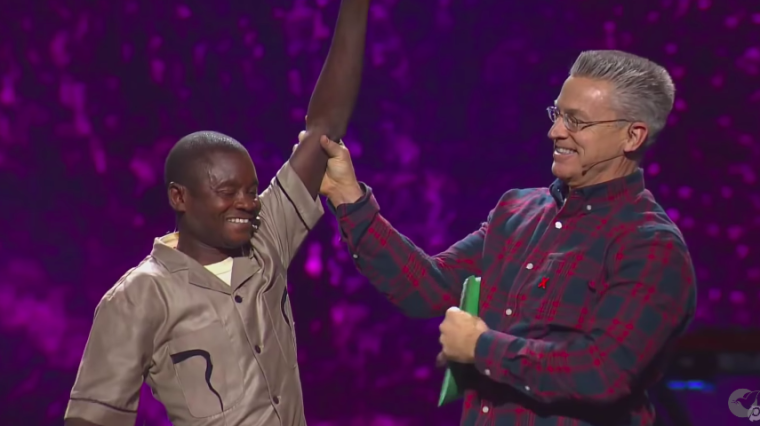 "I stand here as a testimony of God's miraculous work," David said, "and He gets to do it through people like you ... I had lost all hope. But even in those dark days, God, in His own way, showed His light in my life, and we praise Him."
Thanks to the work of IJM lawyers, David was freed from prison. Now happily married with children, David graduated law school and today helps his community fight the injustices they continually face.
"Today as I stand here, I can see that God did it," he said. "God is a faithful God …. because the [IJM lawyers] set me free. I can now use my own freedom to do something about sad things, about such pains that are still existing in people's lives."
Addressing the audience, Haugen said, "David is overwhelming the darkness as he takes his light into his community. God is building bonfires out of little lights, and now he's transforming the nation of Kenya."
He concluded his message by asking attendees: "What is the particular darkness that needs your light?"
"There is darkness in our world for sure," he said. "There's darkness in our nation. There's darkness in your community. There is darkness on your campus and in your family. If you ask Christ, He will lead you."
"I don't know exactly what kind of bonfire God wants to build out of the 40,000 lights that are at Passion 2019," he continued, "but I know this: you're the light of the world. Let your light so shine in this world that they will see your good works and give glory to your Father who is in Heaven."
Passion 2019 is the first year the conference has been held in four different venues — two in Atlanta, Georgia, one in Dallas, Texas, and one in Washington, D.C. — simultaneously.  The annual event was held Jan 3-4.