Interview: Miss Kay on Overcoming Past Guilt, Forgiveness and Sharing Her Grandmother's Sage Advice
Miss Kay, the matriarch of the Robertson family whose country cooking brings her family together every Wednesday night for a prayer around the dinner table on the hit reality TV show "Duck Dynasty," talks about motherhood guilt, forgiving Phil and shares some sage advice from her grandmother in an interview with The Christian Post.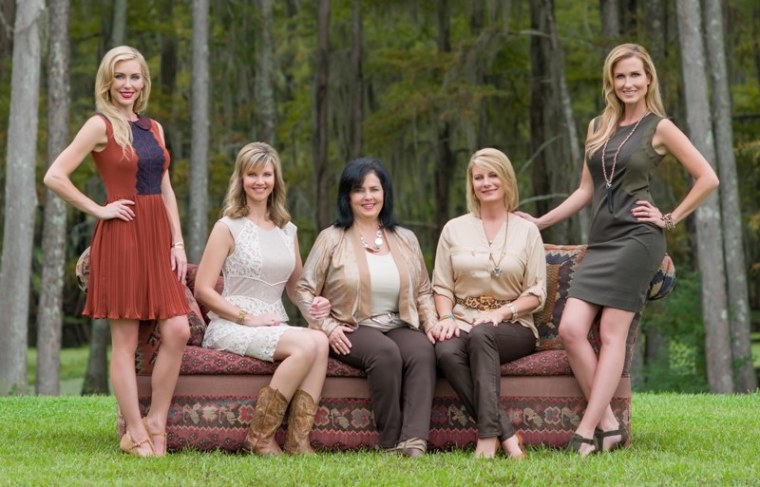 The following is an edited transcript of CP's most recent interview with Miss Kay, who's the author of three new books, Miss Kay's Duck Commander Kitchen, The Women of Duck Commander and D Is for Duck Calls.
CP: Do you and Phil ever look back at your past together and the struggles you went through before Phil gave his life to Christ, and think about how life for your family would've turned out had you divorced and your sons been raised in a home without their father?
Miss Kay: Oh yeah, we talk about that sometimes. We really do. We talk about how faithful we are now. The first 10 years of our marriage that I talk about when I speak to people, and in The Women of Duck Commander, they were so hard.
But I'm going to tell you, Alan was my rock and I couldn't have made it without him. And yet, sometimes I feel guilty, because he took care of his brothers and he helped me. He never got to play baseball or do a lot of things that little boys get to do. I told him one time that I felt so bad about that. And he came back and said, "Mamma, never, ever, ever feel guilty for that, because you did the best you could do with the circumstances you had at the time." And he added, "Look at me now. Dad is my best friend. Our family is together. And if I had to do my part in doing that, then it was all worth it, wasn't it."
So, isn't that great? To have a son who thinks about it like that and looks at it like that.
CP: How did you not hold Phil's past mistakes over him when your family reunited and he turned his life over to Jesus Christ?
Miss Kay: I was seeking out every book that could ever help me in that kind of area. And one thing I did early on that I want to share – I think people don't do this and I wish they did – is I told my sons, you don't hate your daddy, you hate the devil.
I knew when Phil and I were first together that he had a good heart. He was a hard-working man and the love of my life. But what I saw when he went to college is that he started running with people who were just so ungodly. And I'm not blaming the other people, you make choices, good choices and bad choices, and Phil made a lot of bad choices.
And in that, what happened was I just saw the devil started to take over his thought process and his mind. So when that happened I would tell my kids, I said, "Your daddy is a good man and has a good heart, but the devil is in control of him because he let him be." And I explained the Garden of Eden and good and evil and all that.
I told them, "You don't hate your daddy, you hate the devil, because he's the evil that's there doing that." Jason commented when Phil first came to Christ, he said, "Does that mean the devil's leaving my dad." I said, "Yes, Jesus is living in your dad, but still he's going to have a lot of help, because he doesn't know how to be good. And so we have to help teach him how to be good." When they understood that their hatred was for the devil and not for their dad, it was much easier for them.
CP: What are some of the lessons that your grandmother taught you that you feel are important to pass on to your grandchildren?
Miss Kay: Well, as you know, my grandmother had a limited education. I think she had to quit school at an early age. I know she married at 15, and in her letters that she wrote to me when I left home you could always tell she didn't have her capitalization right and she didn't include all of her punctuation. But they were heart-felt and she did the best she could.
Even though she had a limited education, she would tell me stories like, pretty is as pretty does. You could be beautiful on the outside, but if your inside is not pretty, if you're not kind, if you're not gentle, if you don't say good things to people, you're not pretty. She also taught me to not talk about people and to never ever make fun of someone who has something wrong with them. She taught me all those lessons.
And she taught me a lot about God, and that He's what makes America great. She spoke about the country being founded on God and the Bible and how important that is in our walk and our life.
She's also the one who taught me that marriage is one man, one wife for one life. She often said that marriage is about God — don't go messing with that; and to fight for your marriage, because it's worth it. She taught me all of those things, which I've passed on to my children.
And then she taught me about how fun it is in life to laugh. We'd laugh about some of the mistakes we made in the kitchen and, you know, she was not one to get be mad if I did something wrong.
I even spilled flour and accidentally got it from one end of her kitchen to the other. But I was trying, as a little girl, to learn how to cook, and so we laughed about it. My aunt would come up there and fuss up a storm, and my grandmother would say, "You know what, it's OK. She's learning, and she's going to learn how to do it better."
And then she also taught me a very important lesson, which is that people are far more important than possessions.
She even taught me to always have food prepared for guests. She'd make a cake, pie, cookies, fruit salad or some little something. And if I knew there wasn't anybody coming to her house that day, I'd ask, "Why'd you make that?" She'd say, "Honey, you always want to have something for the strangers that might come by." So even if it was a worker we gave him something to drink and maybe a bite of something to eat. And she was just like that, very hospitable, very open and very kind.
I learned all that from her and I try to pass it on to my grandkids and great-grandkids.
My 10-year-old granddaughter Mia, Jase and Missy's daughter, already knows how to make biscuits. The only problem she has is she can't lift the iron skillet, of course, but she can make the biscuits.
CP: Other than reading, cooking, hunting and fishing, what are some other activities in the Robertson family that are important for kids to engaged in?
Miss Kay: One thing we do regularly is on Wednesday afternoons the younger grandchildren like to go to Frogs Flea Market, it's their favorite place to shop. Of course, my daughters-in-law say, "I wish you'd stop letting them get all that junk."
But I say, "They learn how to use money." Because I give them $10 each and they have to figure out what they can buy. And then their last thing to say is, "You forgot to tell us about tax." They have to keep $1 over for just tax. So we go to the flea market, go out to eat and then we go to church on Wednesday nights. It's something we do every week.