Iranian Military Commander: We Have 100,000 Missiles Ready to Strike Israel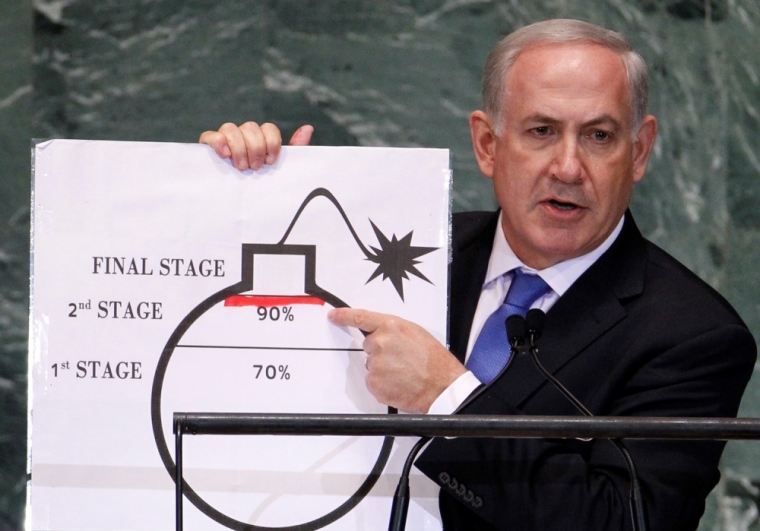 The deputy commander of Iran's Revolutionary Guard claimed Friday the country has supposedly 100,000 missiles in Lebanon ready to launch at Israel.
"Hezbollah has 100,000 missiles that are ready to hit Israel to liberate the occupied Palestinian territories if the Zionist regime repeats its past mistakes," Hossein Salami is quoted as saying by Iranian news outlet Tasnim, according to Reuters, as thousands of Iranians banded together in an anti-Israel rally.
"The opportunity to destroy Israel is now better than ever," he added.
All that is necessary for Salami to launch an attack on Israel's occupied territories, the Jerusalem Post reported, is for the Jewish state to make a "wrong move."
At the same time, Iranian President Hassan Rouhani believes the West is trying to sow discord between Sunni and Shiite Muslims to distract from the Palestinian-Israeli conflict.
"The global arrogance [the United States and its allies] wants to create discord among Muslims. ... Unity is the only way to restore stability in the region," he said, according to state TV. "We stand with the dispossessed Palestinian nation."
Rouhani and the crowd expressed their unwavering support of a Palestinian state. As the Israeli flag burned, rally-goers shouted "Death to Israel" and "Death to America."
According to the Iranian leader, last year's controversial nuclear deal "was the cheapest way to achieve Iran's goals and interests." Now Rouhani believes the country is in a position to pursue its "national interests more than before."
Israel is a long-time enemy of Iran. In 2005, then Iranian President Mahmoud Ahmadinejad said Israel, a "disgraceful blot," should be "wiped off the face the earth."
"Anybody who recognizes Israel will burn in the fire of the Islamic nation's fury, [while] any [Islamic leader] who recognizes the Zionist regime means he is acknowledging the surrender and defeat of the Islamic world," he said at the time.
That sentiment is largely unchanged today, as Iran's supreme leader Ayatollah Ali Khamenei over the weekend called on the world's Muslim student groups to establish a "unified anti-U.S. and anti-Zionist front."
"By using advanced means of communication and in cyberspace, general campaigns can be formed by Muslim students based on the opposition to the policies of the U.S. and the Zionist regime of Israel so that, when needed, millions of young Muslim students create a big movement in the Islamic world," he said.
Opposition to Israel has been a stalwart policy in Tehran since the 1979 Islamic Revolution. The Shiite Muslim faction of Iran has long backed Palestinian and Lebanese groups who oppose peace with the Jewish state.