Iraq Hits Back Against US Claim It Has 'No Will to Fight' ISIS, Launches Major Operations to Liberate Captured Provinces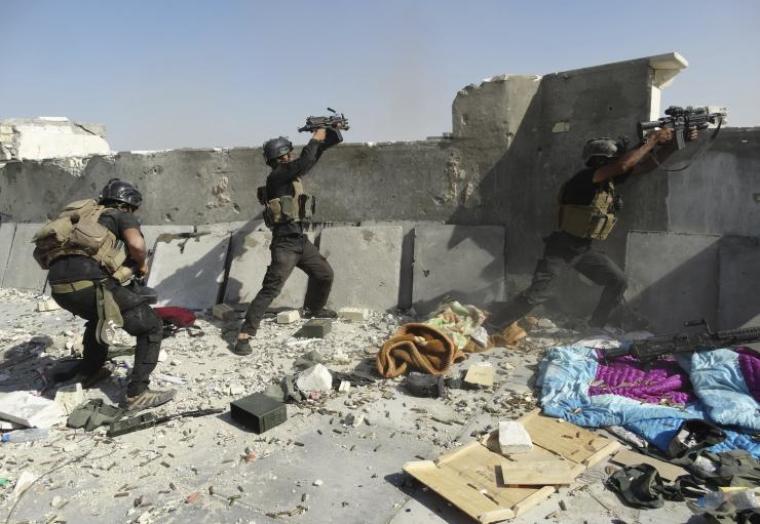 Iraqi Prime Minister Haider al-Abadi has hit back against accusations by U.S. Defense Secretary Ash Carter that his country has "no will" to fight terror group ISIS, which prompted Vice President Joe Biden to call al-Abadi and speak about the issue. The Iraqi army has meanwhile launched a major military offensive to liberate the captured Anbar and Salaheddin provinces.
Abadi responded to Carter's accusations over the weekend by stating through a spokesman that the U.S. defense secretary had been given "incorrect information," and said that it's not right to "judge the whole army based on one incident."
Iraqi forces lost the battle for the key city of Ramadi earlier this month, giving ISIS its most significant victory in the country since the U.S. and its international allies began airstrike operations against the terror group last year.
Biden has since recognized "the enormous sacrifice and bravery" that Iraqi forces have shown in defense of their country, The Guardian noted, and praised the Iraqi government for mobilizing additional troops for counter-attack operations.
CNN reported that Iraqi forces will be aiming to take back Ramadi, which is Anbar's capital, and located only 70 miles from Baghdad. In Salaheddin, the army will look to cut a supply route into Anbar, and liberate Baiji city and an oil refinery, both of which are under ISIS' control.
Iraq's state television channel, Iraqiya TV, stated on Tuesday: "Defense Minister: Vast operations are underway, coordinated between our Armed Forces and the heroic forces of al-Hashd al-Shaabi to liberate Ramadi from Daesh [ISIS].
Officials have not shared details on how many troops are involved, however, or given any timeline for when ground forces will engage the Islamic militants in combat.
The U.N. has said that over 55,000 people have fled Ramadi since ISIS captured the city. The jihadist group has reportedly carried out many atrocities in the city, including mass executions of people and families deemed to have been supporting the government.
CNN counter-terrorism analyst Philip Mudd offered that the government combining forces with Shiite militia groups may be enough to help it achieve initial victories.
"Short term, they may win," said Mudd, a former CIA counter-terrorism official. "The long-term solution for Iraq may not be a unified state if the only message they (Sunnis in Anbar province) get is either join ISIS, which will behead you, or support the government, which brings in rival Shiite militias to oust the Sunnis. It's a very difficult political situation."
ISIS has continued amassing foreign troops, and throughout the past year has gained experience in capturing and holding large cities.
"Long term, I think there have to be pretty basic questions about how a Shiite-led government that's supported by Iran brings in Sunnis to participate in government," he said.