Irish Priest's 'Britain's Got Talent' Performance Goes Viral; Simon Cowell Is Moved With Emotion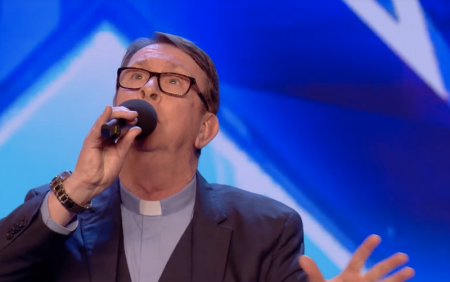 Father Ray Kelly, a priest from a Catholic parish in Oldcastle, Co Meath, Ireland, stunned judges on "Britain's Got Talent" this week with his rendition of the classic song "Everybody Hurts" by the band REM. The performance even made Simon Cowell well up with emotion.
Upon taking the stage dressed in clerical clothing, Kelly explained that his song choice was inspired by his field of work. As a priest, he said he's seen a lot of pain as well as joy and happiness.
Kelly's performance ended with a hush as everyone was in shock until Cowell stood up and then the audience erupted in a standing ovation. The priest received four "yes" votes from the judges. Judge Amanda Holden joked that Kelly had "the whole congregation behind him."
Cowell added that the 64-year-old's performance was one of his "favorite ever auditions."
The performance instantly went viral online, being viewed millions of times on YouTube and Facebook. Even the band REM commented on the performance.
Tweeting a video of the performance, they said: "Powerful and poignant rendition of 'Everybody Hurts' by Fr. Ray Kelly. Bravo!"
Although Kelly is receiving all of this recognition, it's not his first time going viral. In 2014 Kelly, who once worked in South Africa during apartheid before returning to his native Ireland, surprised a church full of wedding guests with a special arrangement of Leonard Cohen's "Hallelujah." The moment was captured on video and has been viewed over 60 million times on YouTube. That video led to Kelly getting a two-album deal with Universal International.
"Simon told me they had never had a priest on the show before, so I am the first priest – and the first singing priest," Kelly said, according to Irish Mirror. "And when Simon stood up and said it was the best audition he'd ever heard, I was like, 'Gosh, to hear that from Simon Cowell is something.' I was shaking. It was amazing.
"To me, BGT is one of the biggest shows in the world. It's very, very exciting to be on it."
Back when he was a student, Kelly was also in a pop band called Rafiki and joked he was one of the original boy bands.