Is Fighting Climate Change a Pro-Life Cause?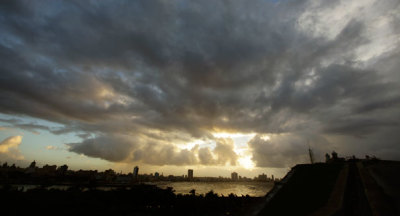 Some evangelical climate alarmists are trying to persuade Florida Governor Rick Scott that global warming is a pro-life issue. He should not be fooled.
Christian ethics distinguishes between intentional (Exodus 21:12, 14) and accidental homicide (Exodus 21:13; Deuteronomy 21:5–6).
That distinction alone proves that climate change is not a pro-life issue.
Leave aside questions about how much human activity affects temperature; whether that effect would be, on balance, good or bad; how many lives might be spared or lost because of it.
The term "pro-life" was coined in the 1970s to denote opposition to abortion on demand. In every abortion, the intended result is a dead baby.
Two ethically key words: "intended" and "dead."
The first never applies to climate change. The second is debatable.
The climate alarmists think it is "pro-life" to oppose adding carbon dioxide (CO2) to the atmosphere because it might cause global warming that might lead to deaths. They neglect two ethically crucial points.
First, those who add the CO2 to the atmosphere intend neither warming nor whatever deaths might be attributed to it.
What do they intend? To heat homes in winter and cool them in summer, protecting people from cold or heat that can be deadly. To power refrigerators that keep food and medicines from spoiling and causing hunger or diseases that can be deadly. To power agriculture, health care, and industry, providing food and medical care to prevent hunger and cure diseases that can be deadly. To power transportation and communications that also save lives.
In short, the intent of those who add CO2 to the atmosphere is to benefit life, not harm it.
But the intent of abortionists? To kill babies.
It is astounding that evangelicals who say fighting global warming is "pro-life" ignore that difference.
Second, warming and the actions that lead to it might actually enhance rather than diminish human life. But the Evangelical Environmental Network (EEN) has paid for radio ads in Florida saying, "Climate change is real" and dangerous. The ad urges listeners to "Call Governor Rick Scott and tell him as pro-life Christians … now is the time to act to curb climate change."
Well, although there has been no global warming for at least the last 18 years, yes, climate change is real. It has been throughout Earth's history, long before anybody ever dreamed of an SUV. Yes, human emissions of CO2 probably do make some contribution to it, though much current scientific research, such as a recent article published in the refereed journal Climate Dynamics, yields much lower estimates than the alarmists' of how much.
From there things get more complicated. Will human-induced global warming lead to more or fewer human deaths? No one knows for sure, but the evidence is strong that the benefits of the activities that lead to some warming outweigh whatever harms might follow from it.
Indeed, the economic scenarios that underlie the Intergovernmental Panel on Climate Change's projections for future warming generally predict that a warmer world is a healthier world for human beings. Why? Because it's a wealthier world. And wealth enables people to thrive in all climates from the Arctic Circle to the Sahara Desert, while poor people can't thrive anywhere.
And there's one other benefit from adding CO2 to the atmosphere: improved plant growth and consequently more food for everybody—rich and poor, human and non-human. One review of decades of research concludes that the CO2 we've added to the atmosphere added $3.2 trillion worth of agricultural yields from 1960 through 2012 and projects another $9.8 trillion worth by 2050. Who benefits most? The poor.
So the intended and unintended benefits of adding CO2 to the atmosphere must be weighed against its harms—something EEN fails to do.
Environmentalists' opposition to using DDT—the least expensive and most effective way to combat malaria-carrying mosquitos—has led to over 50 million malaria deaths in the last forty years. But that isn't a pro-life issue, because the intent of DDT's opponents, however misinformed, isn't to kill people.
Not long ago over 30 pro-life leaders rebuked EEN for portraying another environmental cause as pro-life and lauding as "sensitive to pro-life concerns" members of Congress with 100% pro-abortion voting records while questioning the pro-life commitment of others with 100 percent pro-life voting records. Sad to say, EEN is doing the same again.
No one, including Governor Scott, should be fooled.
E. Calvin Beisner, Ph.D., Founder and National Spokesman of The Cornwall Alliance for the Stewardship of Creation and a former professor of theology, ethics, and interdisciplinary studies at Covenant College and Knox Theological Seminary, is the author of Where Garden Meets Wilderness: Evangelical Entry into the Environmental Debate and Prospects for Growth: A Biblical View of Population, Resources, and the Future