Is the Great Commission for Every Christian to Carry Out? John Piper Answers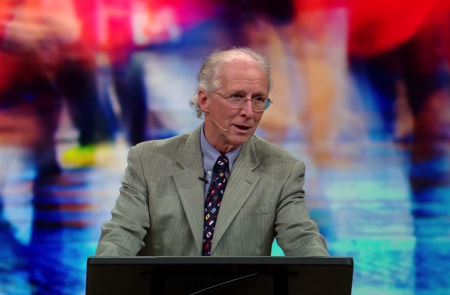 John Piper, founder and teacher of DesiringGod.org and chancellor of Bethlehem College & Seminary, has said that while every Christian is called to consider the Great Commission, not every church member has to fulfill it.
The "Great Commission" is a term used to describe Jesus' call to evangelism in Matthew 28:18–20: "All authority in heaven and on earth has been given to me. Therefore go and make disciples of all nations, baptizing them in the name of the Father and of the Son and of the Holy Spirit, and teaching them to obey everything I have commanded you. And surely I am with you always, to the very end of the age."
In an "Ask Pastor John" podcast episode posted to the Desiring God website on Monday, a listener named David asked Piper his opinion on whether the Great Commission was meant for every individual believer.
"Do you think this command to reach the nations is better interpreted when we see it challenging the Apostles, church leaders, and even whole local churches? Or should we take this as a personal commission from Jesus given to every individual Christ-follower?" asked David.
Piper first responded that the call for the "Great Commission" is meant for all members of the church to consider as individuals, noting that the question "would fall on each individual the same as if the command were directed to him directly: Does this mean I am going personally, or does it mean I'm supporting the cause through others going personally?"
Piper then explained that when it comes to defining the Great Commission as going beyond just "local evangelism" to include being "a missionary to the nations with the Gospel and a focus on crossing cultures and reaching all the nations," then the answer is that no, not every believer is expected to perform the Great Commission.
"And one evidence for that is Romans 15, where Paul is recruiting people from Rome not to go with him to Spain but to support him as he goes to Spain," continued Piper.
"So it's clear from the New Testament that God does not expect every person to hear the Great Commission as a summons to cross a culture and be a missionary. I do think that 1 Peter 2:9 instructs all believers to declare the excellencies of Christ in their network of relationships."
Piper's comments come days after the Barna Group released a study which found that 51 percent of American churchgoers were unfamiliar with the term Great Commission.
From there, 25 percent of respondents said they heard of it but did not recall its "exact meaning," 17 percent knew for sure, and 6 percent said they were not sure.
"The data indicates that churches are using the phrase less, which may reveal a lack of prioritizing or focusing on the work of the Great Commission, but may also indicate that the phrase, rather than the scriptures or the labor, has simply fallen out of favor with some," noted Barna.
Barna drew from data based off interviews conducted last October of 1,004 American adult churchgoers, with the term "churchgoers" being defined as someone who had attended worship within the past six months.