Is the Islamic State a Religious Movement?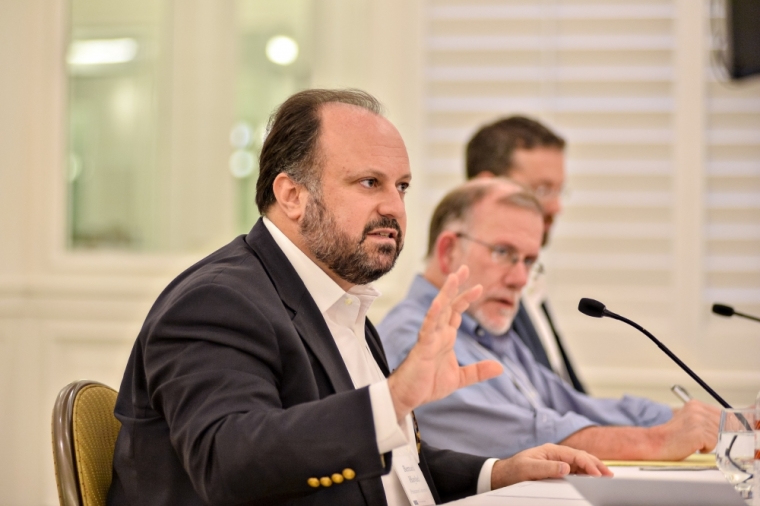 MIAMI BEACH — Can the Islamic State, or ISIS, be classified as a "religious movement," or is it a political movement that's only superficially religious? This issue was discussed by two Middle East experts at a recent Faith Angle Forum.
Bernard Haykel noted that many of his colleagues in the social sciences "want to push very hard against the idea that ISIS is a religious movement or that Islam has anything to do with the Islamic State." Social scientists, he added, usually prefer analyses centered on race, class and gender to those centered on religion as an explanatory variable. He also noted that President Barack Obama prefers to not associate ISIS with Islam.
"If you look at the cultural production, the intellectual production, the legal and theological production of ISIS, which is plentiful on the Web, there is no question that this is a movement that's drawing on a very particular strain or trend within the Islamic intellectual history, legal history, theological history," Haykel countered. "It has particular obsessions with certain theological concepts, and, of course, it's presenting itself as an heir to the 'true' version of Islam, which is a kind of projection backwards onto what true Islam was, by people who are living with us today, by moderns."
Haykel, professor of Near Eastern studies and director of The Institute for Transregional Studies at Princeton University, was on a May 4 panel, "The Islamic State: Understanding its Ideology and Theology," with William McCants, a fellow in the Center for Middle East Policy and director of its Project on U.S. Relations with the Islamic World at The Brookings Institution.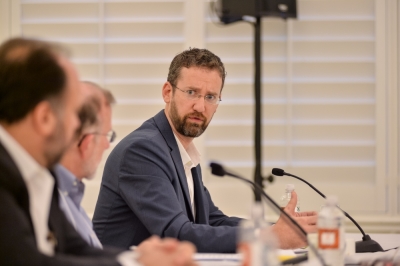 Haykel acknowledged that Obama could have some legitimate political reasons for not wanting to identify ISIS as Islamic, but his own interest, as a scholar, is to correctly understand ISIS.
And from his scholarly perspective, he said, "there's no question that this is a religious phenomenon ... that sees itself ... as a religious movement, and its draw and its attraction is principally because of its religion, because of its ideology of religion."
During the Q&A, Haykel added that religion better explains why people join ISIS than some of the other sociological explanations offered by social scientists, such as "economic deprivation or social marginalization." Of the Europeans who have joined ISIS, he noted, some were poor and some were not, some were socially isolated and some were not.
"The one thing that seems to unite them all is this powerful attraction to the idea that the caliphate has been established, that this utopia is in the making and that you are fulfilling God's will," he said. "That's a really powerful attractor for some people in and of itself. None of the other socioeconomic explanations or sociological explanations can capture that desire."
It's not difficult to learn about the political and theological teachings of ISIS, Haykel explained, because ISIS leaders do not hide their beliefs, they write a lot, and they post their writings on the Internet.
ISIS originates from a Sunni Islam movement called Salafism, or sometimes Wahhabism, he said. Not all Salafis are violent and they "have a muscular and robust vision of their religion." They seek reforms "to save Islam from destruction" and believe that Shiite Muslims are not true Muslims.
McCants added that "the question of whether [ISIS is] Islamic or not ultimately is for Muslims to decide for themselves.
"What we can do, as outsiders, is look at their theology, look at the way that they approach scripture, and see where they diverge or where they're similar to Islamic precedent in the past. They have an awful lot in common with the kind of Islam that's found in Saudi Arabia — an awful lot. They differ on some key political points, but on a number of matters, theological and jurisprudential, they're very much in line."
Haykel made a similar point when he argued that Obama should not get involved in a debate over who is a true Muslim.
"I think that President Obama and the U.S. government, and actually all non-Muslims, have no standing in deciding what is or is not Islamic or should not get involved in this debate between Muslims," he said. "As a scholar of Islam, someone who studies Islam, I write for a constituency of other scholars. I'm not writing for Muslims; I'm writing for people who study Islam. ... If Muslims were to read me, that's their business, but I'm not telling them what Islam is or isn't, and nor should the president."
Similarly, at a Nov. 17, 2014, Faith Angle Forum, two former George W. Bush officials debated whether presidents should call Islam a religion of peace.
"I think it's very important that the United States government shut-up about" whether Islam is a religion of peace, Elliot Abrams, senior fellow for Middle Eastern Studies at the Council on Foreign Relations, argued at the time.
Washington Post columnist Michael Gerson, a speechwriter under Bush, disagreed.
"We do praise Christianity as a religion of peace on Christmas, we do praise Judaism as a religion of courage on Hanukah and other things. We praise Islam. And every president from now on will praise Islam on religious holidays because there are millions of peaceful citizens who hold this view," he said.
The Ethics and Public Policy Center's Faith Angle Forum brings about 20 journalists twice a year to Miami Beach for in-depth discussions about religion, politics and public life with about three to five distinguished scholars.
The EPPC website has a transript and audio of the full panel.