Islamophobia? Americans Voice Their Freedom of Speech, Descend on 'Stand With the Prophet' in Texas to Protest Shariah Law, ISIS
(Photo: The Christian Post)
3 photo slide
(Photo: The Christian Post)
(Photo: The Christian Post)
Not everyone who attended the protest would agree with Israel's assessment, however. Three local high school students in the Garland Independent School District expressed their belief that those protesting against the Muslim conference were attacking the wrong people.
"They're protesting the wrong thing. They want to protest the radicals. Some see this event as an excuse to be against a whole religion. It isn't fair to the Muslims who are peaceful," said Matt Wisdom, Stephen Harrison and Andrew Ngo, who commented that they went to the protest to show their support for Muslims attending the event by cheering them on and giving them a "thumbs up," but admitted that they didn't know anything about the keynote speakers and the controversy surrounding Wahhaj.
According to Ngo's estimate, only 2 percent of their classmates voiced opposition to the "Stand with the prophet," conference by speaking out against it on social media. "The student population is so diverse in this district with different religions, and there are different kinds of people you meet every day, see every day, hang out with every day," Harrison added, as he further commented on the diversity of the city where the conference was held.
But it was the older generations who grew up in an America before mosques and Islamic community centers started popping up in the suburbs who were in the majority opinion on Saturday.
"Islam is a religion of death. It's not politics, it's religion. We're trying to get somebody to listen," said Linda Arnold-Day. "I've been yelling, 'Jesus loves you. He doesn't command us to kill you. Do you not see the difference?' There are a couple of speakers at the conference who are teaching death to Christians and that infidels need to be killed. They're here, we need to know they're here, and we need to be able to fight it now before it's too late."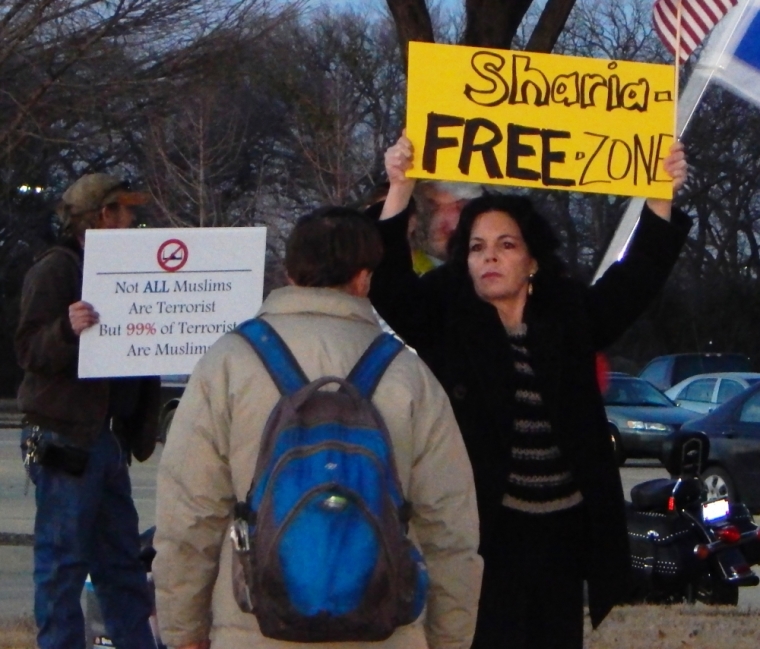 One person who was working hard to alleviate protesters' concerns was a young woman named Maryam Mahamid who went to the conference along with three of her male friends who were born and raised in the U.S., one of whom is a Navy veteran. They were unable to get into the sold out event, so instead they decided to stand outside and engage people in conversation.
The following is an edited transcript of CP's interview with Mahamid, a native of Somalia who lived in Birmingham, England, before she moved to the U.S. over a year ago. During her interview with CP two Muslim women walked past with their young children in tow who were carrying signs reading "peace" and "we love you" as they walked by the remaining protesters who looked on.
As we arrived some people were angry toward us, calling us names and telling us to go back to where we came from; and then there were people who said they came to the event because they are fearful.
The news told people that we're coming here to make plans to replace the Constitution with Sariah Law. As far as I'm aware, the reason I'm here is the opposite of that. It has nothing to do with the Constitution or Americans, it has more to do with Muslims, and how we build ourselves up; and because of the events that have happened, where do we go from here? And how do we stop the negative press and the negative image? And how do we keep young Muslims from being isolated to the point where extreme groups can pull them toward them [to carry out terrorist attacks]. So, it was nothing to do with anyone but the Muslim community.
Muslims came here to try to find out why those things happened and put it in perspective. A lot of my friends wouldn't come here today just because they're fearful about what was going to happen. A lot of people were posting threats on Facebook and blogs about shooting Muslims and bombing them.
The conference was intended to focus on how to get Muslims to stop being fearful, and being proactive in trying to ensure that people, like those who are protesting here, are protesting for the right reasons and not because of misunderstanding or misinformation.
It was more to get the fear out of the Muslim community, lift our spirits up, and to also have a plan to go forward and say, don't give into fear. Don't be fearful [because it could lead to] your children or the younger generations to act out because everybody is being defensive.
I came to the conference because I wanted to hear the professor who came out of town. I wanted to hear him because he wrote about the rise of extremism and what's causing it, and he's trying to put it in perspective. I also wanted to listen to the female speaker who was here. Those are the two people — I wanted to get their perspective on what the Muslim community can to do to identify these pockets of extreme young people who are acting out. And it's usually to do with politics, or some issues they have with what's happening around the world — and they act out using their religion as an excuse. I wanted to hear their take on it and how we, as Muslims, can go forward.
Why would people protest or want the conference to stop when they're trying to work out in there, in the Muslim community, what the problem is and solve the problem?
Muslims in their 20s and 30s are the most interested in these topics. Teenagers aren't interested. Older generations say, "Just stay home, be peaceful, don't add fuel to the fire."
First and foremost, as far as I understand, the conference is more for the Muslim community — after what happened [in France], everyone is feeling like, "Ugh, not again … seriously."
Every time something happens and the Muslim community's under attack we kind of have to build ourselves up again and try to reach out and show them, "Hey, that doesn't represent us, I don't believe in what they did. That has nothing to do with the Muslim majority, in general."
So it's to first remind us: If anybody insults the prophet, if anybody insults your belief, the right way is not violence. It was more of a reminder to the Muslim community — this is how you deal with it. What happened in France, or what's happening all around the work with ISIS and Boko Haram — that's not how you deal with things when you're unhappy about something.
But also, how do we deal with the negative image that we're receiving right now? How do we deal with verbal negative abuse? And to try to understand why people are the way they are — why are people fearful, why are people feeling hate toward you? People speaking at the conference have knowledge and research to present this to the Muslim community.
People who came here are people who are searching for answers, people who want to be proactive and who want to live in a community where you're not scared to walk outside just because you're a Muslim.
The Christian Post, Fox News and The Washington Free Beacon were among the news organizations not allowed inside the conference to hear the speakers.