Israel Houghton, Wife Adrienne Start Program for Homeless in Los Angeles (Video)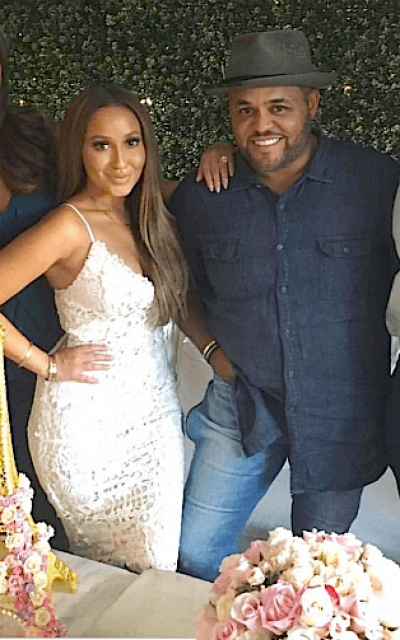 Despite the criticism newlyweds Israel Houghton and Adrienne Bailon Houghton have faced about their past, they continue to positively move forward and are now helping others through a program called Besos Care Packages for the homeless community in Los Angeles.
During an episode of "The Real" this week, Adrienne's fellow co-host introduced the Houghtons and their charitable new program. The philanthropic work has already served 1,200 care packages and shows no sign of slowing down.
When asked what was their inspiration for the initiative, Houghton immediately defended his wife's character, stating that her "glamorous" Instagram posts do not really showcase her generous heart.
"When I brag about Adrienne to friends of mine, to family, to people who have yet met her, I brag that she is from the Lower East Side in New York City and that there is this earthy, down to earth personality there, there's this love for people, there's this very family oriented persona about her," Houghton explained. "So when we started talking about what's next, every time I would ask her that, it was never, 'I wanna do this career wise, I wanna do this next platform.' It was like, 'I wanna do something to help, I wanna do something to give back.'"
Adrienne interjected, "I always say that I think God works in mysterious ways, He makes things happen in your life. I say that israel is not just the love of my life but he is my purpose partner. I think when you find someone that helps build your purpose, I wanna do something more than stunt on the gram and live a fabulous life."
She went on to say that as a couple they researched all the things people in need require. They found that toothpaste, deodorant, socks and bottled water were all on the list of necessities.
"We were like, 'Why don't we give them the essentials that we take for granted each and every day?' And I thank God that I have a husband that said, 'We're going to make it happen,'" she gushed.
The couple are now encouraging others to adopt the program and do it in their own cities. They admitted that when they first started the charity they visited dollar stores and bought the products themselves until sponsors stepped in.
A Besos Care Package consists of a toothbrush, toothpaste, deodorant, wipes, socks, water, and snacks.
"The Real" show went on to surprise the Houghtons by donating a thousand care packages to their program. Dove soap and Axe deodorant also got involved, providing some of the products to fill their bags.
In the past, Houghton has said he has no regrets about the events that unfolded in his life that led him to marry the daytime talk show host.
"I literally could say I have no regrets," Houghton said on a BET episode of "Lift Every Voice" which aired on Super Bowl Sunday. "I have a lot of things that I wish I had done differently given the opportunity to redo it but that would have changed everything, and I am very content with where I am today."
Earlier in 2016, the "Friend of God" singer publicly announced that his former marriage of some 20 years was legally over. And despite the naysayers, the singer gave marriage another shot.
The former Lakewood worship leader and Adrienne tied the knot last November in an intimate ceremony in Paris, France. The Houghtons shared exclusive footage of their big day on "The Real."