Jeb Bush: Christian Faith Should Influence Policies; 'We Must Put Most Vulnerable at the Front of the Line'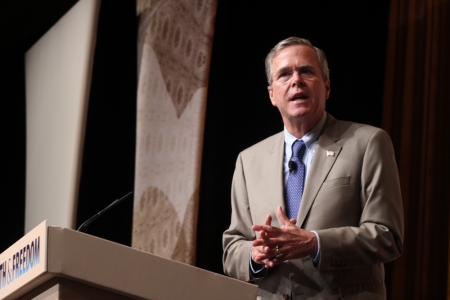 WASHINGTON — After 2016 presidential candidate Jeb Bush said earlier this week that "religion ought to be about making us better as people, less about things [that] end up getting into the political realm," the former Florida governor asserted Friday that faith absolutely needs to have an influence on policy decisions.
Speaking at the Faith & Freedom Coalition's Road to Majority Conference at the Omni Shoreham Hotel, Bush backtracked on comments he made during an interview with Fox News' Sean Hannity on Tuesday, where the Catholic discussed Pope Francis' recent comments on climate change and said "I don't get economic policy from my bishops or my cardinals or my pope."
Bush assured Friday's social conservative gathering that during his time as governor, he often lets his Catholic convictions influence the policies he put into action and will continue to do so if he is elected as president.
In today's political climate, Bush argued, many people expect politicians to keep their religious convictions at church and not allow them to impact the decisions made in the public sector. However, Bush believes such a thought is dangerous for the country.
"Sometimes people are asked this question about people that are aspiring for public life or are serving. They ask whether you allow your decisions in government to be influenced by your faith," Bush said. "Whenever I hear this, I know, typically, the answer that they want to hear is 'Of course not. Gosh no, we will never do that.' In the game of political correctness, that is the answer that gets you to the next level."
"The end point is a certain kind of politician that we have all heard before — a guy whose moral convictions are so private, so deeply personal that he refuses to even impose them on himself," Bush continued. "Well, that is not me."
Bush argued that America was founded on the traditions and the morals of the Christian faith and added that the tenets of faith have served to better mankind.
"How strange in our times today, to hear that our faith and our moral traditions spoken as some kind of backwards or oppressive force when, in fact, it is really the moral foundation of our country, the greatest country on the face of the Earth," Bush contended. "[In fact, faith and grace are the] greatest force for good in the world, greatest forces ever known in the world. Feeding the hungry. Healing the sick. Welcoming the stranger. These are the tenets of our faith. If we act on our faith each and every day we are going to create a more loving world."
"The instinct to do these things didn't come from nowhere," Bush continued. "They came from our religious traditions and we must stand together to protect those freedoms that are so sacred and so important for a free society."
Bush highlighted instances in which he acted on his faith by instituting various policies as governor of Florida from 1999 until 2007, saying that he advocated for the "most vulnerable" in society including unborn babies, the elderly, and individuals facing fatal and debilitating diseases.
He detailed that he passed senior care reform, a partial-birth abortion ban, instituted regulation requiring 48-hours notice to be given to parents or guardians of a pregnant child seeking an abortion, provided funding to pregnancy centers for counseling and therapy, and stood strong for Terri Schiavo's right to live and die naturally.
"We did all of these conservative things, but we also put the most vulnerable of society in the front of the line, guided by my faith," Bush said. "I honestly believe that as a conservative that believes in limited government, we need to put the most vulnerable of our society first, in front of the line because they are of as much value as everybody else."
In an era where Christians are called bigots and homophobes when they speak out against same-sex marriage, Bush said that Christian conscious "should be respected" when advocating for traditional marriage.
"In a country like ours, we should recognize the power of a man and a woman loving their children with all their heart and soul as a good thing and as something that is positive and helpful for those children to live a successful life," Bush added. "I, for one, believe it is important and I think it has got to be important over the long haul, irregardless of what the courts say."