Jeb Bush Says Christian Businesses Should Be Allowed to Deny Services for Gay Weddings; Same-Sex Marriage Not a Constitutional Right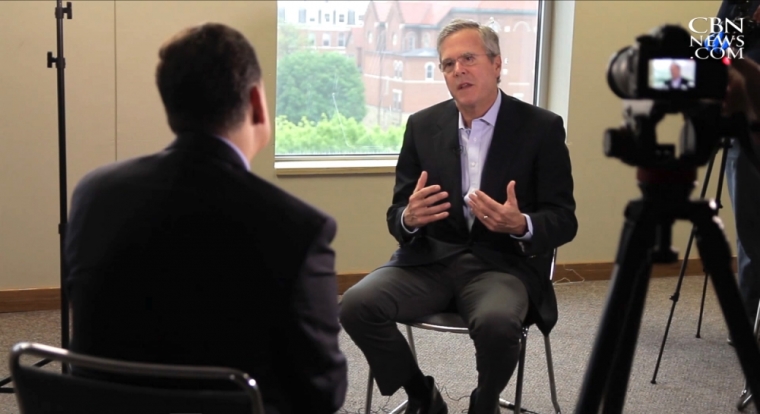 Former Florida Gov. Jeb Bush, a likely Republican presidential candidate, told David Brody of Christian Broadcasting Network that Christian business owners should be able to legally deny services for same-sex weddings, and said traditional marriage is indispensable for America's success.
"Yes, absolutely, if it's based on a religious belief," Bush said when David Brody, CBN News Chief Political Correspondent, asked if he believes that Christian businesses should have that right.
"A big country, a tolerant country, ought to be able to figure out the difference between discriminating someone because of their sexual orientation and not forcing someone to participate in a wedding that they find goes against their moral beliefs," Bush explained on "The Brody File" show aired Sunday. "This should not be that complicated. Gosh, it is right now."
In March, Indiana's Republican Governor Mike Pence signed into law the Religious Freedom Restoration Act, which allows businesses to refuse services based on their religious beliefs, triggering a debate on the issue across the country.
Brody also asked Bush if there should be a constitutional right to gay marriage.
"I don't, but I'm not a lawyer, and clearly this has been accelerated at a warp pace," Bush replied. "What's interesting is four years ago, Barack Obama and Hillary Clinton had the same view that I just expressed to you. Thousands of years of culture and history is just being changed at warp speed. It's hard to fathom why it is this way."
Bush, a converted Catholic, also said that traditional marriage is key to America's success.
"To imagine how we are going to succeed in our country unless we have committed family life, committed child-centered family system, is hard to imagine," he said. "We need to be stalwart supporters of traditional marriage."
He added, "I think traditional marriage is a sacrament. It's at the core of the Catholic faith."
In a blog post on CBN's website, Brody shared his opinion on Bush's likely presidential bid.
"Jeb Bush is a thinker/public policy wonk," Brody wrote after the interview. "He isn't going to be the fire and brimstone candidate that goes for the applause lines or starts talking about Jesus at campaign events. That's not him. If he started doing that he wouldn't be authentic. From my interactions and conversations with him, I see him as a dedicated catholic who believes (correctly) that his faith requires compassion for all people. His challenge will be to convince socially conservative GOP Primary voters that his compassion doesn't necessarily translate into capitulation, weakness and a label as the 'squishy moderate.' He has to be careful that voters don't see him as a candidate that gives ground on traditional marriage, religious liberty, etc."
Bush has been vocal about his support for religious freedom.
In his commencement address at Liberty University in Virginia earlier this month, he condemned the Obama administration's use of "coercive federal power" to limit religious freedom.
"The present administration is supporting the use of coercive federal power," Bush said. "What should be easy calls in favor of religious freedom have instead become an aggressive stance against it… Somebody here is being small-minded and intolerant, and it sure isn't the nuns, ministers, and laymen and women who ask only to live and practice their faith."
Jeb Bush's brother, former President George W. Bush, also defended religious freedom in his first commencement speech since leaving office, at Southern Methodist University on Saturday.
"You can be hopeful because there is a loving God," he told the graduates. "Whether you agree with that statement is your choice, it is not your government's choice. It is essential to this nation's future that we remember that the freedom to worship who we want, and how we want — or not to worship at all — is a core belief of our founding."