Jeff Sessions Sends Federal Hate Crimes Lawyer to Aid in Case of Murdered Gender Fluid High Schooler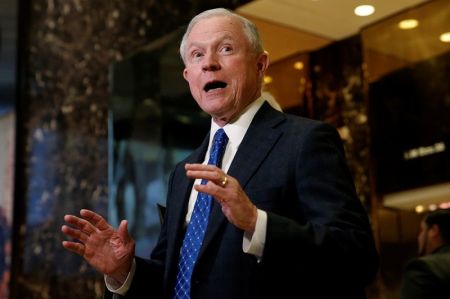 United States Attorney Gen. Jeff Sessions is reportedly behind the Justice Department's decision to send an experienced federal hate crimes lawyer to help in the case of a gender fluid high school student who was murdered in 2016.
"In taking the step, Mr. Sessions, a staunch conservative, is sending a signal that he has made a priority of fighting violence against transgender people individually, even as he has rolled back legal protections for them collectively," The New York Times positioned on Sunday, referring in part to Sessions' memo earlier in October which determined that Title VII of the Civil Rights Act's ban on sex discrimination does not pertain to gender identity.
The memo stated that the term "sex" as used in Title VII corresponds with the traditional meaning of "biologically male or female," which overturns a December 2014 memo released by then U.S. Attorney General Eric Holder of the Barack Obama administration.
The Justice Department's memo sparked criticism from LGBT campaigners, but it clarified that it was not going to stop enforcing anti-discrimination laws.
"Nothing in this memorandum should be construed to ... remove or reduce the protections against discrimination on the basis of sex that Congress has provided all individuals, including transgender individuals, under Title VII," it read.
The case in Burlington, Iowa, concerns 16-year-old Kedarie Johnson, who identified both as male and female, and was gay.
Johnson was shot to death in March 2016. His stepfather, Demetrice Perkins, told The Hawk Eye at a vigil that he believes the murder was a hate crime.
"My son was gay, but everybody knew that," Perkins said. "Everybody loved him."
Johnson's mother, Katrina, explained to The Des Moines Register that her son did not identify specifically as transgender, but that he enjoyed women's clothing and sometimes went by the name Kandicee with friends. Still, the high schooler always used the pronoun "he" and went by Kedarie in most of his daily life, she clarified.
Burlington police stated at the time that Johnson's murder does not meet Iowa's definition of a hate crime, however.
"At this point, we have no information that leads us to believe Kedarie was targeted by his killer or killers because of his gender or sexual orientation," said Lt. Jeff Klein, commander of Burlington's criminal investigation division. "Every murder has a component of hate. Any murder is hateful in and of itself."
Christopher J. Perras of the civil rights division' criminal section will assist Des Moines County Attorney Amy Beavers and Assistant Iowa Attorney General Laura Roan in the case against Jorge "Lumni" Sanders-Galvez, the man charged in the killing.
"This is just one example of the attorney general's commitment to enforcing the laws enacted by Congress and to protecting the civil rights of all individuals," said Devin O'Malley, a spokesman for the Justice Department.
Beavers further explained of the development:
"The federal authorities are investigating the case as a federal hate crime, and so they would like to be part of the state case for seamless prosecution, should an indictment in federal court be handed down."
Sessions vowed at the 2017 Hate Crime summit in June that he would "continue to enforce hate crime laws aggressively and appropriately where (transgender) individuals are victims."