Jennifer Garner Begins Filming Christian Movie 'Miracles From Heaven' About Girl Who Met Jesus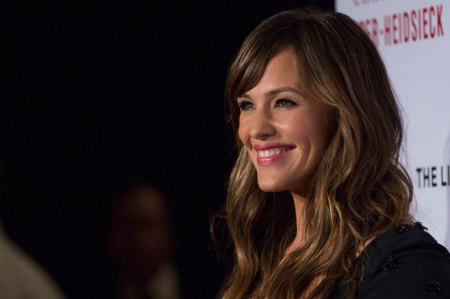 Golden Globe Award-winning actress, Jennifer Garner, is set to star in the forthcoming Sony Pictures Christian drama, "Miracles From Heaven," based on a book with a similar name.
On Wednesday, Garner was photographed filming scenes as part of her leading role while on the set in Atlanta, Georgia. The film is scheduled for release on March 18, 2016, a week before the Easter holiday.
The Hollywood actress is believed to be a practicing Christian as she has been spotted leaving church services in the past and also had her children baptized at her family's parish, Christ Church United Methodist in Charleston, West Virginia.
"Miracles From Heaven," directed by Patricia Riggen, is being produced by Joe Roth, Bishop T.D. Jakes and DeVon Franklin, who are the same people behind the 2014 hit film "Heaven Is for Real," which grossed more than $101 million at the box office.
It tells the story of Annabel Beam, a little girl from Texas, who claimed she met Jesus after a tragic fall. She was also miraculously cured of a life-threatening digestive disorder after the accident. Her incredible story of faith and overcoming adversity is retold in her mother Christy's memoir: Miracles from Heaven: A Little Girl, Her Journey to Heaven, and Her Amazing Story of Healing.
During an interview with The Christian Post in April, 12-year-old Annabel recalled falling headfirst 30 feet inside a hollowed-out cottonwood tree while playing with her sisters on the family farm in Texas. Miraculously, she escaped without injury and later told her parents that she went to heaven and sat in Jesus' lap after the accident.
"I remember it was really bright and I saw my Mimi (grandmother) who had died a couple of years back, and that's how I knew that I was in heaven," Annabel told CP. "And I asked Jesus if I could stay and He said: 'No Annabel, I have plans for you on Earth that you cannot fulfill in heaven.' Then he said whenever the firefighters get you out there will be nothing wrong with you."
At age 5, Annabel was diagnosed with pseudo-obstruction motility disorder and antral hypomotility disorder. The life-threatening digestive disorders had her in and out of hospitals for years, but her frightening fall in 2011 would miraculously heal her as she is now asymptomatic.
"... We believe that I was healed in the tree. I'm completely healthy [now] and I can eat whatever I want," said Annabel, who credits faith for her recovery. "I want people to realize that no matter how bad things get, don't ever lose that faith because He has a plan … you have to stay faithful and have hope because those are the things that will get you through whatever you're going through, no matter what it is."