Jennifer Hudson's 7-Year-Old Son Belts Out Hymn (Watch)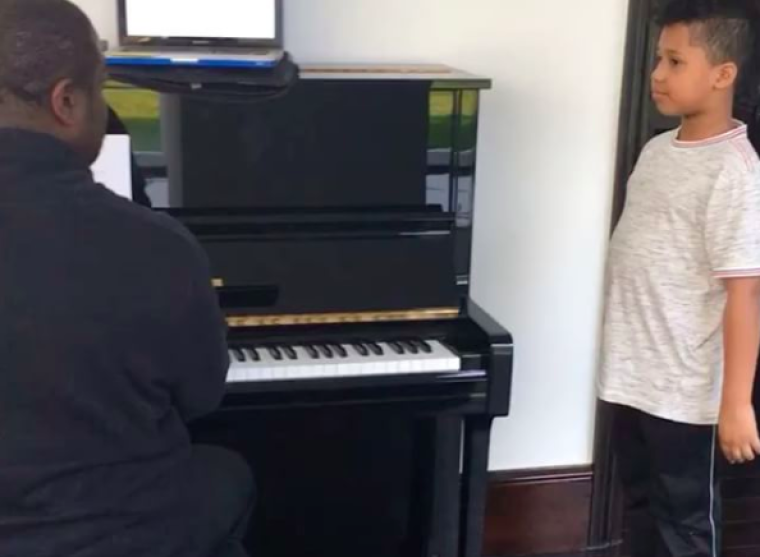 In a proud mother moment, Jennifer Hudson shared proof that her 7-year-old son has similar vocal talents to his Grammy Award-winning mother.
Hudson, the singer and actress who serves as a judge on "The Voice UK," shared a video of her son, David Jr., whom she shares with husband and professional wrestler David Otunga, singing the hymn "Hallelujah."
In the Instagram video, a focused young David can be seen singing along to a piano. Hudson called the moment a mother's dream.
"This is so precious to me, I can't even begin to describe how it melts my heart !!! I did not want to shame my baby by shouting but ... look at him .. he so serious and focused," she captioned the video. "A mother's dream! My [baby's] singing!"
The hymn seems to be a special one for Hudson who sang the same song at a concert to welcome Pope Francis to the U.S. in 2015.
"U can't put limits on God! It was such an honor to sing for Pope Francis mass, on this evening," Hudson previously wrote on Instagram.
The mother and entertainer previously shared that her son has the makings to be a performer like his mother.
"He's such a little performer, he sings, he dances," she previously told British morning show Lorraine, according to the Belfast Telegraph. "We're curious to see [what he does] because he's exposed to so much. I'm taking the position, as my mother did with us, of, 'whatever makes you happy, if you want to sing, sing, and if you want to dance, dance.'"
For years, Hudson has gushed about being a mother to the son she calls her "little buddy."
"He is my little buddy. I could go on and on and on about him if anyone asks me," she previously told Parents.com. "I tend to go totally overboard, like most mothers do. Everything I see, I now see through a mother's eyes."
She went on to speak about the special bond between a mother and child.
"I always say, you never know how much your parents loved you until you have a child to love," she said. "I have now learned what it takes to raise a child, and all of the things parents do to raise a child."