Jeremy Lin Inspires Amare Stoudemire in 'Miraculous' Knicks Victory (VIDEO)
'Linsanity' Reigns During New York's 90-87 Win Over Toronto Raptors
"Linsanity" struck again, this time with the return of one of the team's all-stars in a 90-87 victory Tuesday night over the Toronto Raptors. Although Jeremy Lin was able to turn the New York Knicks around in his first week starting for the league, many questioned whether he could excel with the return of the team's former stars, including Amare Stoudemire.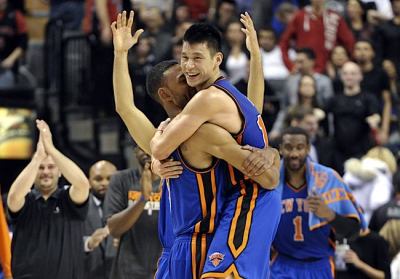 Stoudemire, one of the team's highly publicized all-stars, made his return to the Knicks Monday after a four-game absence to mourn the death of his brother. After Stoudemire left the team, the Knicks went on a three-game winning streak.
Lin was named Eastern Conference Player of the week, and managed to bolster the Knicks' bench. However, Soudemire's return to the game seemed to result in only a strong game for himself and Lin, along with an 11-point deficit for the team at halftime.
Fans of the team seemed to doubt Stoudemire during the game.
"I've never seen Amare Stoudemire get blocked so many times in one game," one fan tweeted during the Knicks-Raptors.
"Commence the Amare Stoudemire trade rumors..now," said another.
Before the game, Stoudemire was vocal about being inspired by Lin and the Knicks while in Florida mourning the recent death of his brother. After Lin's 38-point win with the Knicks against Kobe Bryant and the Lakers on Friday, Stoudemire tweeted about being impacted by the "Linsanity."
"Thanks to Jeremy Lin and the Knicks," Stoudemire said. "Y'all help me get my mind off my brother for a few hours. Thanks. Great game guys enjoy the win."
The Raptors game seemed to be the first in which Lin seemed visibly rattled in front of NBA fans, slamming the ball in frustration during the bottom of the third quarter. However, a few timeouts seemed to remedy the Knicks in the fourth quarter, with New York managing to cut a 17-point deficit to tie the game.
With seconds remaining in the game, Jeremy Lin managed to bury a three-point shot in the Knicks' sixth straight win with a final score of 90-87.
Lin recently called his performance and team's winning streak a "miracle."
"You can try to call it coincidence but at the end of the day, there are 20, 30 things when you combine them all that had to happen at the right time in order for me to be here," Lin told the press before the game. "That's why I call it a miracle. If you look back at my story, doesn't matter where you look, but God's fingerprints are all over the place where there have been a lot of things that had to happen that I couldn't control."
Watch a video of Jeremy Lin's game-winning shot against the Toronto Raptors Tuesday night:
WATCH TO SEE JEREMY LIN TALK GET COMPARED TO TEBOW IN THE WALL STREET JOURNAL
WATCH TO SEE THE JEREMY LIN THANK JESUS CHRIST ON NATIONAL TELVESION