Jeremy Lin Is a Los Angeles Laker; Ticket Brokers Ask: Will 'Linsanity' Hit So Cal?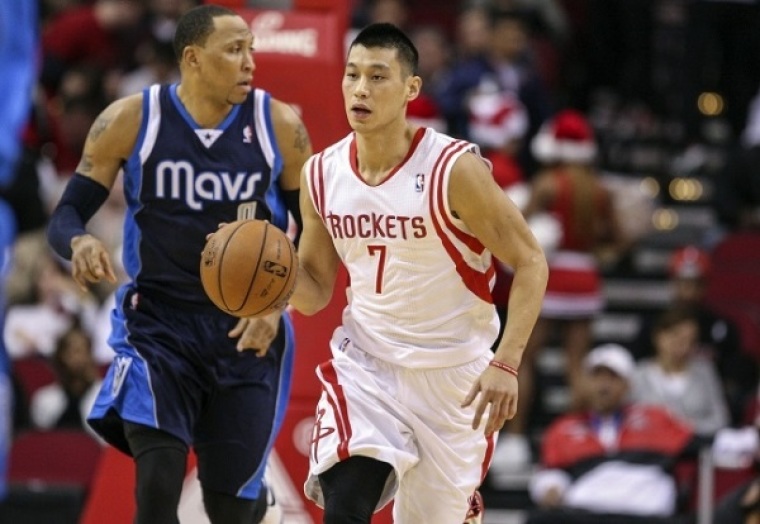 The Houston Rockets have traded guard Jeremy Lin and a future first-round pick to the Los Angeles Lakers, ESPN is reporting.
The Lakers were willing to make this deal because Lin is under contract for only one more season, therefore preserving the team's cap space next summer, according to league source. ESPN reports that the Lakers also covet draft picks, "after trading away their first-round picks in 2015 and 2017 to Phoenix and Orlando as part of the Steve Nash and Dwight Howard trades, respectively."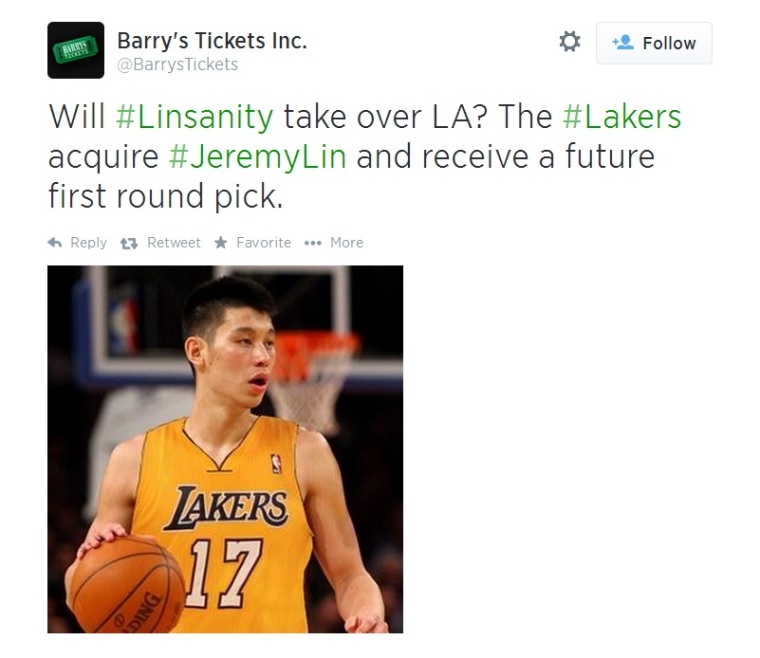 Sport ticket brokers in the Los Angeles area, such as Barry's Tickets, were already chomping at the bit that "Linsanity" would invade sports fans in So Cal. The agency tweeted a photo of Lin already in a Lakers uniform posing the question about whether the same phenomena that occurred with the New York Knicks, and to an extent with the Rockets, would transpire.
The Rockets offered a maximum $88 million to center Chris Bosh of four years, according to sources.
Houston's NBA team expects Bosh to commit "soon" to the contract offer after Miami Heat teammate LeBron James told SI.com on Friday that he was leaving to return to the Cleveland Cavaliers, a source told ESPN.com on Friday.
According to ESPNDallas.com, the Rockets also plan on matching the Dallas Mavericks' three-year, $46 million offer to restricted free agent Chandler Parsons after signing Bosh.
After trading Lin, whose devout faith in Jesus Christ is well known, the Rockets plan to complete their agreed-upon trade of Omer Asik to the New Orleans Pelicans, according to ESPN.
The Philadelphia 76ers had expressed an interest to trade for Lin based on what sort of assets Houston was willing to bring to the deal, according to ESPN sources.
The Los Angeles Times reported that Lin was put in an awkward position last week while the Rockets were trying to lure Carmelo Anthony.
During Anthony's visit, the Rockets posted large electronic images of him wearing a No. 7 Houston jersey outside its arena when he visited. However, the number belonged to Lin.
Lin posted a response on Twitter, referring to a Bible verse: "Luke 6:29 - If someone slaps you on one cheek, turn to them the other also. If someone takes your coat, do not withhold your shirt from them."