Jeremy Lin, Tim Tebow Don't Have Much More Than Faith in Common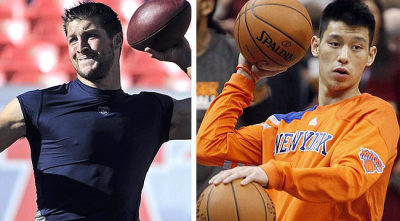 Even before Jeremy Lin's seventh consecutive victory with the New York Knicks, some were comparing him to fellow Christian and NFL quarterback Tim Tebow. Although the two athletes are devout in their faith, the similarities in their athletic careers most certainly do not overlap.
After Lin clinched a 90-87 victory for the Knicks with his three-point play against the Toronto Raptors in the final seconds of the game on Tuesday, the Chinese-American thanked his lord and savior after the tough win. The expression is one that many NFL fans have heard Tebow make after his victories.
"I just thank my lord and savior Jesus Christ for that shot. I'm thankful that it went in," Lin said after the game. "Just a blessing. I'm extremely thankful and extremely humbled."
Although the basketball player's humility and faith first led Tebow comparisons, controversial sports journalist Skip Bayless made yet another comparison between the NFL player and Lin on Tuesday.
"Jeremy Lin saga is getting Tebowesque," Bayless tweeted to over 500,000 followers. "Took over late, 3 to win it at :05! Said he loves the pressure. Even thanked Lord & Savior Jesus Christ."
Lin and Tebow are both known for making big plays in high-pressure situations while leading their respective team's offense with faith. Still, there are a number of large differences between the two.
One difference is their national popularity before becoming starters for their respective professional teams. People believed in Tebow's football career back when he was ranked a top national quarterback in high school, but Lin was overlooked countless times during his high school, college and professional basketball career.
While Tebow received an athletic scholarship to attend the University of Florida, Lin received no basketball scholarships out of high school. Tebow was selected in the first round of the NFL draft after his college career, yet Lin went undrafted after graduating from Harvard University.
When the Knicks' guard finally made his way into the league, he was picked up by his hometown team and desired destination, the Golden State Warriors.
Although both athletes had to spend some time sitting on the bench, their journeys to becoming starters on their team rosters were also starkly different. Tebow spent considerable time on the bench for the Broncos during his rookie NFL season, but head coach John Fox gave him a chance to start as quarterback amid prompting from fans during his second season. After the former Broncos starting quarterback, Kyle Orton, started having issues with the offense, Fox took a chance on Tebow, who led his team to the playoffs.
Tebow spent his entire rookie season on the bench and was demoted to third string before starting the 2011 season,but he moved up in the ranks on the team that initially drafted him. For Lin, the journey to the Knicks starting roster was a bit tougher.
The Chinese-American initially joined the Golden State Warriors in 2010, his hometown team and first choice in the NBA. However, he played limited minutes as a rookie and was later waived by the team.
Although Lin was later picked up by the Houston Rockets, the team also decided to waive him after he played only a few minutes in pre-season games. The Knicks took a chance and added Lin to the team in Dec. 2011.
The Knicks initially wanted Lin to audition for a third-string point guard position. After working through four point guards and sending Lin to the D-league, the Knicks finally gave the ball player an opportunity to start in the second half of a desperate game against the New Jersey Nets on Feb. 4.
That is when the "Linsanity" began. In his first five starts, Lin scored more points than any other player in NBA history.
However, Tebow's personal statistics do not rank highly for an NFL quarterback. He has yet to break any statistical record and has been criticized for his poor passing stats.
The NFL player only had a 46.5 percent completion rate, which caused some to question his passing abilities. However, Lin's record-breaking abilities have not been questioned in the NBA despite the star being a new face.
Instead, Lin has been receiving acclaim from some of the best basketball players in the league, who have expressed admiration for his statistics as a point guard.
"When a player is playing that well, he doesn't come out of nowhere," said Kobe Bryant, Los Angeles Lakers guard. "It seems like he comes out of nowhere. Go back and take a look and the skill level was probably there from the beginning. It's just that we didn't notice it."
Aside from the differences in Lin's and Tebow's athletic skills, the first Asian-American in NBA history also has to overcome something that Tebow does not -- attention because of his race. Recently, many have questioned whether the spotlight has been shining on Lin because of his Asian-American heritage.
Undefeated boxer Floyd Mayweather recently questioned on Twitter if the New York Knicks newcomer is being overrated because he is Asian.
"Jeremy Lin is a good player but all the hype is because he's Asian," Mayweather tweeted. "Black players do what he does every night and don't get the same praise."
Although Tebow was born in the Philippines, his all-American appearance are not unfamiliar to NFL fans. However, Lin has broken boundaries as the first Asian-American to play in the NBA, and has drawn a large number of Asian fans (in the U.S. and abroad) who are proud to have him in the league, and playing so well. 
Still, Lin is not giving in to the comparisons between himself and Tebow. Instead, he spoke about the great deal of respect that he has for the Christian NFL player.
In an interview with 95.7 The Game in San Francisco, located a short distance from his hometown of Palo Alto, Lin spoke about his respect for the Denver Broncos quarterback.
"[...] I think the things he says in interviews, his approach to the game is just unbelievable and I respect him so much," Lin said. "I want to be able to do some of the things that he does in terms of the amount of charity work and the nonprofit work, and the way he impacts people off the field. I think that is what is most inspiring to me about him."
WATCH VIDEO OF JEREMY LIN'S TESTIMONY
WATCH VIDEO OF JEREMY LIN PRAISING GOD FOR A VICTORY
WATCH VIDEO OF JEREMY LIN BEING COMPARED TO TIM TEBOW
WATCH 'A DAY IN THE LIFE' VIDEO BY JEREMY LIN HERE