Jerry Falwell Jr. Defends Trump After Sex Assault Remarks, Blames 'Establishment Republicans'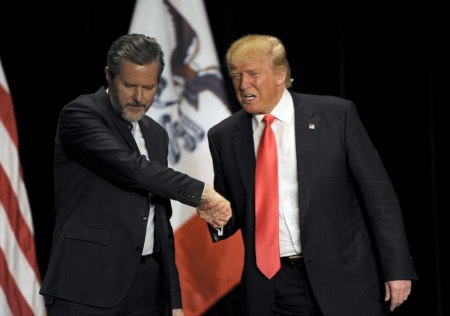 Liberty University President Jerry Falwell Jr., one of Republican presidential nominee Donald Trump's most vocal evangelical supporters, has suggested that GOP establishment leaders planned the release of the scandalous 2005 video tape showing Trump talking about sexually assaulting women.
Falwell also said that while he can not condone Trump's remarks, everyone is a sinner, and Jesus Christ is not on the ballot.
"I think this whole videotape thing was planned, I think it was timed, I think it might have even been a conspiracy among the establishment Republicans who've known about it for weeks and who tried to time it to do the maximum damage to Donald Trump," Falwell told WABC Radio in response to the video tape.
Trump has since apologized for his words in the 2005 tape, made while talking with Billy Bush, then host of "Access Hollywood."
"I did try and [expletive] her. She was married," Trump said about trying to seduce a woman. "You know I'm automatically attracted to beautiful — I just start kissing them. It's like a magnet. Just kiss. I don't even wait," he added. "And when you're a star, they let you do it. You can do anything. Grab 'em by the [expletive]."
The vulgar remarks drew condemnation from evangelical and conservative leaders across America. Some Republicans who had previously reluctantly endorsed Trump, such as Arizona Republican John McCain, even said that they can no longer support the GOP nominee.
"Donald Trump's behavior this week, concluding with the disclosure of his demeaning comments about women and his boasts about sexual assaults, make it impossible to continue to offer even conditional support for his candidacy," McCain said.
Evangelical theologian Wayne Grudem had previously endorsed Trump, calling him a "morally good choice," but took back his endorsement after hearing the tape, noting the remarks were "morally evil."
Falwell, who has stood by Trump despite many scandals, admitted that he also could not defend Trump's words.
"It was completely out of order, it's not something I'm going to defend . . . it was reprehensible. We're all sinners, every one of us. We've all done things we wish we hadn't," he said.
"We're never going to have a perfect candidate unless Jesus Christ is on the ballot," he added. "I've got a wife and a daughter, and nobody wants to hear their women talked about in that manner."
Falwell said that Trump has apologized, however, and did well to focus on the issues during Sunday night's debate with Democratic rival Hillary Clinton, such as the economic troubles facing the country.
He again insisted that although he can't prove it, Republican establishment members not happy with Trump are using every opportunity to try and take him down.
"I think a lot of the establishment Republicans have been conspiring together for the last six weeks or more, and I think it's all a plan," the Liberty U. President continued.
"It's nothing I can prove. It wasn't a coincidence it came out right before Trump was supposed to appear with [House Speaker] Paul Ryan at a rally and it conveniently gave Paul Ryan a way to disinvite Trump. I can't prove any of it, it's my opinion."
Other conservatives, such as Peter Wehner, senior fellow at the conservative Ethics and Public Policy Center, have argued that Falwell himself is "under the dark spell of Donald Trump," for his seemingly unwavering support of the candidate.
"Falwell has fallen under the dark spell of Donald Trump. That is not a crime, but it is having a corrosive effect on his intellectual and moral judgment. He is saying witless and defamatory things," Wehner wrote in August.
"In his private life, Falwell may be a devout man, but in his role as Donald Trump's flatterer, defender, and attack dog, he has pushed Christ to the rear. His politics are damaging his public Christian witness."