Jessa Duggar Photo With a Gun Stirs Controversy; Boyfriend Ben Seewald Speaks Out Against Abortion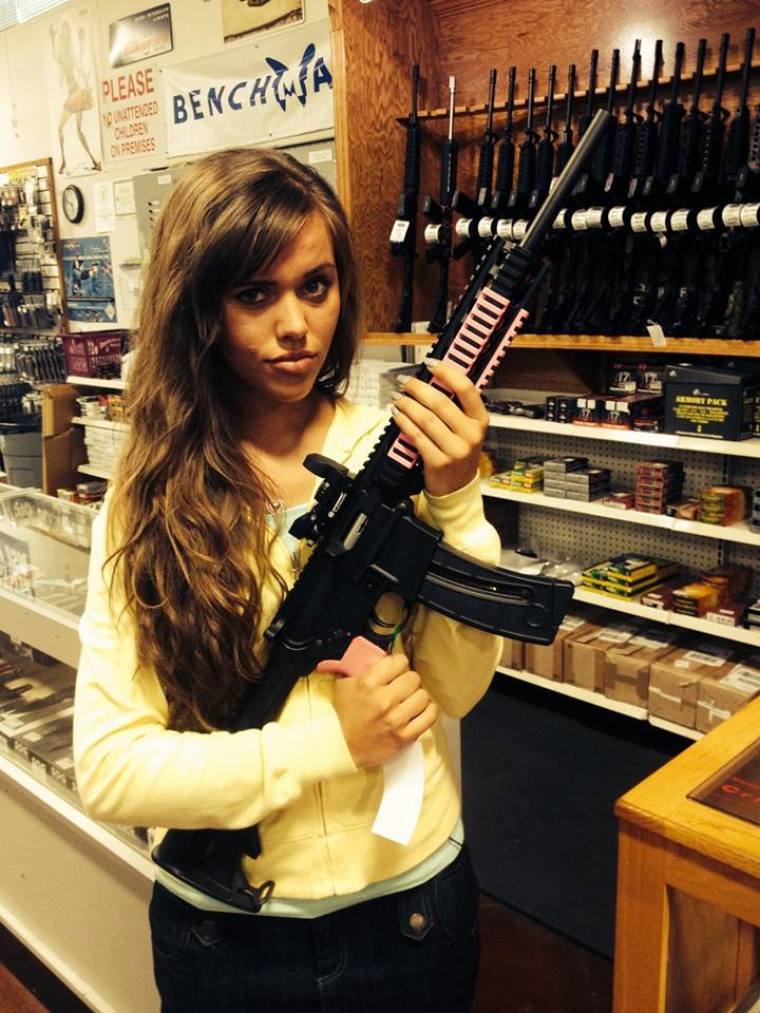 A photograph of Jessa Duggar has caused quite a reaction among fans of "19 Kids & Counting" and those who follow Jessa and beau Ben Seewald on social media. Seewald recently posted a photograph of Duggar holding an automatic rifle, along with the caption, "My AWESOME girlfriend. #DontmesswithJessa."
The picture is unusual in that fans have not seen the Duggar family with weapons before. And it's clear that Duggar, and Seewald, are in a firearms store, given the picture's background. The Duggar family is very conservative and some question whether the picture fits in with their religious beliefs.
"Wow, would Jesus carry that weapon?" Joe Schrank asked in the comments section.
"She's not carrying, she's holding it in a picture," Mikey Moore responded. "I fail to see your point, other than trying to demean someone that may or may not share a similar viewpoint on a topic."
Patriarch Jim Bob has spoken out previously about his family's relationship with weapons, defending their right to know how to use them "properly."
"We believe it is important for children to learn safety about guns and knives," Jim Bob told Radar Online. "To learn how to use them properly and to learn not to use them to hurt others but to use them as a tool. [Gun ownership] is one of our constitutional rights."
The photo has also brought new awareness of Seewald's strong stance against abortion, which is fitting given his religious views and those of the young woman he is courting, as well as her family. His Facebook page is plastered with posts about the murder of innocents, statistics against abortion, and Biblical warnings against the procedure. Seewald also personally writes to those who comment on his page.
"What if people had the same attitude towards slavery? Imagine an abolitionist speaking out against the horrors of the slave trade and someone saying, 'Calm down … just accept the fact that it's a personal choice to buy a slave. If you don't like slavery, then don't buy one.' Abolish abortion. It's a matter of life and death," Seewald writes.
His girlfriend shares the same viewpoint and and she, along with three of her sisters, wrote about the subject in their book, "Growing Up Duggar."
"Abortion might seem like a quick fix to a big problem, but we personally know several women who have done this, and they have said they regret ending the life of their baby; it haunts them every day. You cannot get un-pregnant. If you are pregnant, take responsibility and take care of yourself and your baby and God will take care of you," the girls write.
"19 Kids & Counting" airs on TLC.