Jessa Duggar Seewald Celebrates 'Guy-Friendly' Baby Shower as Due Date Nears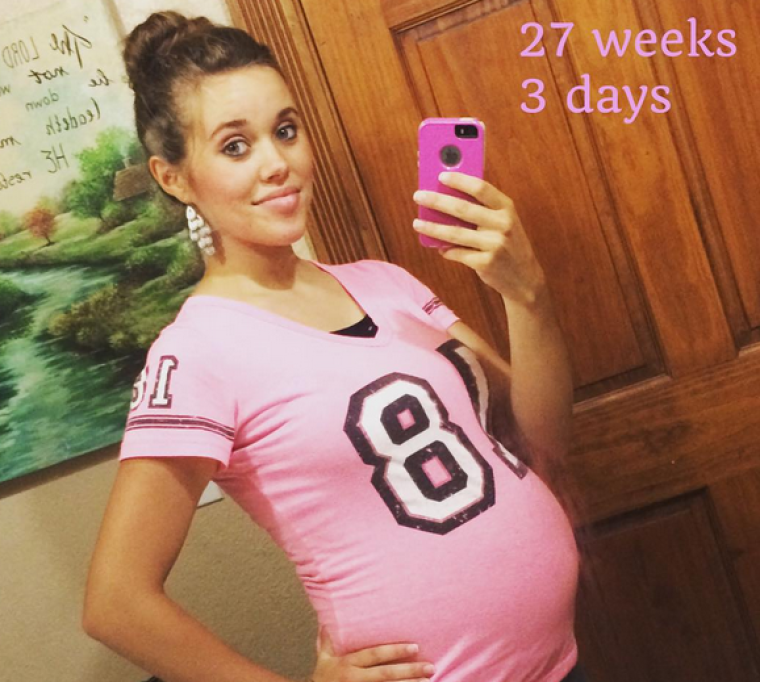 Who said guys weren't allowed at baby showers? TLC star Jessa Seewald celebrated a "guy-friendly" baby shower in Highfill, Arkansas, last week ahead of her due date.
More than 100 guests, including the Duggar clan, were in attendance at the fall-themed shindig, which was held at a friend's barn on Oct. 15, and Seewald, 22, broke tradition by inviting men, including her husband Ben, 19.
"Ever since Jill had her baby shower for Israel, Ben has been talking about this idea of a 'guy-friendly shower,'" a source told Us magazine. "So he was definitely excited about this!"
Guests feasted on hot dogs and pumpkin and pecan pies and participated in various games, including a diaper-changing challenge and milk-drinking competition. The Seewalds requested written prayers in lieu of gifts and the couple closed the event with a prayer.
"As the party came to a close, everyone gathered around Ben and Jessa and prayed over them as a couple and for the little one," said the source. "This was such a special time!"
Seewald is due to give birth on Nov. 1, although she and Ben have not yet revealed the sex of the baby.
A TLC camera crew captured footage of the event, which will air on Seewald's forthcoming reality show "Jill & Jessa: Counting On." The show will focus on Jill and her husband Derrick's journey through Central America, and Seewald's pregnancy and journey with Ben through parenthood for the first time.
The show will air in December, five months after the TLC network canceled the long-running Duggar family series "19 Kids and Counting," which first aired in 2008.
The decision to cancel the hit show came amid backlash surrounding Josh Duggar, 27, who admittedly molested at least five victims when he was 14, including his sisters, Jessa and Jill. The former Family Research Council executive publicly apologized for the assaults in May, but just a few months later would be mired in more controversy over an admitted extramarital affair.
In August, the father of four admitted to cheating on Anna, his wife of seven years, after media reports revealed that he was a paid user of adultery website Ashley Madison.
Both Jessa and Jill said publicly that after much thought and prayer they chose to forgive their brother. The molestation controversy will be addressed on their new show.
"We're excited about what the future holds. We will come out of this fire stronger as a family unit," Jill said in the trailer for the new show.