Jill Duggar Breaks Away From Conservative Family Rules; Debuts Nose Piercing at Thanksgiving Dinner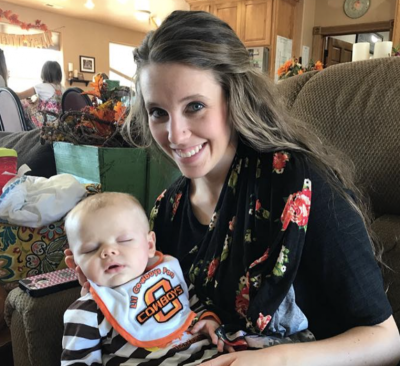 Duggar sister Jill Dillard appears to be departing from some of her strict conservative family values with a new nose piercing she was seen sporting in the Duggar Family Thanksgiving photos.
The "Counting On" star debuted her nose stud piercing in a Thanksgiving picture posted on the family Facebook page, which shows Jill with her new accessory as she is holding her 4-month-old son, Samuel.
Although some initially thought the piercing was just a photo smudge or illusions, the mother of two clarified those allegations by posting another photo on Monday. This time it was a selfie on her Instagram with both her sons and a clear shot of her piercing.
Social media immediately reacted to the nose ring. Some fans praised the devout Christian for coming into her own despite her family's strict standards, while others believed it was done in rebellion to her faith.
"I'm shocked she got her nose pierced considering how conservative they are!" one Instagram user commented on her photo. Another gave her support saying: "Awesome nose piercing love it I got mine done in May. A Mother's Day present to myself."
For years, the Duggars have publicly explained that the women in their family dress modestly to respect the relationship between husband and wife.
"We do not dress modestly because we are ashamed of the body God has given us; quite the contrary. We realize that our body is a special gift from God and that He intends for it to be shared only with our future husband," the four oldest Duggar sisters (Jana, Jill, Jessa and Jinger) shared in their 2014 book, Growing Up Duggar.
It has been reported that the rule only applies to the single women of the household and when they get married they are allowed to dress however their husband approves.
In addition to her piercing, Jill has also been seen recently wearing pants. She was first spotted with pants after her husband, Derick Dillard was fired from the TLC family show over making what is being considered "transphobic" comments.
Up until now, Jill was always faithfully devoted to the family's dress code. She has been an outspoken advocate for her parents, Jim and Michelle's belief in "modest dress" and in the past had gone to great lengths to stick to them. When working as a volunteer firefighter, she modified her uniform, to make it a flame-retardant skirt.