Jimmy Carter Says He's Leaving Brain Cancer Diagnosis 'in the Hands of God'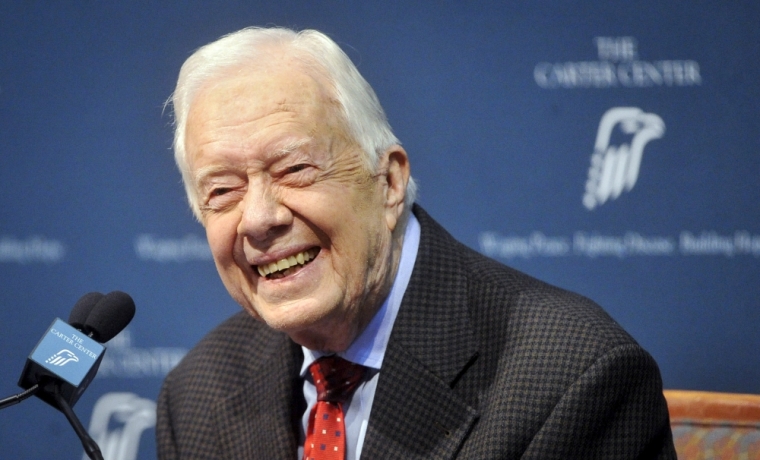 Former President Jimmy Carter said during a press conference on Thursday that his liver cancer has spread to four spots on his brain and that his future "is in the hands of the God, who I worship."
Seated alone before a group of reporters at his namesake center in Atlanta, a graceful Carter, 90, spoke openly and optimistically about his diagnosis and his plans for treatment. The 39th president will undergo four radiation treatments beginning on Thursday.
"I have had a wonderful life. I'm ready for anything and I'm looking forward to new adventure," a softly spoken Carter said. "It is in the hands of God, who I worship."
Earlier this month, the Sunday school teacher underwent extensive surgery to remove cancer from his liver which was a success. One week later, however, results from an MRI showed lesions on Carter's brain which confirmed the cancer had spread.
"I thought I just had a few weeks left. I was surprisingly at ease," he said before touching on his plans for treatment. "I can't really anticipate how I'll be feeling. Obviously, I'll have to defer quite substantially to my doctors who are in charge of the treatment."
The Georgia Democrat plans to significantly reduce his work with The Carter Center and Emory University as he undergoes treatment. He shared his hopes that he might still be able to travel to Nepal later this year to fulfill charity work with "Habitat for Humanity" to help the homeless.
"I really wanted to go to Nepal to build houses," he said. "This would have been our thirty-third year. I was very hopeful about that, but if it interrupts the treatment regimen, I think I need to get the treatment."
The devout Christian, who is a deacon at the Maranatha Baptist Church in Plains, said he will continue teaching Sunday school "as long as I'm physically able."
"I do have a deep religious faith, which I'm very grateful for," he said.
Carter was elected in 1976 and ousted in 1980 by Republican Ronald Reagan. He has been overwhelmed with support from President Barack Obama, Vice President Joe Biden, and former presidents George H.W. Bush, George W. Bush, Bill Clinton and former Secretary of State Hillary Clinton.
The 2002 Nobel Peace Prize winner has a family history of pancreatic cancer, which claimed his parents, brother and two sisters.
"For a long time my family was the only one on Earth that had four people who have died of pancreatic cancer," he said.
He shares four children with his wife, Rosalynn, who he wed on July 7, 1946.