Joanna Gaines Shares Motivational Message With Fans in Magnolia Journal's Fall Issue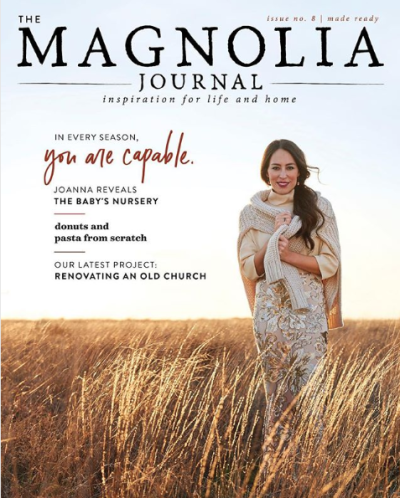 "Fixer Upper" star Joanna Gaines shared an encouraging message with her fans as she introduced the fall issue of Magnolia Journal. 
"I believe that we're all made ready. Whatever season you're in, whatever life may throw at you, whether it feels like success or like failure, expected or unexpected, you are made ready. Made ready to learn, to celebrate, to endure. To handle all of the things that get thrown your way in every season and to know yourself and take stock of your resources — of all the beautiful things you're already made of," she wrote on Instagram while promoting the issue that features the phrase "you are capable."
She went on to say how proud she was of all the people involved in helping her create the journal. 
Along with inspiring people to believe in their potential, in the fall issue Gaines also opens up about having her fifth child while in her 40s and why she and her husband, Chip, decided to walk away from their successful HGTV series, "Fixer Upper."
"Chip and I made a choice to take some time off this past year because it seemed best for us in that season — even though we knew it would stretch us to stay still," she said of their decision to end the series.
Chip and Joanna Gaines shocked fans in September 2017 when they announced that they were canceling "Fixer Upper" after five seasons.
"Only a few weeks later I found out I was pregnant," she added.
The couple's four older children are: Drake,13; Ella Rose,11; Duke, 9; and Emmie Kay, 8.
"I truly believed I was done," she added. "And yet, after eight years, here I am with a newborn in my arms."
The family welcomed a baby boy named, Crew Gaines on June 21.
Along with being successful home renovation gurus and reality TV stars, the Gaineses own Magnolia Homes, a remodeling and design business in Waco, Texas. They also have a retail shop called Magnolia Market at the Silos (which draws up to 40,000 visitors a week), as well as paint, rug, wallpaper and furniture lines, a real estate company, a quarterly magazine, a luxury vacation rental, and now a restaurant.
On the blog in April, Joanna went on to reveal that their restaurant, Magnolia Table, is also "finally up and running." Joanna disclosed that she also finished her cookbook, Magnolia Table, which is out now, and said she's working on a design book as well to help others learn the art of home designing.
Furthermore, the couple will really have their hands full as they continue to renovate homes with their company Magnolia Design and Construction, which they've operated for over 15 years.
The overarching theme of the eighth issue of Magnolia Journal is "made new" and through her own experiences she has inspired others to face whatever comes their way.
"I believe that each of us, in every circumstance, has what it takes — that built within the construction of who we are is whatever that moment in time requires," she said. "We all will have trials, we all will have miracles, and because of grace, I believe we have it in us to handle both — no matter what that looks like."