Joel Osteen at Night of Hope DC: God Is a Positive God; He Wants to 'Supersize' Your Peace, Joy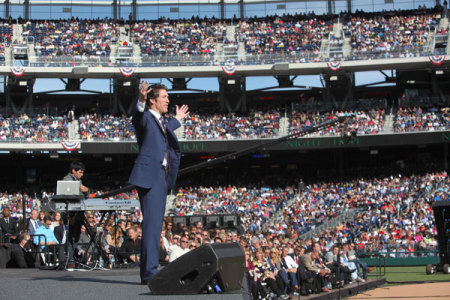 Joel Osteen didn't disappoint the tens of thousands of people that filled the Nationals Park baseball stadium Sunday evening expecting him to "plant the seed of hope" in them. He not only delivered a potent dose of hope, but also rolled out an American Idol star and his own mother to share their uplifting stories of survival in the face of death at the "Night of Hope" event in Washington, D.C.
With his signature smile even wider yesterday, Osteen declared that believers of Jesus Christ are "not victims but victors" and that "before anyone put a curse on you, God put a blessing on you." The pastor of America's largest and fastest growing church often paraphrased Bible stories or verses as he taught the massive crowd – also watching online via live webcast – how to have a more positive attitude about life and have faith that God is for, not against them.
"The Scripture says that you got to take off the coat of heaviness, and put on a coat of praise. Put on a coat of thanksgiving. In other words this: don't focus on what is wrong, thank God for what is right," said Osteen. "Don't look at all you don't have, thank God for what you do have. Don't look at how far you got to go, sometimes you got to look back and thank God for how far He has already brought you. Have a grateful attitude today! Let's say like David, 'It is another day the Lord has made.' We are going to choose to rejoice!"
SEE VIDEO OF CP'S INTERVIEW WITH JOEL OSTEEN
The Night of Hope event is a combination of praise and worship music, encouragement from Victoria Osteen, a special testimony from Dodie Osteen (Joel's mother), prayer, and an inspirational message from Joel Osteen. Unlike many other large-scale Christian events, the main speaker – Joel Osteen – and worship music alternate throughout the event, rather than having a separate worship block and a message segment, although Osteen does deliver a longer message at the end.
"Some people say, well Joel, you're just real positive, you're just hopeful," said the pastor of the 40,000-strong Lakewood Church in Houston. "But let me tell you this, God is a positive God. If you are going to get into agreement with God, you got to get your mind going in the right direction."
"David said 'my cup runs over.' God doesn't want you to have just enough peace for yourself, enough joy for yourself, God is a running over God. He wants you to have so much peace that you can give peace wherever you go … He wants to supersize anything in your life. He wants to give you more joy, more peace, more victory."
While Osteen is adored by millions of people worldwide, has penned several New York Times bestsellers, and was named by Barbara Walters as one of the "10 Most Fascinating People of 2006," some people – including his own fellow evangelical Christians – criticize him for preaching what they consider a watered-down Gospel and for his weak theology. Osteen did not attend seminary, but succeeded his father to be pastor of Lakewood Church after he died. A common criticism is that Osteen teaches prosperity gospel, given his common references to health and finances in his messages, and that he teaches more self-help than Christian faith.
But those criticisms didn't bother his fans, who came out to the ballpark Sunday and filled the stadium, hoping to get an injection of hope.
American Idol star Danny Gokey shared during Night of Hope in D.C. his personal story of losing his first wife Sophia Martinez just weeks before auditioning for American Idol. Martinez died from complications during a routine surgery for congenital heart disease. Not only did Gokey become a third place finalist on Season 8 of the popular singing contest show despite losing his high school sweetheart, he has also since started a foundation in her name, Sophia's Heart Foundation, to help children and families struggling with poverty and diseases. In January of this year, Gokey also became a husband again, to Leyicet Peralta.
And Joel Osteen's mother, Dodie, shared that 31 years ago she was given a prognosis that she had weeks left to live because she had cancer. At that time she weighed only 89 pounds and her skin was "yellow" as could be. But despite the grave prognosis, the family prayed and kept hope alive. Her husband and her laid face down on the floor to pray for her health, and every day she read scripture verses about healing that she compiled. She would drive across town to pray for others even despite her illness because she believed that when she prays for others, her health would improve. During her battle with cancer, Dodie wrote letters to everyone she thought she might have offended to ask for forgiveness, including to her children, which made her feel "clean" inside.
"I think unforgiveness in your heart is like poison in your body," she said. "You might say 'I can't forgive,' you can with God's help."
"They couldn't treat me with chemo, because they didn't know where the primary tumor was," said Dodie Osteen, who advised people to get medical treatment any way they can if they have cancer. "But I found the place where it was written, and I read all those Scriptures and I still read them because they are like my medication every day I take."
Despite given a prognosis of only weeks to live in 1981, Dodie Osteen has exceeded everyone's expectation and has lived another 31 years so far.
At the end of the event, after Osteen gave a message about God's positive destiny for everyone's life, he prayed with those who wanted to dedicate their lives to Jesus and told them to pray that they repent of their sins. He also encouraged people who watch his weekly church service broadcast to find a local church to attend so they can get "plugged in" to the Christian body.
Joel Osteen's children performed together several times during the Night of Hope event, with his son Jonathan playing the electric guitar and his daughter Alexandra singing. Several D.C. pastors also took the stage to pray for the city, including Mark Batterson of National Community Church and Dennis Pisani of Capitol City Church of D.C.