Joel Osteen Ministry Brings 400 Teens to Help Low-Income Areas in DC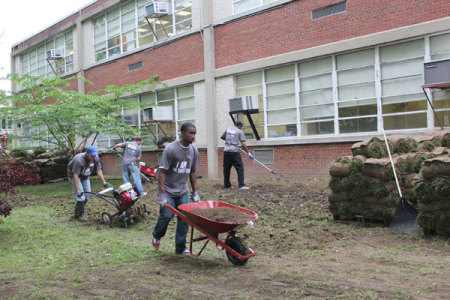 WASHINGTON – More than 400 teens from across the country volunteered this past week to help D.C.'s underserved communities as part of the inaugural effort of Generation Hope Project, an outreach of Joel Osteen Ministries, to leave the host city of America's Night of Hope in better shape after the event is done.
For two days, Thursday and Friday, youths attended to the needs of the nation's capital – doing landscaping, remodeling rooms and installing sensory toys for disabled children, among other projects. This is not only the first time for Generation Hope Project to invest volunteer service into a city, but also the first time Washington, D.C. has received such large-scale, unpaid help from outside the city, according to the Director of Community Affairs for District of Columbia Stephen Glaude.
"The mayor's office couldn't be more supportive [of Generation Hope Project's work]," said Glaude to The Christian Post. "We just think it's a wonderful thing to do. How many people come into a city to do business, to host an event, come in, get a lot of taxpayer dollars and leave without leaving the community a better place? So we are ecstatic that Pastor Osteen and Lakewood are here to do this."
"Institutions like churches can act so much more quickly than government can or even the private sector can in many cases," he added. "They are an essential element in the community fabric as a whole, and without them government just couldn't get it done."
At Amidon-Bowen Elementary School in Southwest D.C., some 75 volunteers renovated the landscape of the school that was overrun with weed on Thursday. Teen volunteers also sweated and were covered in rust dust after they sanded rusty fences surrounding the school's basketball court before repainting them.
"I like the idea of him (Joel Osteen) coming and giving hope to the community. So many other people come in and take, he is actually leaving a piece of himself, which is the hope for the community and the nation," Minister Donna Cole of The Temple of Praise in Washington, D.C. told CP as she took a break from working the ground at Amidon-Bowen. The Temple of Praise is involved in sending volunteers to the Generation of Hope Project.
The young Generation Hope Project volunteers also helped to paint and renovate two counseling rooms at Capitol Hill Pregnancy Center and install a disco ball, wall lights and other lighted objects in the "sensory room" for special needs children at the "New Day" Women's Transitional Home for homeless women with children. Lakewood Church developed one of the nation's first special needs curriculum for churches.
"Just imagine being homeless with a special needs child. I can't imagine that. I know how difficult it is being married with a special needs child. So now this is going to provide them a place where they (special needs children) will be developed," said Craig Johnson, director of pastoral ministries at Lakewood Church, on Thursday as he gave a tour of the sensory room at "New Day" Women's Transitional Home to Joel and Victoria Osteen.
Johnson's youngest child, Connor, has autism. Raising Connor inspired Johnson to create The Champions Club, a children's facility for special needs children, at Lakewood Church. "New Day" Women's Transitional Home is the first Champions Club in Washington, D.C. This year, Champions Club plans to add another ten facilities nationwide.
Below are some photos of Generation Hope Project volunteers.