Joel Osteen's Lakewood Church Draws Visitors From All Over the World to Get Baptized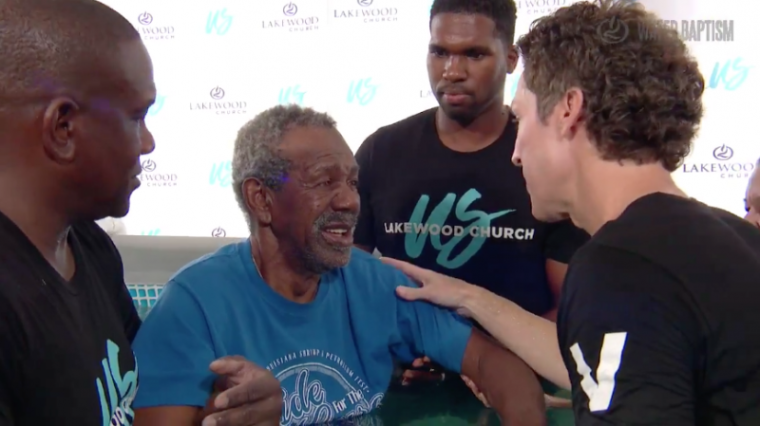 Pastor Joel Osteen hosted a major baptism meeting at Lakewood Church over the weekend and hundreds of people from all over the world came out to be baptized.
Approximately 690 people were baptized and over 500,000 others tuned in on Facebook Live to experience the baptisms, a Lakewood rep told The Christian Post.
In a Facebook video of the event, Osteen and a leader in his ministry are seen standing in a large swimming pool at Lakewood Church on Saturday as hundreds wait in line.
"It's the first command of the Lord Jesus," Osteen says in the video livestream before starting the ceremony.
Lakewood Church offers baptisms ever Saturday night after their service but they only do major baptisms twice a year.
"The Watson family from long island, follow pastor, they follow the church on Sirius XM, they watch him online, they were going upstate New York to go on a family vacation but they heard that they were doing the water baptism and they turned the car around they drove all the way [here], to get baptized as a family," a video testimonial explained.
Another mother and daughter who live on opposite coasts of the United States, met in Houston, Texas, to get baptized by Osteen as well.
People from China, Venezuela, Germany, Chicago, New York, and Los Angeles all made their way to Houston for the event.
Lakewood guest speaker and Christian singer Tauren Wells took to Instagram on Sunday to highlight the baptisms and all the amazing things Lakewood is doing.
"CELEBRATING what happened this weekend @lakewoodchurch as 690 people were water baptized! This year 2,000 people have been buried with Christ, His name spoken over them, and raised to new life. Absolutely amazing," he wrote.
In the baptism video, many people testified that they chose to be baptized because they just wanted to hit the "reset" button on their lives and start over.
In another event, Lakewood Church received a proclamation by the mayor of Houston on Tuesday for its humanitarian and relief efforts in the wake of Hurricane Harvey which devastated the city last August.
According to Mayor Sylvester Turner, Aug. 14 will now be recognized as "Lakewood Church Day." The megachurch was honored for helping raise over $5 million in recovery efforts and helping over 1,150 Houston-area families that were displaced from their homes following the flooding caused by the hurricane.