Joel, Victoria Osteen Ready to Tell Thousands in Las Vegas How to Live a Christian Life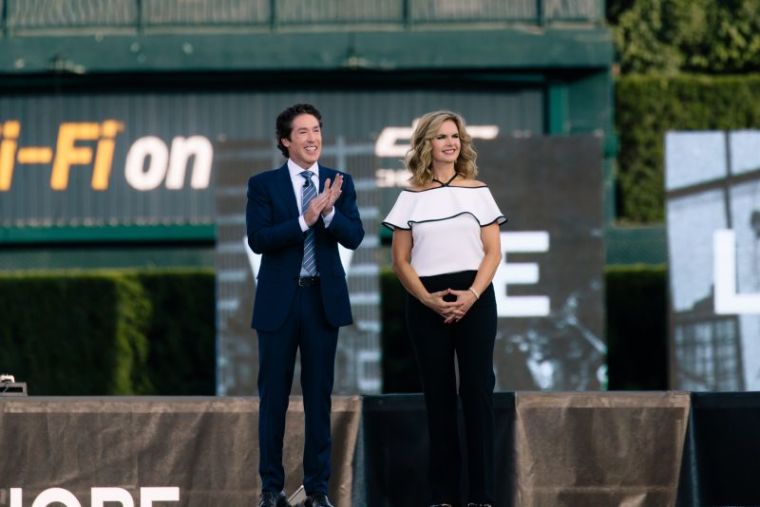 Joel and Victoria Osteen, co-pastors of one of America's largest churches, have dotted the country with their inspirational event, "Night of Hope." Now the monthly event is making a stop in Las Vegas to uplift tens of thousands.
"America's Night of Hope," which will be held at T-Mobile Arena in Las Vegas on Friday, is intended to "lift people higher, and give them hope that good things are up ahead," Lead Pastor Joel Osteen said in a statement shared with The Christian Post on Wednesday.
The popular pastor intends to show attendees that God cares and that they can overcome life's many challenges. Osteen said that although his style of preaching may be very different from that of his father's, the message remains the same. 
"My dad was more of a traditional pastor. My gift is more talking to people on how to live a Christian life, how you forgive, how to strengthen your faith. I think it's the same message, but it's a different way of communicating it. I'm talking to a broader audience, on how to live a life of victory."
Osteen said that his father would be "amazed" at the progress of the ministry and how it is expanding around the world with the help of advances in technology. "My father would physically travel to many places around the world. It was his dream to reach the world and so this is his dream being fulfilled."
Co-pastor Victoria Osteen said she enjoys interacting with attendees of events like "America's Night of Hope," and hearing about how they have been positively impacted. "I love seeing all of the couples and families who come out to our Nights of Hope," she said. "I talk to many of them at the event or they'll call in to my radio show and tell me what a positive impact the event had on their marriage or on their kids. It makes for a great date night."
Joel Osteen's mother, Dodie, travels with the family to each event. On Friday night, she plans to share how God healed her of cancer over 35 years ago, and encourage those who are battling illness.
Early next month, the Osteens will host two special shows on SiriusXM's Joel Osteen Radio channel SiriusXM 128 during Super Bowl Week.
 On Feb.1 at 11 a.m., Victoria Osteen will broadcast a special edition of "Victoria Osteen Live," where she'll talk to mothers and wives of NFL players about the highs and lows of watching their sons and husbands play the game. Guests will include, Jackie Newton, mother of Carolina Panthers QB Cam Newton, and Devon Brown, wife of Duane Brown, offensive tackle for the Houston Texans.

On Feb. 3, both Pastor Joel and Victoria Osteen will speak with individuals and players about the role that faith plays in their lives and careers. Guests will include Sylvester Turner, mayor of Houston; former NFL quarterback Tim Tebow; CBS broadcaster James Brown; and Grammy-Award winning Christian Hip Hop artist LeCrae.
Joel Osteen is the senior pastor of Lakewood Church in Houston, Texas, which has a weekend attendance of 52,000 people. The popular preacher appeals to millions worldwide through outlets including his best-selling books, radio and television.