John McCain Doesn't Want Trump at His Funeral, Wants Obama as Eulogist Instead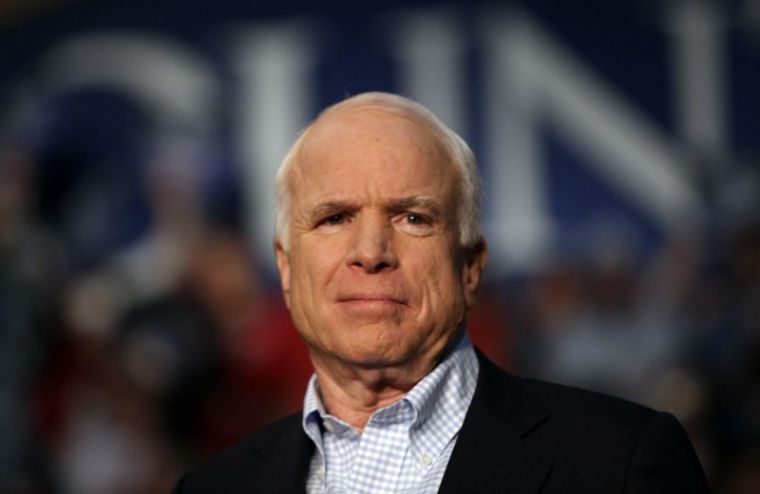 Arizona Senator John McCain, who for nearly a year has been diagnosed with brain cancer, has reportedly said that he does not want U.S. President Donald Trump attending his funeral. 
Instead, McCain would like former presidents Barack Obama and George W. Bush reading his eulogy, NBC News said on Saturday based on a conversation with an unnamed source close to the 81-year-old politician.
"I don't know how much longer I'll be here," McCain separately says in an audio clip shared by NPR ahead of the release of his memoir, The Restless Wave.
Trump and McCain, who is a Vietnam war veteran and was a prisoner of war, have clashed over a variety of issues.
Trump controversially claimed during the run-up to the 2016 presidential primaries that McCain was only considered a hero "because he was captured" during the war, with the future president saying he prefers military heros who have not been captured.
McCain was said to be "deeply hurt" by Trump's comments, though in February 2018 his daughter Meghan, co-host of ABC's "The View," said in an interview with Politico that she does not expect Trump to continue criticizing her father's war service.
"[Mr. Trump] actually reached out to me and we had a very nice conversation and I feel comfortable going forward if he would say or do anything in the realm of talking about my father's war injuries in that nature, I don't think he would go there again," she said at the time.
"I don't think at this point in his administration it would be beneficial to him in any way."
The source close to McCain said that the plan is for Bush and Obama to serve as eulogists at the Arizona senator's funeral service, which is to be held at the National Cathedral in Washington, D.C.
McCain, who initially identified as an Episcopalian before starting to attend a Baptist church in Arizona with his family, lost the 2008 presidential general election to Obama.
The two had a strong rivalry during the campaign, with the LA Times pointing to a controversial ad from the Obama campaign at the time that poked fun for McCain not being able to send e-mail, which some noted could be interpreted to be making light of McCain's severe war injuries, which limit his use of a keyboard.
A spokesman for the Obama campaign later claimed that the ad was poking fun at McCain's age, rather than his disabilities.
McCain and Obama clashed on foreign policy issues during the latter's time as president, though they have also spoken in support of each other on several occasions.
Back in July 2017 following news reports of McCain's brain cancer diagnosis, Obama tweeted: "John McCain is an American hero & one of the bravest fighters I've ever known. Cancer doesn't know what it's up against. Give it hell, John."
The New York Times pointed out that McCain would like Vice President Mike Pence to attend the funeral service as well.