John Piper, JD Greear: Should Parents, Children Attend Church Service Together?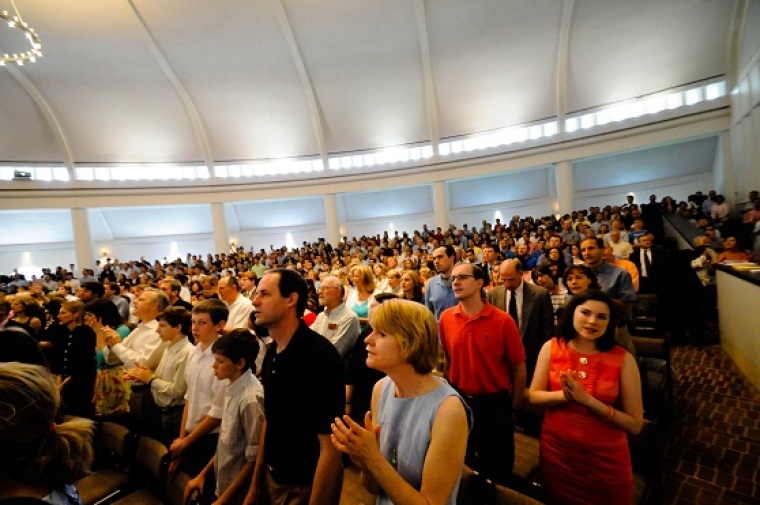 John Piper believes it is essential that families worship together on Sunday in church instead of a separate children's service, while other pastors, including J.D. Greear, agree in part.
Reviving a long-held debate on how to do church, pastor and theologian John Piper argues in a desiringGod article that something powerful is transmitted when children behold their parents worshiping the Lord. So important is this, Piper says, that he and his wife wrote a lengthy letter to their church more than 20 years ago outlining why they should not have children's church or a mini-sermon for children at all, arguing that parents should start bringing their kids to service around the age of 4.
Just as children do not understand language when they are young, parents nevertheless immerse them in it hoping that they will grow up into joyful use of it, Piper contends. How much more important, then, is immersion in an atmosphere where kids see their parents encountering the glory of God in prayer and worship each Sunday, he poses.
"You can't impart what you don't possess. And this is what you want your children to catch. You want them to catch authentic worship. Authentic, heartfelt worship is the most valuable thing in human experience. Think of it. The cumulative effect of 650 worship services spent with mom and dad in authentic communion with God and his people between the ages of 4 and 17 is utterly incalculable," Piper argues.
Some pastors also support Piper's view but with some exceptions.
"We think it is important for families to worship together, and would hate the idea that a child at The Summit Church grows up and goes off to college and has never participated in an adult worship service," said J.D. Greear, pastor of Summit Church in Raleigh, North Carolina, in an interview Tuesday with CP. He added that "[a]t the same time, we realize that there are certain things kids and students can learn best if the content is tailored specifically for them."
"We leave it up to the parent's judgment when it is appropriate to bring their child into the worship service. For me, I begin to bring my kids into the service at age 8," he said.
And are there other legitimate, practical considerations for children's church, particularly for fidgety youngsters?
The Christian Post also reached out to Michael Seawright, director of Family Ministries at Truro Anglican Church in Fairfax, Virginia near Washington, D.C., asking him what the pros and cons are of keeping the children with their parents through "big church," as Piper calls it, and how he approaches this challenge.
Truro employs a "both-and" strategy, said Seawright, where children begin in the main worship service with their parents. Right before the sermon they are dismissed for kids programs and then rejoin the service for Communion with their families.
"Of course it is inconvenient at times to have children in the pews," Seawright said, "they squirm and wiggle and make all sorts of noise, and they don't always understand what is going on. But we believe that God loves children – wiggles and all – and that every moment in the service is a teaching opportunity," noting that while liturgical collects might go over their heads, "it is also an opportunity to teach them right posture before God."