John Piper Reveals 'Most Basic Distinction' Between Christians and Non-Christians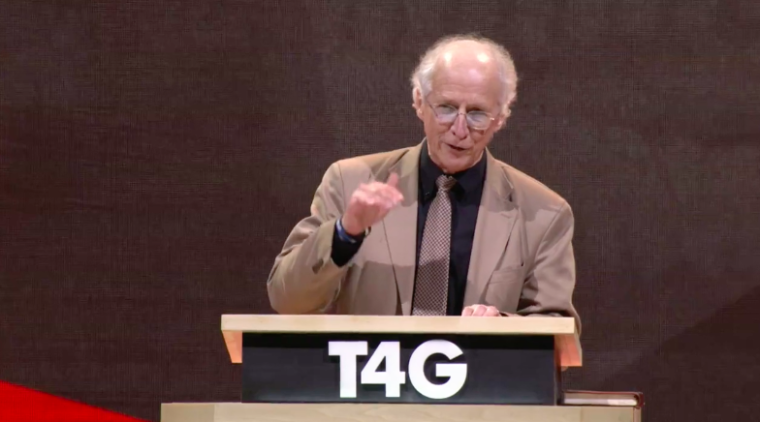 Reformed theologian John Piper spoke about what distinguishes a Christian from a non-Christian.
"The most basic distinction between the body of Christ and the world is not godly decisions, not good deeds, not genuine doctrines, but glad delights in the glory, beauty, excellence, and marvelous mercies of God," Piper began.
The Bethlehem College & Seminary Chancellor and DesiringGod.com founder delivered a message titled "New God, New Gospel, New Gladness: How is Christian Joy Distinct" at this year's Together for the Gospel conference in Louisville, Kentucky.
The world, he said, is perfectly able to use its willpower to make decisions for Jesus.
"The devil himself knows more right doctrine to be true than anyone in this room," he said. "But neither the devil nor secular philanthropists nor the whole unbelieving world does or can delight in the glory of God supremely."
"Our God is what we take most pleasure in," Piper added. "Everyone has a god ... everyone has a gospel. Everyone believes a good news, whether it comes true or not."
The belief that true Christians "have a new gladness in a new God through a new Gospel" is "unbelievably controversial," Piper said. Christianity in America has been "distorted" in the last 200 years and "ravaged by the dominant teaching that decisions for God are more basic in defining a Christian than delighting in God."
"The upshot of the dominance of this viewpoint right across the Christian spectrum ... is the emergence of thousands upon thousands of professing Christians who have made decisions about God, joined churches, have no new gladness in God, and are not Christians," he said. "The effort of this dominant viewpoint to define saving faith apart from spiritual affections is biblically futile."
One of the reasons that "decisions" are more basic to faith than delight in modern Christianity, Piper said, is the belief that at the moment of conversion, man, not God, must be in "decisive, final control of whether saving faith happens."
While man wants some element of control regarding his moment of conversion, it's entirely the work of God, he argued. 
"If God waited for us to bring this about by our so called free will, it would never happen," Piper said. "This is the work of God bringing into being a new person."
Joy, defined as "a good feeling in the soul produced by the Holy Spirit as He causes us to see the beauty of Christ in his word and in his work," is better than the gladness of the world in "every way," Piper said.
While the world finds joy in carnal and physical pleasure, the source of true joy is infinitely and supremely beautiful; the duration is eternal; and the quality of it is unique "because no mere man can see and enjoy the holy, light, bright beauty of God."
"From this new gladness in a new God through a new gospel, all the springs of life flow," he said. "From this new gladness comes new godliness; from new prizing comes new praising; from new delights come new duties; from new desires come new disciplines; from new happiness come new habits; from new preferences come new purchases; from new contentment comes new kindness; from new cherishing comes new charity; from new pleasure comes new patience; from new satisfaction comes new sexual purity; from new cheerfulness comes new faithfulness; from new treasuring comes new tenderness; from new joy comes new justice; from new rejoicing comes new risks for what is right; from new savoring in the soul comes new sweetness on the tongue with our spouses; from new life in the heart comes new love through the hand."
He concluded: "May God make the truth clear and compelling that the most basic, most essential thing that distinguishes a Christian from a non-Christian is not new decisions of the will, not new deeds of the hands, not new doctrine of the mind, but a new gladness in a new God through a new gospel."
The theme of this year's Together for the Gospel conference is "Distinct from the World."