Joni Eareckson Tada used hospital stay to share Gospel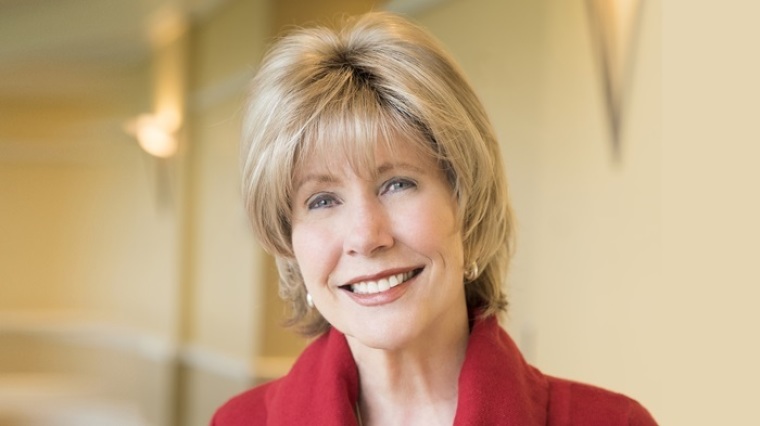 Evangelical speaker and author Joni Eareckson Tada has shared a health update and revealed how she used a recent two-week hospital stint to share the Gospel with a number of nurses, respiratory therapists, and doctors.
On the Joni and Friends website, Tada shared how, on March 27, her husband Ken rushed her to the ER as she could "barely draw a breath and had chest pain."
"The preliminary diagnosis was at first gloomy, but over time the assessment was much brighter," she said. "Basically, over the many years, my chronic quadriplegia has put a strain on my heart and lungs. The good news is, doctors believe that with medication and with a more efficient way of breathing, my condition can be reversed."
During her 14 days of hospitalization Tada said her assignment was straight out of Acts 20:24, "But life is worth nothing unless I use it for doing the work assigned me by the Lord Jesus – the work of telling others the Good News about God's almighty kindness and love."
"When nurses and aides, respiratory therapists, and doctors asked how I was doing, I could say, 'Jesus gives me His peace. It's not as the world gives, so my heart's not troubled and I'm not afraid,'" she recalled. "Then, they usually got a pep-talk from Ken Tada, a Joni book and a Joni and Friends newsletter."
Tada, a well-known advocate for those with disabilities, shared a photo of an IV drip attached to her arm alongside a copy of her 1976 book Joni.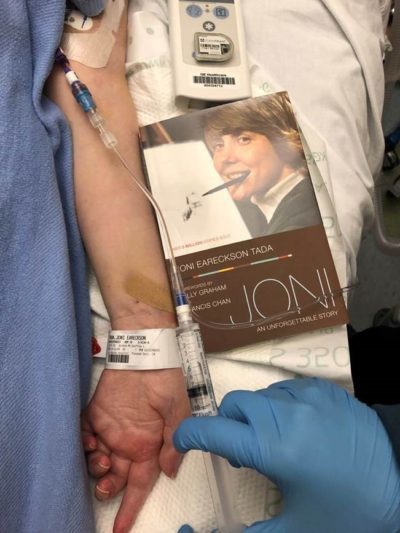 "Yes, the photo is a little jarring, but that's life," she wrote. "And I'm not shy to say that when life is hard (and we see it all the time at Joni and Friends), God is so very good – but we only discover how good when we get about his Acts 20:24 mission no matter where he places us. Even if it's in a hospital for 2 weeks."
She concluded: "Thank you for your prayers; I am now resting on the residual intercessions still reverberating before God's Throne! Many, many blessings (and a special blessing on all you who sent texts and emails, notes, and posted on Facebook… I appreciated every encouragement)!"
Tada, who recently completed of a series of radiation treatments for a recurrence of cancer, was discharged from the hospital on April 9. In a Facebook update posted just two days later, Tada shared a photo of herself and her husband smiling in a field of flowers.
"Since we missed going on vacation during my hospital stay, Ken decided to treat me to a quick trip to the high desert to see the last of the California poppy bloom," she captioned the photo. "Brisk wind, cold temps, but warm hearts filled with thanksgiving to God!"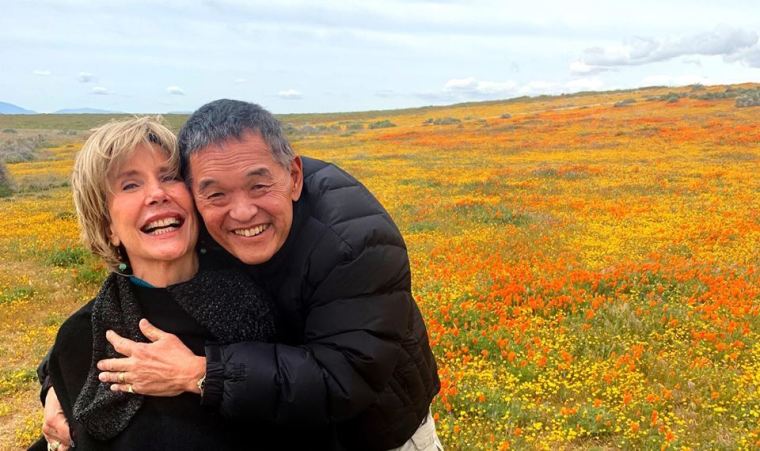 Tada was diagnosed with stage 3 breast cancer eight years ago. After undergoing a mastectomy and chemotherapy treatment, she was declared cancer-free.
In November, she underwent tests on a small nodule that had developed over the site of her mastectomy. After biopsies, doctors discovered a small cancerous tumor within the nodule.
In an interview conducted shortly after Tada announced her cancer had returned, the popular speaker and author was asked if she was ready for Heaven.
"Yeah," she said in response. "I think any Christian should be ready at any time. Of course, like Paul, I'm torn.
"I don't want to face the rigors of radiation on a quadriplegic body," she continued. "And I have to postpone pursuing options to address my chronic pain during chemotherapy. It's going to be a lot of discomfort in the next few months. I'm a little torn like the Apostle Paul, but I would love to be free of the suffering and affliction."
Tada explained that while she would love to be in Heaven, she believes it's more "needful for Christ" that she remains on earth, as there are millions of people with disabilities who don't know Jesus.
"And that's why I show up at work every single day at Joni and Friends," she said. "It breaks my heart to think the suffering a person in a wheelchair is going through is only an omen of even greater suffering to come if he doesn't know Christ."
In addition to founding Joni and Friends in 1979, Tada has also served as a senior associate for disability concerns for the Lausanne Committee for World Evangelization, an adviser to the American Leprosy Mission, and the National Institute on Learning Disabilities.